This post may contain affiliate links. Please read my disclosure.
Hubbyman took me to Fleming's a couple years ago for an anniversary supper and I fell in love with their potatoes. The next day, I started hunting down a copy cat recipe. These are a fancy version of your typical au-gratin potato. Of course, with all that heavy cream, I think these are best for a special occasion.
I have no idea where this recipe came from…I've had it hanging around in my need-to-try folder for a couple years. I did; however, change the recipe just a little bit.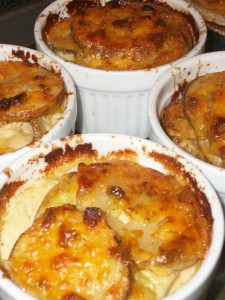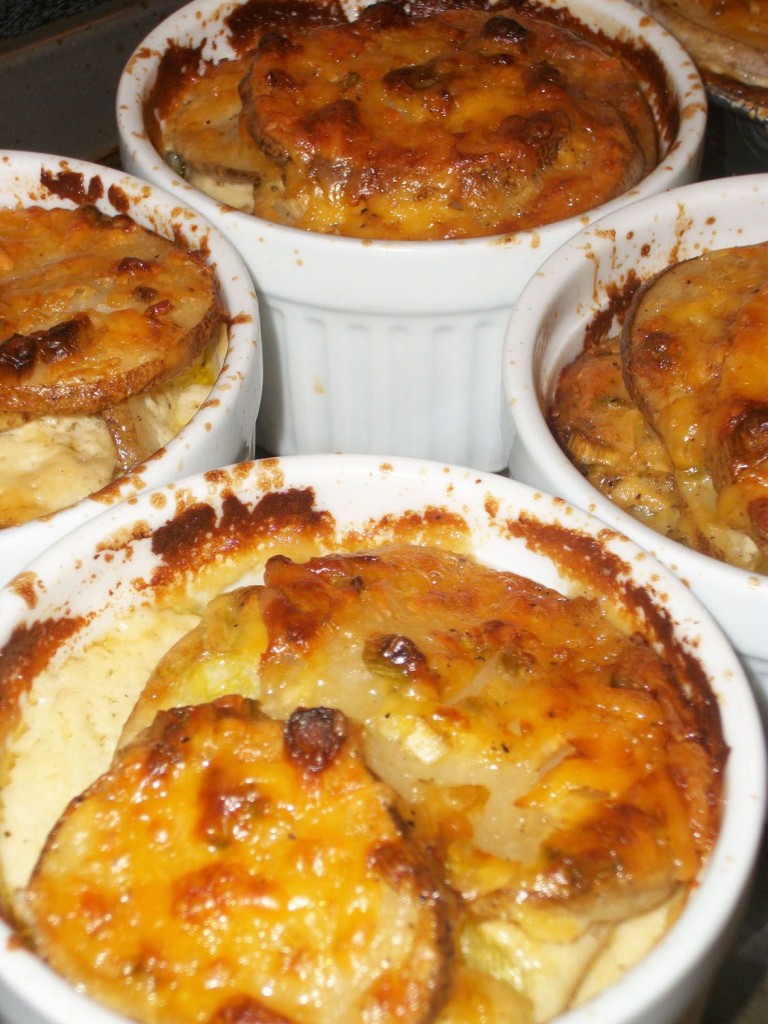 Fleming's Prime Steakhouse Potatoes
1 1/2 cups heavy cream
1 cup half and half
2 teaspoons salt
1-2 teaspoons black pepper
1 small jalapeno, finely diced, without seeds
1/2 bunch of green onions — greens and whites, sliced thin
3 cups cheddar cheese, grated
4 pounds russet potato, peeled and sliced into 1/4″ thick circles
Heat cream and half-and-half in large sauce pot on medium high heat to simmer. Add salt and black pepper.
When cream is hot, remove from heat, add cheddar cheese and blend in thoroughly. Add jalapeños and and onions, mix well.
Combine potatoes and cream mixture in a large mixing bowl.
Spray sides and bottom of a 9 x 13-inch baking pan with nonstick cooking spray. Place potato mixture in pan and evenly distribute the potatoes. (I like to layer mine, so that it's really pretty when served).
Cover with aluminum foil that has been sprayed with nonstick cooking spray. Bake in 350°F. oven for 45 to 60 minutes or until potatoes are soft. Remove foil and finish under the broiler for a couple minutes to brown top.