This post may contain affiliate links. Please read my disclosure.
Today finishes up my week of breakfasts. I hope you found something to try! Also wanted to add that I added a spam-detector thingy for comments…I was getting way too much spam and I really just want to see what y'all have to say. I do love reading everyone's comments!
My friend brought me a piece of this super simple coffee one morning while we were volunteering at a local food co-op. I hunted her down and forced the recipe out of her. I know scratch is best, but this is so easy, tastes great, and freezes nicely for quick breakfasts.
Note to self: I should not experiment with the brand of cake mix when making a recipe to post. I used a different cake mix and it just didn't rise like a normal one….on the plus side, it was all natural and no artificial dyes or flavorings. But I didn't get the WOW factor that I normally get with a traditional boxed mix.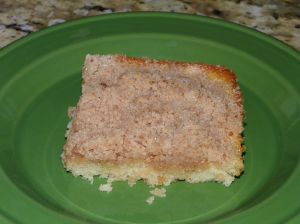 Easy Coffee Cake
1 box yellow cake mix, prepared as directed
1 1/2 cups flour
1 1/2 cups sugar
15 tbls butter
2 tbls cinnamon
Preheat oven to 350. Prepare cake mix according to box instructions. Pour into a greased jelly roll pan
(half sheet size) and bake for 15 minutes.
Meanwhile, combine flour, sugar, and cinnamon. Cut in butter with two forks until the butter is about the size of a pea. Sprinkle on top of the partially baked cake. Return to oven and bake 10 more minutes or until cake is done and topping is slightly hardened.
To Freeze: After coffee cake has cooled, cut into serving size pieces. Wrap tightly in plastic wrap and place in freezer. Grab one in the morning, remove plastic, and microwave for 30-60 seconds.