This post may contain affiliate links. Please read my disclosure.
Don't let the name fool you…this is not a fudge recipe. Let me explain. Hubbyman's grandmother is cleaning out their house and so she passed down all her recipe books to me. YEAH! In the pile, I found some old (1950's) Bisquick Baking books. I was flipping through it and was really intrigued by the "fudge" recipe that was in the book. It couldn't really be fudge with Bisquick in it, could it?!?!? So, I had to make the recipe to see what it would be like. I figured it would probably be more like a brownie, but I had no idea.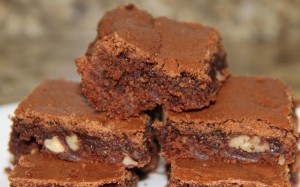 The concept of the recipe is the same, but I did change it up just a tad mostly because I didn't have baking chocolate squares and had to use cocoa powder instead. I took them to a family pool party and the consensus was that these were really good. However, they seemed a bit salty…so I'm changing the recipe to include unsalted butter. And next time, I will likely add 1 tsp of vanilla.
Fudge Squares
6 tbls cocoa powder
6 tbls unsalted butter
1 cup sugar
2 eggs
1 1/4 cups Bisquick (or homemade biscuit mix)
1/2 cup chopped nuts (pecans or walnuts)
Preheat oven to 350. Melt butter with cocoa powder in a medium saucepan over medium heat; stirring to combine until completely melted. Mix in sugar and Bisquick. Allow to cool slightly before adding in the eggs. Stir well. Gently fold in the nuts. Pour into a greased 9×9 pan. Bake 30-35 minutes until toothpick comes out clean.