This post may contain affiliate links. Please read my disclosure.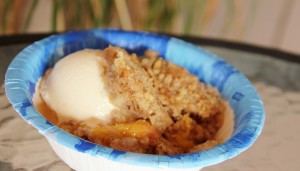 Last weekend we had a family pool party. Way too much food, but I had to share this peach crisp recipe that Hubbyman's Aunt Janet made for us. It was so good and the peaches were so ripe and juicy. Aunt Janet says it is really easy to make and that you can easily substitute apples for the peaches, if peaches aren't in season.
I love my mom's peach cobbler and I love my apple crisp. This recipe was the perfect combination of both of my favorite recipes. The peaches are nice and sweet and the topping gets hard and crunchy in the oven. I don't think it could get any better!
Don't you just love our fancy dishes?
Aunt Janet's Peach Crisp
9-10 peeled and sliced peaches (or 5-6 apples)
1 cup flour
1 cup + 1/4 cup sugar, divided
1 tsp baking powder
3/4 tsp salt
1 egg
1/3 cup butter
1 tsp cornstarch
cinnamon
Preheat oven to 350. Mix peaches with 1/4 cup sugar and cornstarch. Place in a greased 9×13 baking dish. Mix together the flour, remaining sugar, baking powder, salt, and egg with a fork until crumbly and well combined. Sprinkle over peaches. Melt butter and pour over the top. Sprinkle with cinnamon. Bake for 45 minutes.