This post may contain affiliate links. Please read my disclosure.
The weather is warm and we are outside getting dirty in the garden. These 10 Gardening Hacks will sure to save you time and a little green.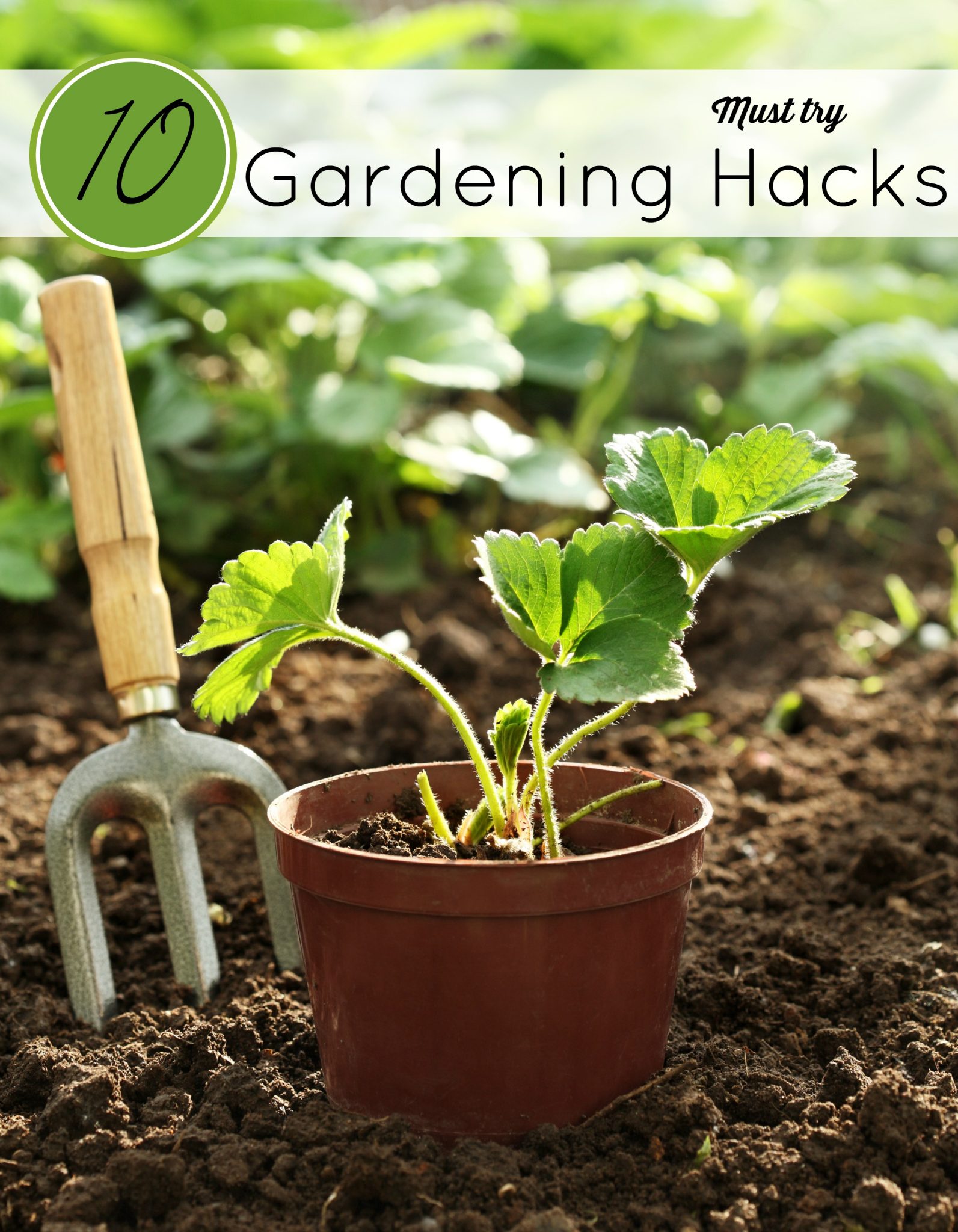 My thumb may not be the greenest, but my kids love digging and planting with me this time of year. They get super dirty, but I'd much rather they be outside in the fresh air when the weather is nice! As you may know, I've partnered with Bounty, the Quicker Picker Upper, the last few years and cleaning up after gardening is much easier when the paper towel you use is 2X more absorbent vs. the leading ordinary brand. I've used different brands of paper towels over the years, but honestly I always end up getting Bounty, regardless of my partnership with them. I have gathered these quick gardening hacks to help get your garden ready for spring.
Have left over seeds, and unsure if they're still good? To test your old seeds, put some on a wet Bounty paper towel inside a sandwich bag and see if they sprout. One Bounty Select-a-Size fits perfectly, and my kids love watching them grow!

Use coffee grounds in the garden to fertilize, help with drainage, and keep away pests.
Create a mini-greenhouse for your seedlings using paper towel tubes and a recycled plastic container. Cut Bounty paper towel tube in 3rds, then snip 4 to 6 tabs so you can fold inwards to create a base. Fill with dirt and seeds. Line up the tubes in a plastic container. To create a lid, you can use another container that matches, or clamshell container, whatever you have lying around works! After germination, just plant the tubes in your garden!
Keep your indoor plants watered if you're away from home for a few days. Roll up several Bounty paper towels tightly and put one end in glass of water. Place the remaining end across soil so plant is a few inches away. The towels will absorb water from the glass and disperse it over the soil.
Save your veggies! Thoroughly wash and shake veggies off in the sink, then place in a gallon zip top bag with a couple of clean, dry paper towels. The paper towel does all the work and the veggies will last longer. If the Bounty paper towel is soaked after a few days, switch it out with a dry one.
Turn an over-door shoe organizer into a vertical garden for herbs or plants. It's a perfect way to save room in a small garden.
Sweeten tomatoes with a bit of baking soda. Adding 2 T of baking soda to the soil will take sour or bitter tomatoes and turn them much sweeter!
Growing pumpkins or melons? Use a trellis and create a sling out of old tshirts or stockings. The stem won't bend under the weight, and it also allows them to grow bigger!
Water saving tip: when boiling or steaming vegetables, don't throw the water away. After it's cool, use it to water the plants in your garden. Your plants will love the nutrients.
If you have plenty of herbs growing, you can dry them to save for later. Herbs like rosemary, basil, and oregano can easily be dried by placing them on a paper towel with another paper towel on top and microwaving for a minute, then in 15 second increments till ready. After dry, crumble and crush with fingers and toss any stems. Store in a cool, dark place in an airtight container.
Don't forget to clean up! When you come in from gardening, have Bounty paper towels ready to quickly wash up your green thumb (and hands too). Get special offers and coupons here.
Disclaimer: This post is in partnership with Bounty. I was compensated; however, all images and opinions are my own.