This post may contain affiliate links. Please read my disclosure.
My husband and I recently spent some time at Garland's Oak Creek Lodge in Sedona, AZ as their guests. We spent time with the new owners, the former owner, and the amazing gardeners.
Garland's Lodge Sold
Update: After our visit Garland's Lodge sold and is now Orchard Canyon on Oak Creek. It's very much the same and a fantastic place to visit if you want to unplug and relax.
Garland's Lodge is located less than 10 miles north of scenic Sedona, AZ in the heart of Oak Creek Canyon. I've often thought Oak Creek Canyon is one of the most beautiful places in Arizona and the weekend we were there did not disappoint us. It started off overcast and rainy, but cleared up the next day, leaving everything clean and refreshed.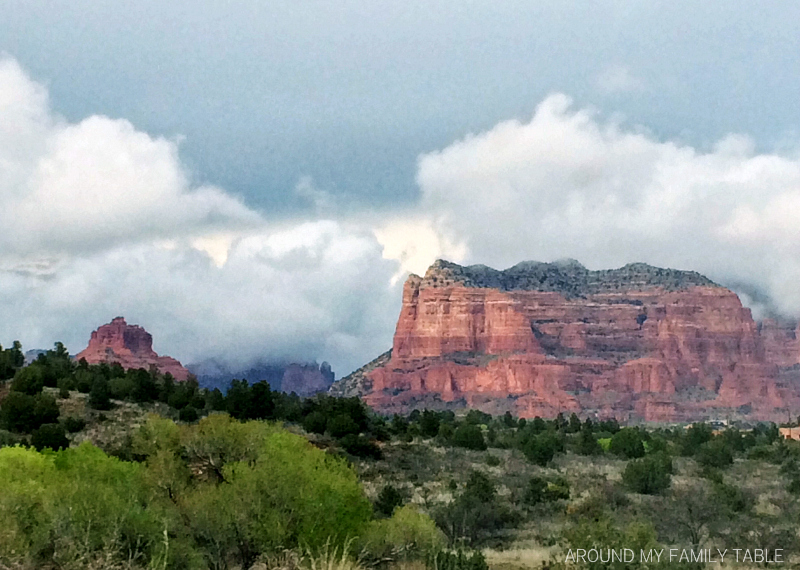 After we arrived at Garland's, I grabbed my camera and just started walking. I didn't even care what our cabin looked like because the property was breathtaking. Luckily, hubby didn't mind and enjoyed a nice stroll hand in hand with me. Afterall, it was a rare weekend without the kids so we totally took advantage of just wondering around with nothing particular in mind.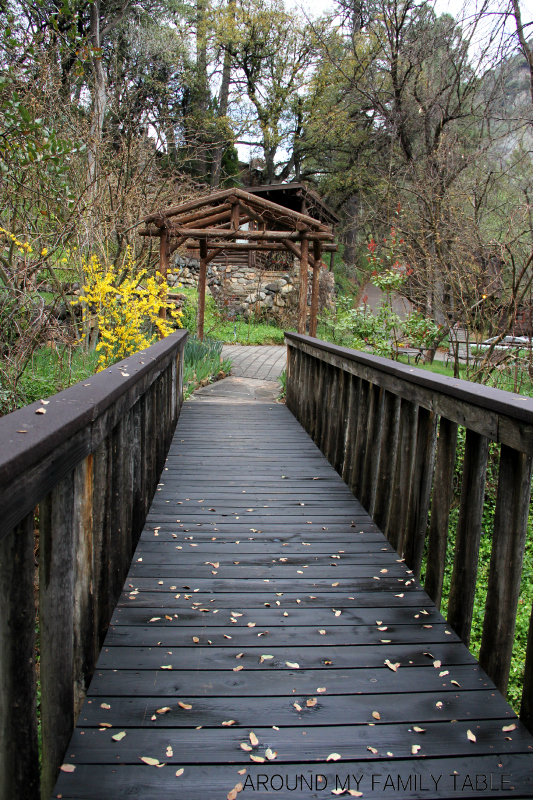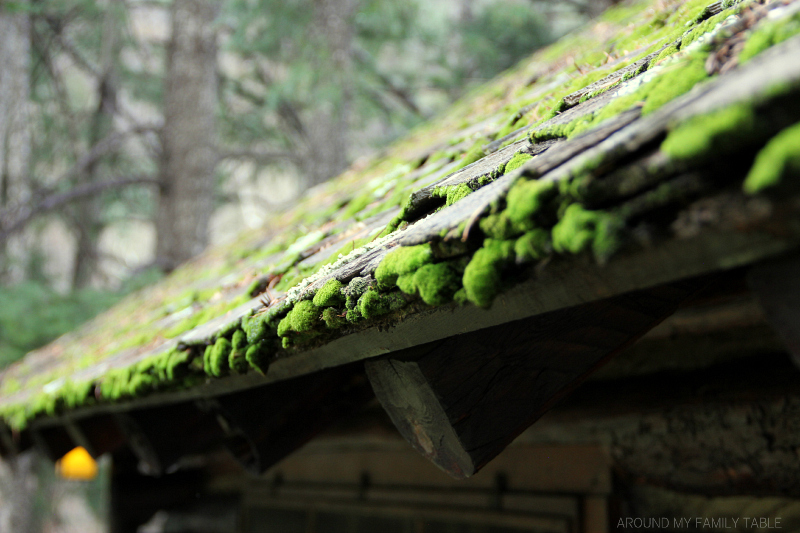 All the cabins are cozy and perfect for a romantic getaway. There are some larger cabins for families and kids are welcome on property…it's just…this place lends itself to a romantic weekend. There is very little cell service and no internet for guests. The focus is really to unwind and recharge your batteries.
The apple and pear trees were just beginning to bud and the orchards were lined with pink flowers all over the bare trees.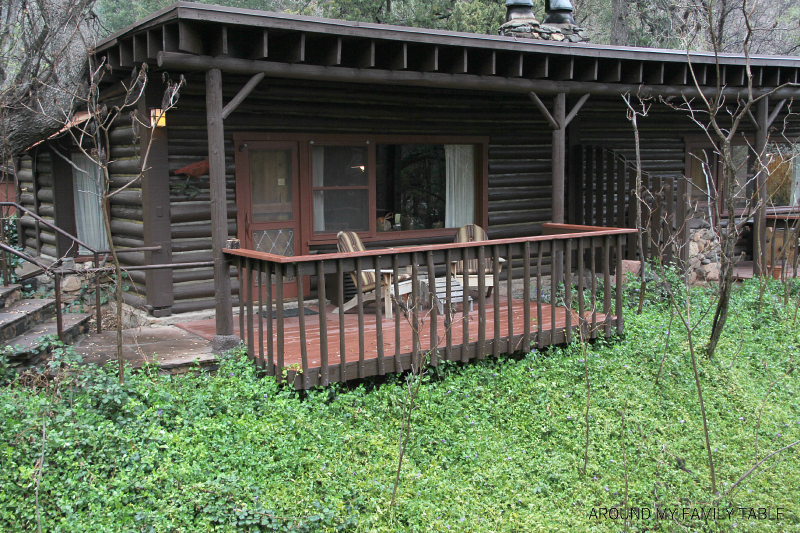 We did eventually make it to our cabin to freshen up before our cocktail party and supper. Isn't this the cutest little cabin ever!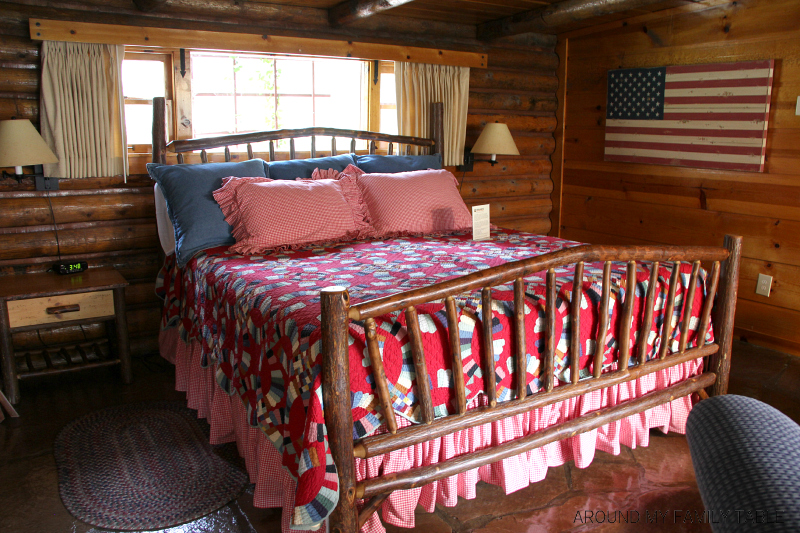 This was pretty much the inside. There was the bed, a tiny sitting area with a fireplace, and the bath room. We didn't need anything else but a good book and each other.
Lodge at Sedona
Garland's Lodge is located right on the Oak Creek, you could hear the roar of the creek from our cabin which made the day so relaxing and peaceful.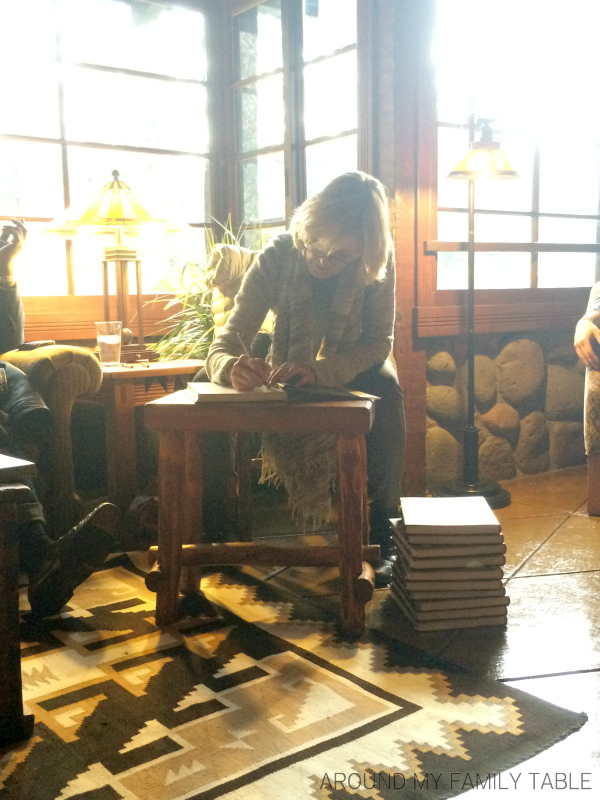 Mary Garland, the former owner, came by for our cocktail party to chat about the history of the lodge and sign a copy of her cookbook for me. You can pick up a copy from Amazon for under $5 for the hardback. We've made a few of the recipes and everything is easy to make and super delicious.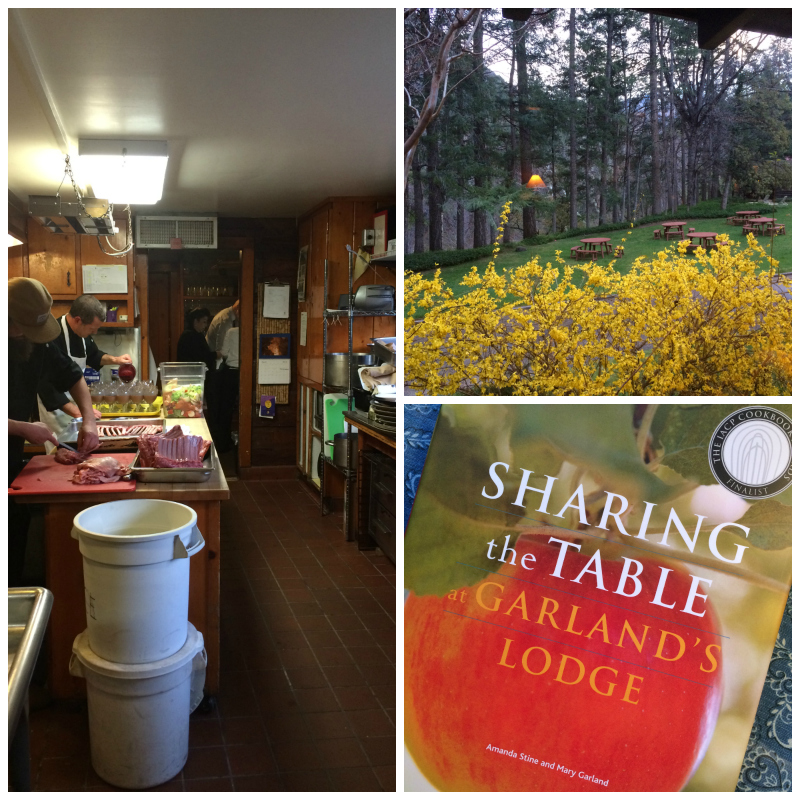 Garland's Sedona Restaurant
Of course I was dying to see the kitchen, which was tiny, but the chef didn't mind at all. Check out the view from his huge window (the picture above the cookbook)…yep who wouldn't want to go to work every day and look at that!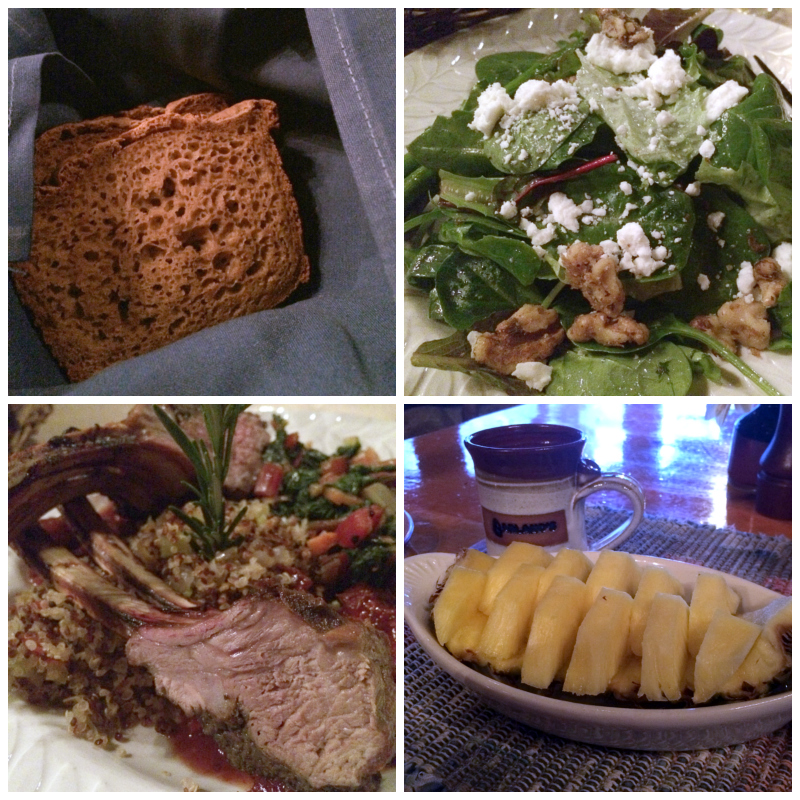 I apologize in advance for the food photos, we ate late and the lightening was not the best for food photos. However, the food was amazing! Dinner starts with a cocktail hour at 6pm and then the dinner bell is rang for seating at 7pm. They are extremely allergy friendly and even made me my own loaf of the best gluten free, dairy free bread that I've ever had. Chef Brian Widmer came out to chat with me about the bread and how he loves to create food for everyone…not just regular eating folks. He was so kind to share his recipe with me as well.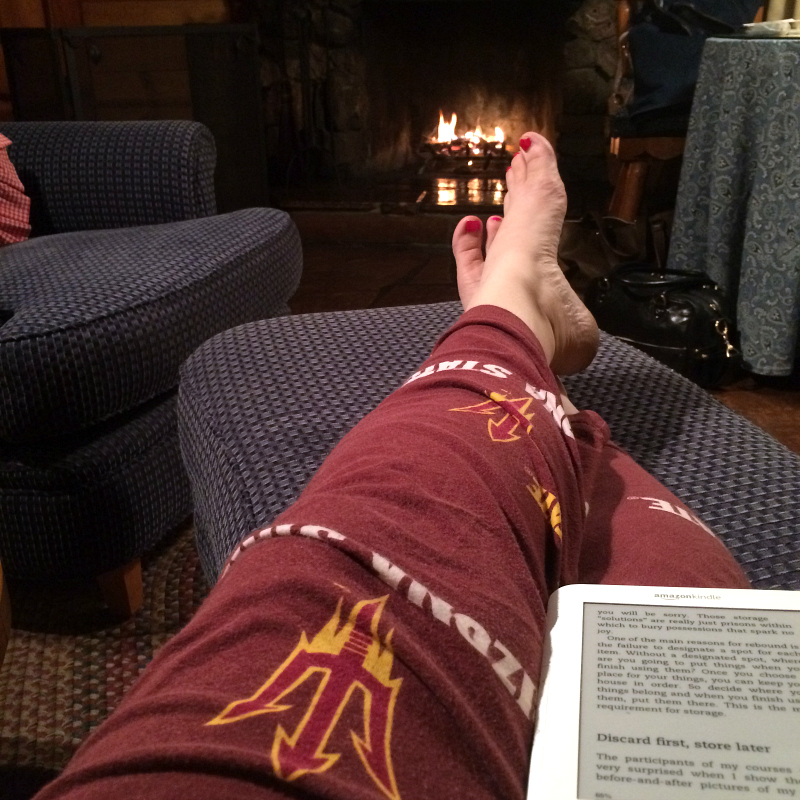 After the 3 hour supper (we chatted way to long with our tablemates), we headed back to the cabin to enjoy some quiet time by the fire. Yep….I'm enjoying a quiet evening with no kids, by the fire with my sweetie. It was amazing!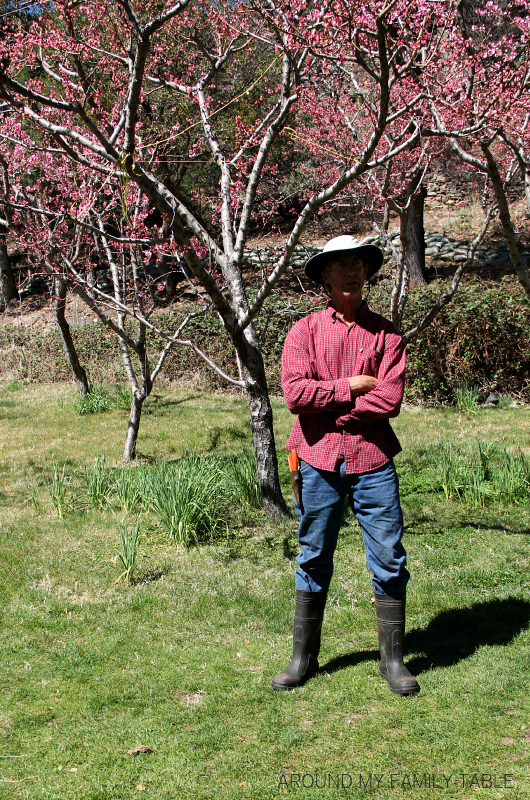 After breakfast, we had a tour around the property and a chat with the amazing gardeners. Most of the food is grown on property and their apple trees produce so many apples that they make their own fresh apple cider…y'all…this stuff was to-die-for.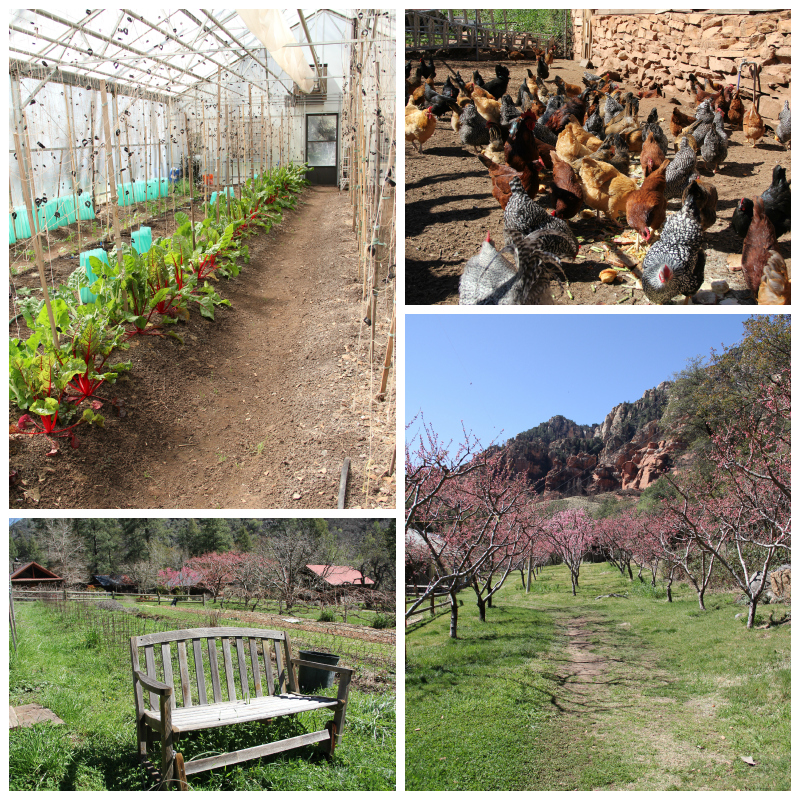 I could keep going and sharing photos forever. Make sure to visit Garland's website for more details, history, and to make a reservation.
Disclaimer: My husband and I were invited to spend a couple days at Garland's Oak Creek Lodge. We were not asked to do anything other than come experience what they have to offer.