This post may contain affiliate links. Please read my disclosure.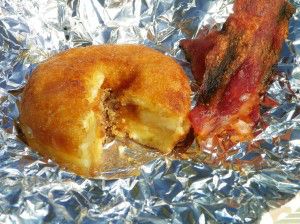 Well, last week was full of giveaways and fun…but I'm so glad to be back to sharing my favorite recipes. If you haven't had a chance to enter the giveaways, please do so….I really hope you will help me in supporting these wonderful small businesses.
Camping season is in full force these days and we took a 3-day camping a couple weeks ago, so I had to share share some of our wonderful food. Just because you are camping doesn't mean you can only eat hot dogs and hamburgers (in fact these don't even make it on our trip).
I have no idea where this recipe came from, but I was introduced to it when I was in Girl Scouts. We went camping a lot once we were in Jr. High and this was always a staple breakfast on our trips.
Looking for camping inspiration? Check out my whole Camping Planning section for recipes, tips, and ideas for great family camping vacations.
Hawaiian Donuts
8 plain cake donuts (apparently I need to tell ya, that these are homemade)
1/2 cup light brown sugar
1 can pineapple rings in juice
16 pieces of heavy duty tin (~12×12, for wrapping donuts in)
Prepare a medium-hot fire. Lay out 8 tin foil squares, then layer the next 8 on top. Place a donut on each of the doubled foil squares. Cut donuts in half, like you would a bagel. Open up the doughnut, with the cut sides up.
Sprinkle one half of each donut with about 1 tsp of brown sugar. Gently lay on a pineapple ring. Sprinkle an additional 1 tsp brown sugar on the pineapple ring and top with other half of the donut. Wrap the donut tightly with one piece of foil and then repeat with the other piece of foil. (It needs to be double wrapped if cooking over an open fire to protect it).
Using long tongs, place over the fire on a grill grate or if using charcoal, you can place directly on ready coals. Cook for about 10 minutes, flipping them about half way through the cooking time. Remove carefully from the fire and allow to cool just a couple minutes.
**You can easily make this at home over a regular grill or I've been know to make it in the mircowave…replacing the foil with papertowels.**