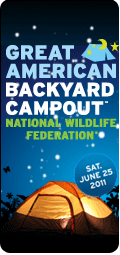 I grew up going camping with my Girl Scout troop and hubbyman went a few times with his family as well, so it seemed fitting that we would start camping with our kids.  We first went camping before we had children, but once we had our daughter we did a practice run in our backyard.  She had to make it the whole night with daddy in the backyard before we would go "real" camping. We've been several times now and she is a camping pro.  She's only 6 and helps with the tent and cooking and just enjoys being out in nature.
Since, I have been sharing my camping recipes with you, I wanted to tell you about a cool program coming up that I just heard about.  The National Wildlife Federation puts on the annual Great American Backyard Campout on June 25th.  You can camp individually, as a family, or a group. Pick a spot (your backyard or a campground), register your event (using the above link), and then you can take donations to benefit the NWF if you choose.  Cool, isn't it!
Want to go camping?  Here is my basic Family Camping Checklist to get your family started.
Some of my camping recipes:
Hawaiian Donuts
Chicken Fajitas
Egg & Sausage Scramble
Ham Packets
Some other great resources:
Camping Forums (great message board for all levels of campers)
Let's Go Camping Article at Celebrating Family
Find a state specific camping site, like the one for AZ: Camp Arizona
Join my Weekly Newsletter
And get my Free Slow Cooker Resource Guide! It's full of recipes with 5 or fewer ingredients plus plenty of slow cooker tips!

Plus, you'll get access to my free EXCLUSIVE downloads & printables for newsletter subscribers.