These Holiday Ginger Cookies are perfect for any holiday party or cookie exchange and are super easy to make too.
Be sure to sign up for my email list….seasonal recipes in your inbox every week!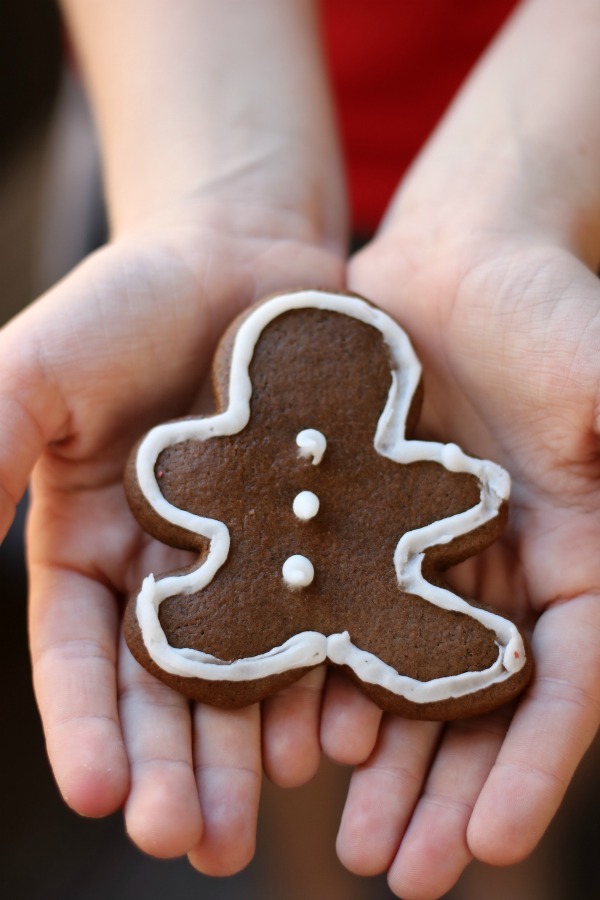 This time of year is for fun, family, and cookies!  I can't think of one holiday season we didn't make a new or special cookie for our friends and family.  This year we are sharing these incredibly fun and easy Holiday Ginger Cookies!
Baking cookies at this time of year is even more special because my kids want to be involved.  I'm so lucky that my son loves to cook.  He's only 7 years old but he's always asking to jump in when I start baking cookies or making anything in the kitchen.  He actually comes up with new and creative ideas for recipes – it's really fun to see his enthusiasm for the holiday and for cooking.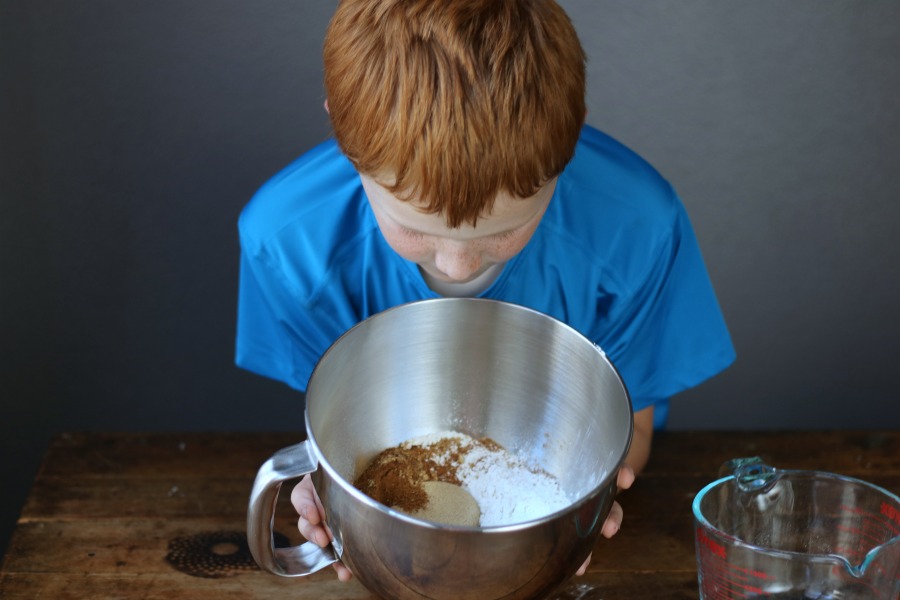 These Holiday Ginger Cookies are perfect for any holiday party or cookie exchange.  Sometimes making a gingerbread cookie can be a little overwhelming, but these are really easy to make.
I started by adding all of my dry ingredients into the bowl of my standing mixer.    You need flour, baking soda & powder, ginger, cinnamon, ground cloves, nutmeg, salt & brown sugar.
In the same bowl, I added my softened butter, an egg, molasses and vanilla extract.   Turn on the mixer and combine until the dough comes together.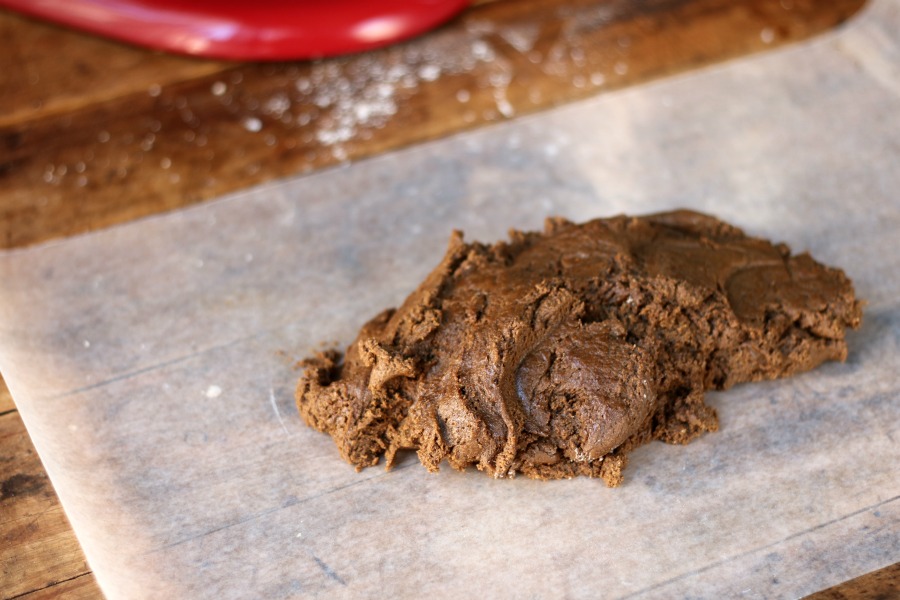 This now gets rolled up in the parchment paper.  Make sure you shape your dough into a log shape and let sit at room temperature for at least 1 hour.  It can sit for up to 8 hours if needed but just don't put it in the refrigerator.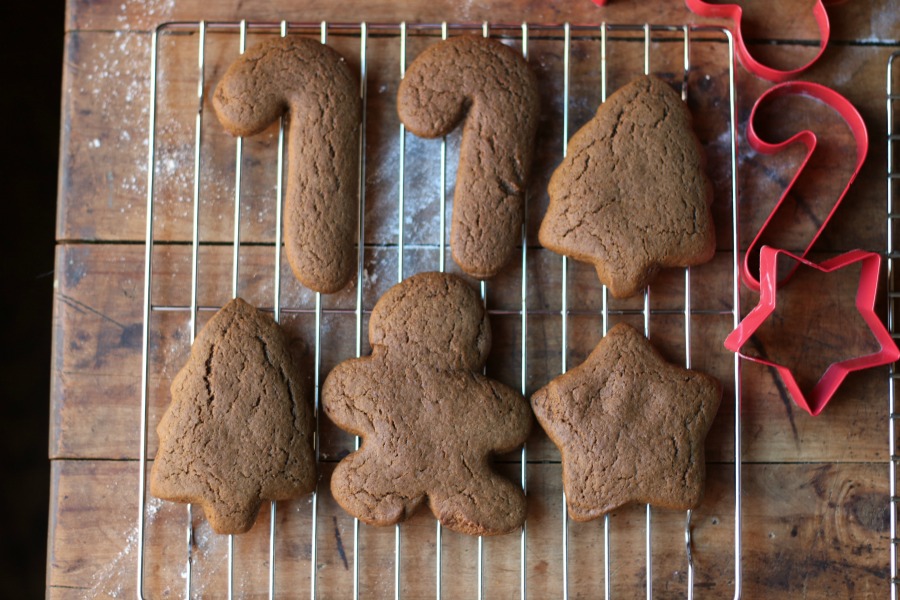 Once you have rolled out your dough, use your favorite holiday cookie cutters to make your cookies.  Bake at 375 degrees for about 7-9 minutes.  Let your cookies cool on a wire rack before you start icing.  You want your cookies to be completely cooled so the icing doesn't melt.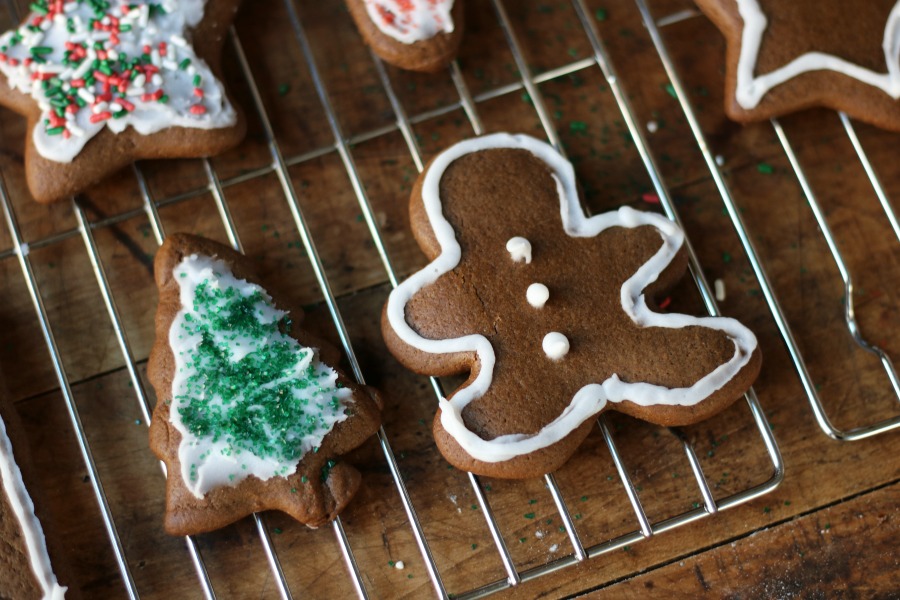 It's fun to outline your cookies with icing or even color them in and sprinkle on your favorite toppings like these holiday sprinkles.  This is really fun for the kids to help with.  My kids love anything with sprinkles so I can always get them to help.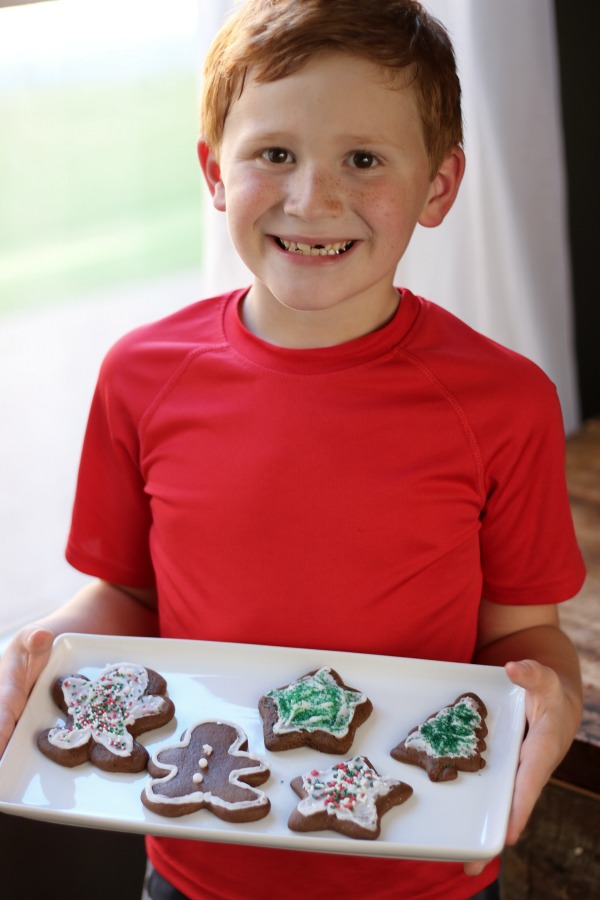 Your kids will be so proud they were able to create these fun holiday cookies.
Chris Huston blogs over at Burnt Macaroni. You'll love her simple stress-free recipes, simple living tips, and her Chocolate Dipped Apples. While you're at it, check out her Chocolate Chip M&M Cookies…Mmm Mmm Mmmm!!!
Be sure to follow on Instagram and tag #amftrecipes when you share one of my recipes….so I can see all the wonderful recipes YOU make!
Connect with Around My Family Table!
Make sure to follow on social media, so you never miss a post!
Facebook | Twitter |  Pinterest | Instagram | Bloglovin' | Google+ 
Sign up to receive seasonal recipes once a week or
receive an email in your inbox for each new recipe:
Holiday Ginger Cookies
Ingredients
3 cups Flour
1 1/2 teaspoons Baking Powder
3/4 teaspoon Baking Soda
1/4 teaspoon Salt
1 tablespoon Ginger
2 1/2 teaspoons Cinnamon
1/2 teaspoon Ground Cloves
1/4 teaspoon Nutmeg
1/2 cup Light Brown Sugar
6 tablespoons Unsalted Butter, softened
1 Egg
1/2 cup Molasses
2 teaspoons Vanilla Extract
Vanilla Decorating Icing (with decorating tip)
Holiday sprinkles
Directions
In a standing mixer bowl, combine all of the dry ingredients including flour, baking powder, baking soda, salt, ginger, cinnamon, ground cloves, nutmeg and light brown sugar.
In the same bowl, add the wet ingredients including softened unsalted butter, egg, molasses and vanilla extract. Mix until your dough comes together.
Put the dough on a piece of parchment paper. Shape your dough into a log shape and wrap up in the parchment paper. Let sit at room temperature for 1 hour. It can sit out up to 8 hours at room temperature.
Once dough is ready, preheat oven to 375 degrees.
Roll out your dough using a flour-covered rolling pin. Your dough should be about ¼ inch thick.
Using your favorite cookie cutters, cut out your dough and place on a lined cookie sheet. The cookies should be about an inch apart. Bake for 7-9 minutes.
Remove your cookies from the cookie sheet and let cool on a wire rack before frosting.
Once the cookie is completely cooled, top with vanilla decorating icing. This comes with a decorating tip so it makes it much easier to decorate. Top with the sprinkles of your choice.
Loading nutrition data...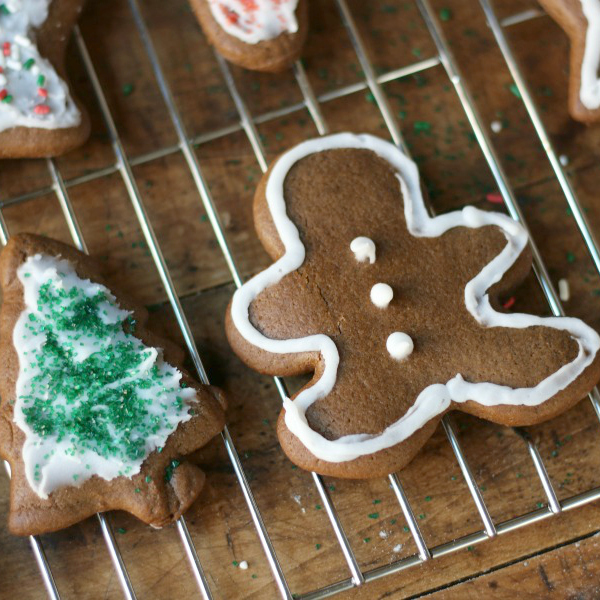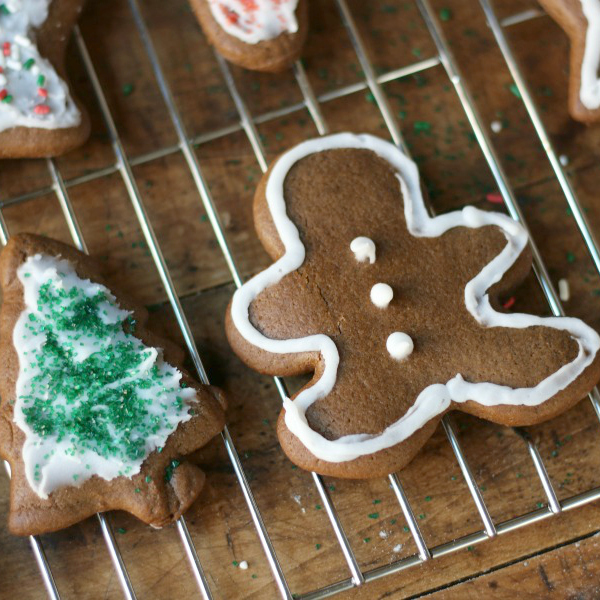 Did you make this recipe?
Leave review!
Join the Club!
Get delicious recipes delivered straight to your inbox each week! Plus learn how to take back suppertime in your home.

And get started with my NEW Take Back Suppertime 5-Day Jump Start Guide.