This post may contain affiliate links. Please read my disclosure.

Christmas puppy chow is a sweet snack made with Chex cereal, white chocolate, and white-as-snow powdered sugar. For a festive touch, a few drops of red and green food coloring are added. As a result, you have the perfect holiday party treat!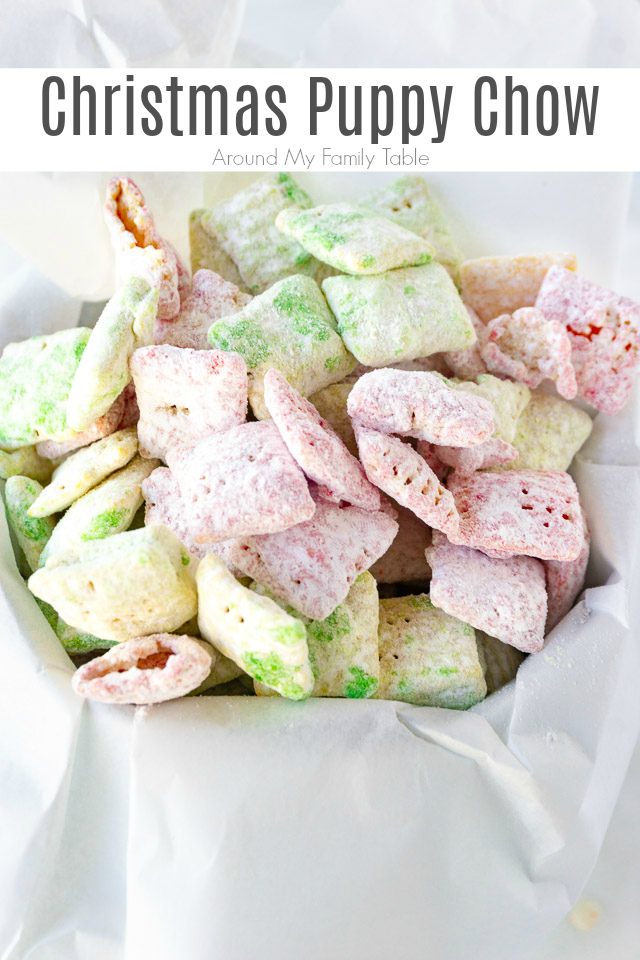 Because it is so easy to make, I like to make this to serve at Christmas parties, and I also have a bowl of it out for snacking during the holidays. Also, it makes fantastic hostess gifts! Or, make some for your favorite teachers, postal carrier, bus driver, or any other special people in your life.
Is it called Puppy Chow or Muddy Buddies?
Although the names are interchangable, there are a couple of small differences between these two snacks. Puppy chow (not to be confused with the dog food!) is Chex cereal that is coated in white chocolate and powdered sugar. Alternately, muddy buddies are usually made with milk or dark chocolate. Another difference is that muddy buddies are sometimes made with a combination of peanut butter mixed with chocolate
Whether you want to call this sweet treat Christmas puppy chow or muddy buddies, it's a holiday snack that everyone loves. Don't let the holidays pass by without making a batch or two.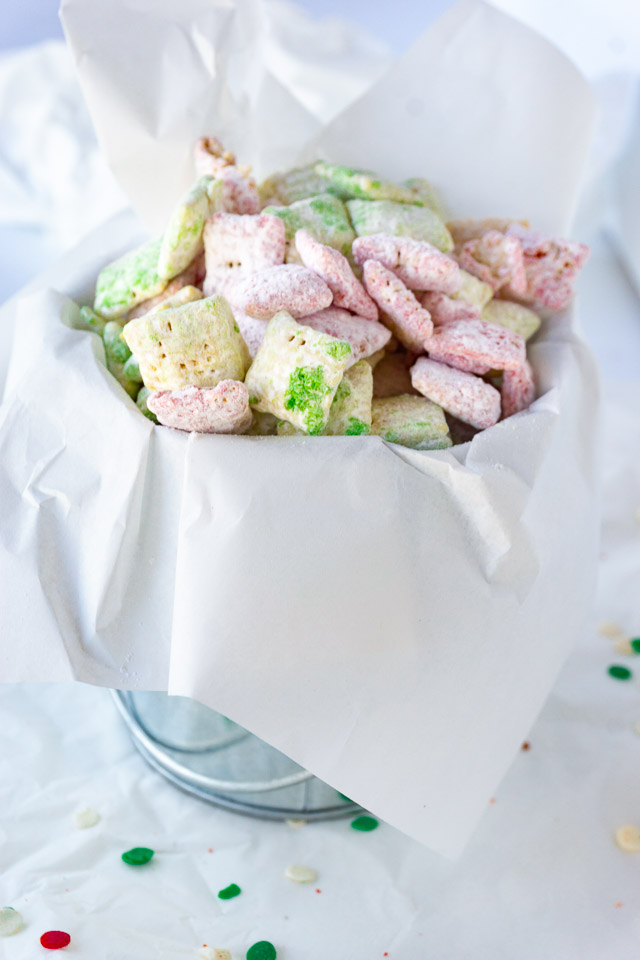 Flavor Variations
Because really versatile, you can make many different flavors using a basic puppy chow recipe. As a result, there really isn't a wrong way to make it! I make several different flavors, depending on the time of year. In addition to the coated cereal, you can also add mix-ins such as:
Although technically, when you use mix-ins, the name of the snack changes from puppy chow or muddy buddies to Chex mix. My favorite flavors include: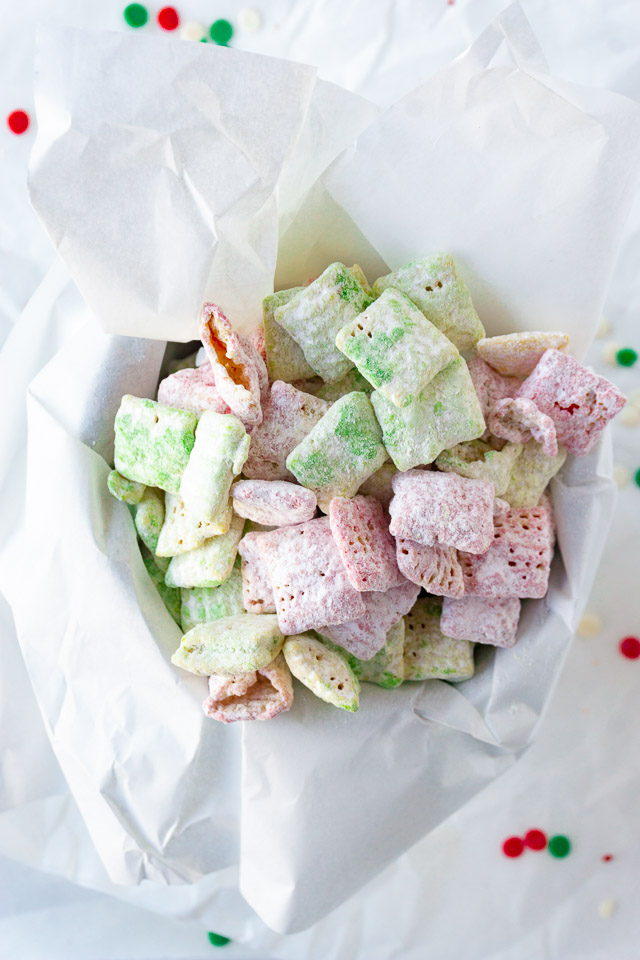 How to make Christmas Puppy Chow
Making this treat is a simple, 3-step process.
Place Chex cereal into a large mixing bowl. You can use rice Chex, corn Chex, or any other flavor you like. I use a combination of rice and corn.
Melt chocolate chips and shortening. After they are melted, pour the mixture over the cereal and stir to coat.
Cover cereal with powdered sugar. Divide the chocolate-covered cereal in half and place each portion into a gallon-sized zip top bag that has powdered sugar in it. You can use large paper bags if you prefer. Close each bag and shake, shake, shake. After the cereal has a nice coating of powdered sugar, add a few drops of food coloring into ach bag. Close the bags and shake again until you have bags of red and green Christmas puppy chow.
Combine the contents of the bags into one airtight container and get ready to chow down!
The most difficult part of making Christmas puppy chow is melting the chocolate. To do this, you don't need any special tools or equipment; I melt everything in the microwave. This being said, if you want to melt the chocolate using the stove top, you will want to use a double boiler. This will ensure that the chocolate doesn't scorch from the heat of the pan.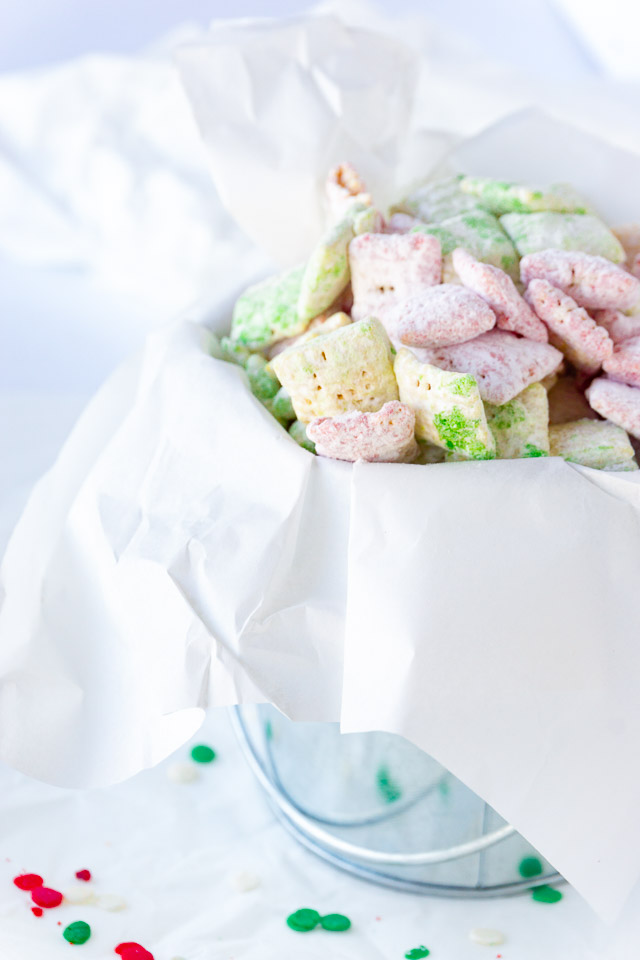 Does puppy chow need to be refrigerated?
I recommend refrigerating the snack mix. As a result, it doesn't dry out and become stale too quickly. If refrigerated, the puppy chow will keep well for about one week.
_____________________________________________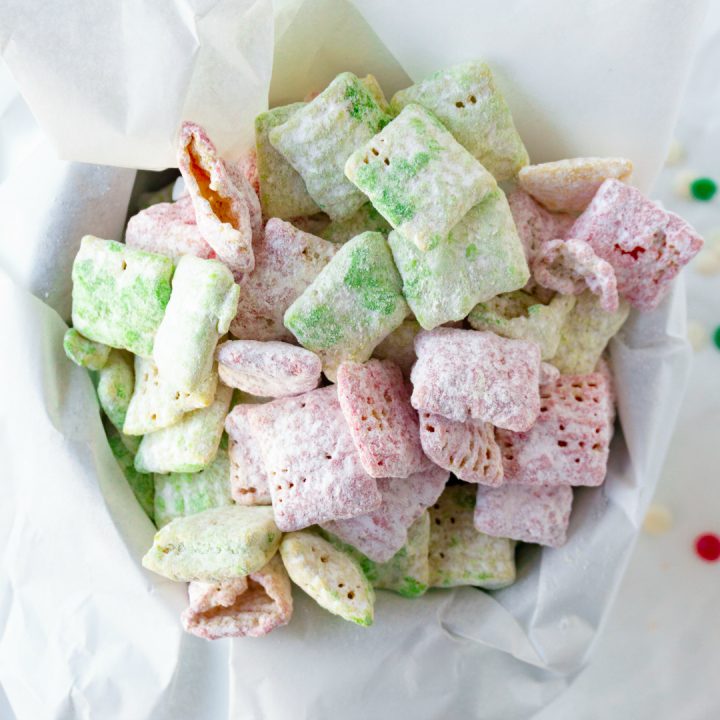 Christmas Puppy Chow
Whether you want to call this sweet treat Christmas puppy chow or muddy buddies, it's an easy to make holiday snack that everyone loves!
Ingredients
5 cups Chex cereal (rice or corn or both)
10 oz white chocolate chips
1 tablespoon shortening
1/2 cup powdered sugar, divided
red and green food coloring
Instructions
Place the cereal in a large mixing bowl.
In a 2-cup glass, microwave safe bowl, combine the white chocolate chips and shortening. Microwave for one minute and whisk. Continue in 30 second bursts until completely smooth.
When the mixture is smooth, pour over the cereal and stir quickly to combine. Once the cereal is evenly coated, divide the cereal evenly into two one gallon-sized zip top bags. Add half of the powdered sugar to each bag, close the bags and shake to coat the cereal mixtures evenly.
Add 5 to 10 drops of food coloring (green in one bag and red in the other bag). Shake again to mix. Add more coloring as needed to reach desired colors.
Combine the colored cereals into a single airtight container and store for up to one week.
Nutrition Information:
Yield:

6
Serving Size:

3/4 cup
Amount Per Serving:
Calories:

405
Total Fat:

18g
Saturated Fat:

10g
Trans Fat:

0g
Unsaturated Fat:

6g
Cholesterol:

11mg
Sodium:

228mg
Carbohydrates:

59g
Fiber:

1g
Sugar:

40g
Protein:

4g