This post may contain affiliate links. Please read my disclosure.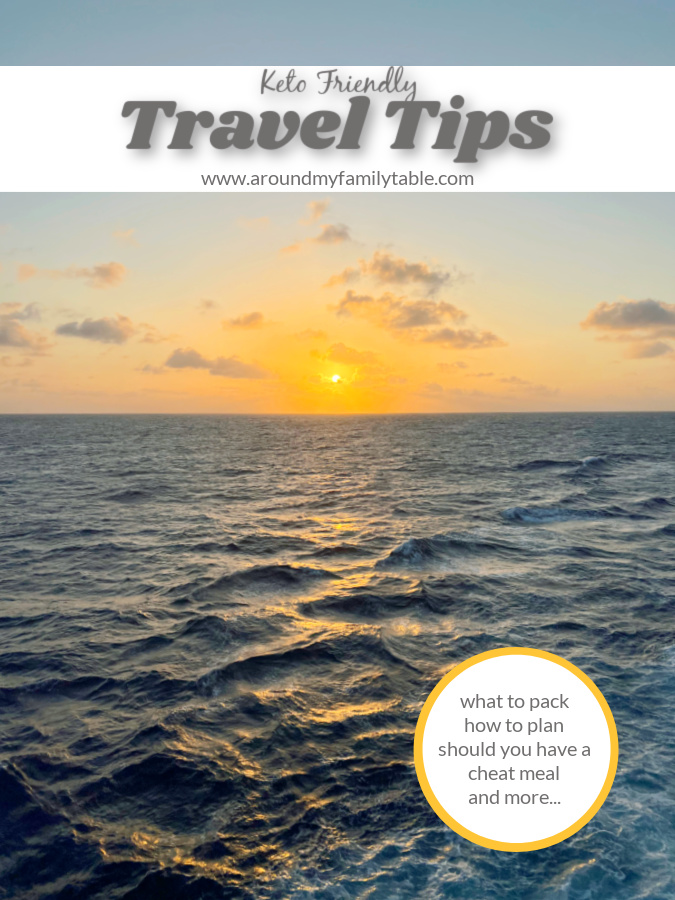 Being on a special diet doesn't mean I don't travel anymore. It just means I plan ahead and take some things from home to make sure I will have enough to eat. Check out all my Keto Friendly Travel Tips.
The tips I'm including work for any special diet, whether it's an allergy or preference. However, the specific foods I show are for a keto, low carb, diabetic friendly diet…of course they are delicious and if they fit in your plan then give them a try.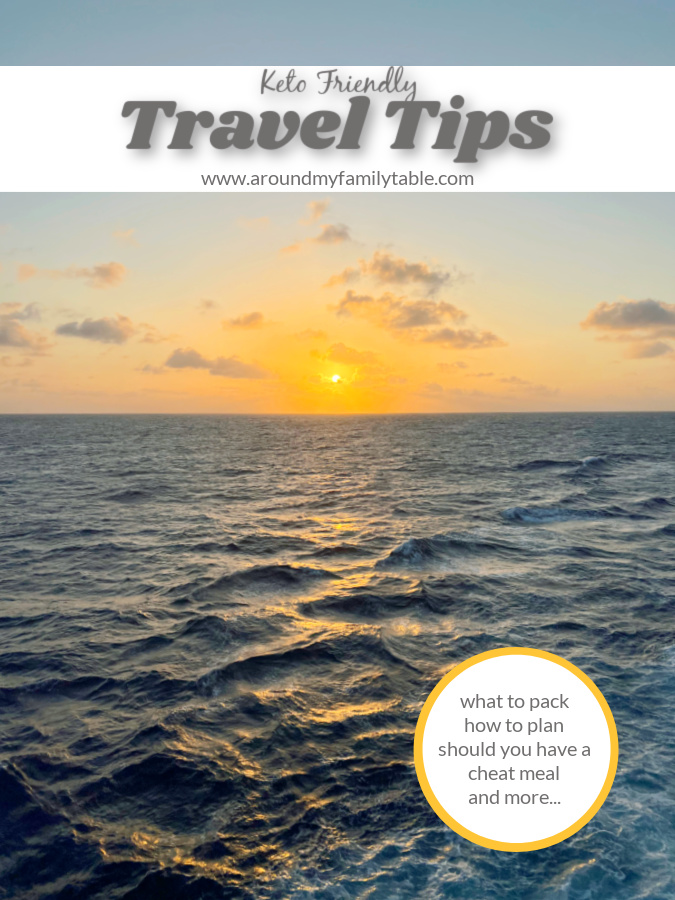 Keto Friendly Travel Tips
If you're wondering how to stay keto while traveling, then I've got you covered. I never stopped traveling when I changed my diet, but it does take a little extra planning and preparation.
Type of Trip — are you driving, flying, cruising, going out of the country? Will you have access to a fridge, car, kitchen, etc?
Pick the Right Hotel — do you need a kitchenette? a full size fridge or will the mini fridge work?
Plan Ahead — do your research about the local restaurants. Will there be a grocery store nearby?
Shop Early for Needed Supplies — I eat a lot of speciality foods that are ordered online. Get your orders in early so there are no surprises or disappointments as your trip gets closer and closer.
Pack Your Supplements — don't leave home without your normal supplements. I always keep a stash of Keto Chow Electrolyte Drops, Calcium Magnesium tablets, and Ultima drink packets.
Decide on Your Luggage Situation — for my recent cruise out of the country I decided it would be best to just take an additional piece of luggage with all the items I needed and wanted. I am all for traveling light, but I also want to make sure I have the food supplies I need.
Hit the Grocery Store in Your Destination — While I took most things from home, I knew I couldn't fly with a box of butter. So, I made sure to add a little time to our schedule to swing through a grocery store and buy the butter I'd need to make my shakes while I was on the cruise. Pick up anything else that you can't fly with that you know you'll want. We flew to Austin a couple years and drove straight from the airport to the grocery store, so we wouldn't be tempted to skip that stop.
Reassess Often While Traveling — You're on vacation. It's okay to slip up or have a cheat meal. However, reassess your eating often while you are away. Are those sneaky carbs creeping in? What do you need to do to get back on track? How is your body feeling? Ask yourself these questions and adjust as needed.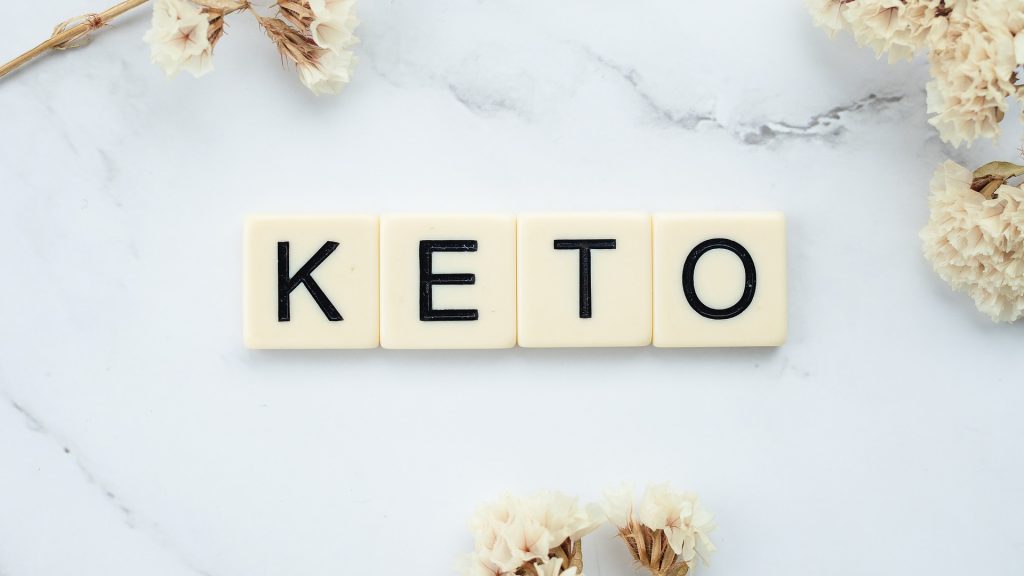 You can stay keto while traveling!
What Happens If I Stop Eating Keto on Vacation?
If you stop eating a keto diet while on a short vacation you won't undo everything you've worked so hard to accomplish. You will likely put on a little weight and inflammation, but as long as you go right back to your keto lifestyle upon returning home the weight should come right off.
However, the longer you stay off your prefered diet plan the harder it will be to start back up. Instead of going completely off your plan on vacation, pick one or two meals (or celebrations) in advance and enjoy those meals and stay on plan the rest of the time.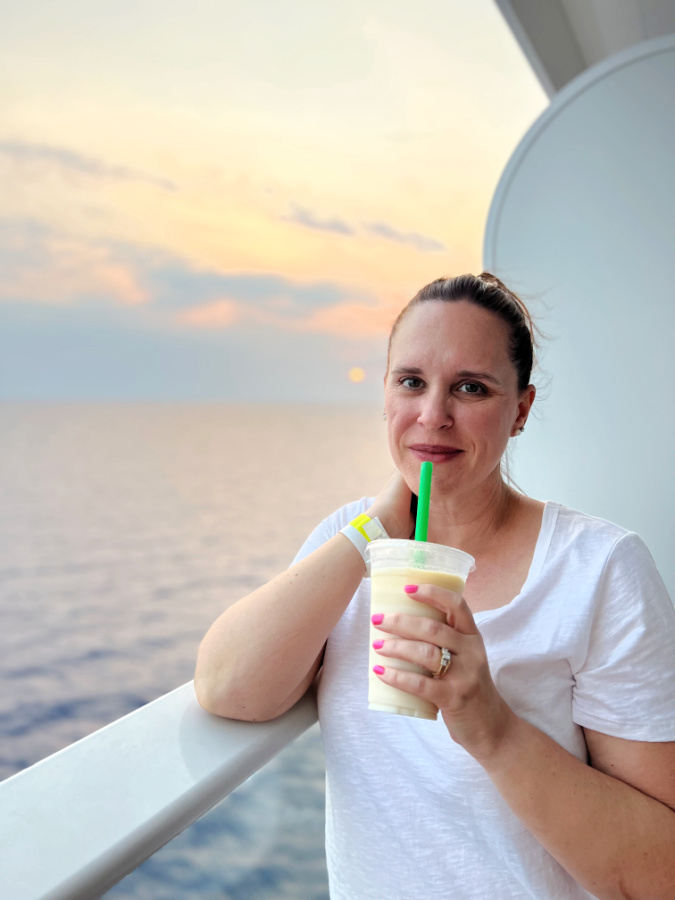 Remember what it's like to fall off the wagon.
Before you decide to just eat whatever you want on vacation (and you totally can if that's what you decide…no keto police here) just remember what you feel like when you do fall of the wagon, cheat, or even what you felt like before you changed your diet.
For me, it's not worth full blown "cheat meals." I don't miss the tummy aches, bathroom issues, and foggy head. Sure I'm not going to track every carb, but I'm also not willing to compromise on the things that make me feel horrible, especially on vacation! However, on vacation, I don't worry about seed oils or a few extra carbs. I do, however, steer clear of fruit since it sets off my sugar cravings and I stay away from most vegetables since it causes horrible stomach distress and I don't want to spend my vacation in the bathroom.
Spend a few minutes remembering why you started, how you feel now, and which foods are non-negotiable. Then stick with your plan.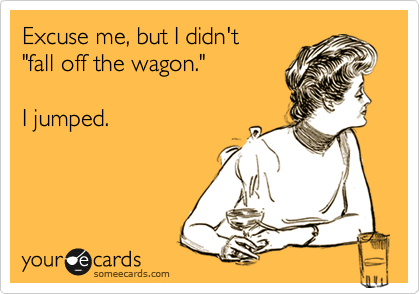 What if I Slip Up?
What happens if you slip up? Whether on purpose or on accident, don't beat yourself up. You're on vacation and allowed to enjoy a meal. However, for the next meal get right back on track. Don't make your cheat meal a cheat week. The sooner you get back on track the better and easier it will be to maintain your diet.
I stayed on my plan for the duration of my trip with the exception of one delicious drink in Curacao. I wanted to have a drink made with Blue Curacao IN Curacao. And so I did and it was amazing. I didn't go crazy with my drink, but it definitely wasn't keto. I really wanted a pina colada topped with Blue Curacao, but I decided on a mixed drink of pineapple juice, rum and Blue Curacao. It was totally worth it. I planned for it. I enjoyed, savored every sip, and that was it. Then went right back to my keto choices.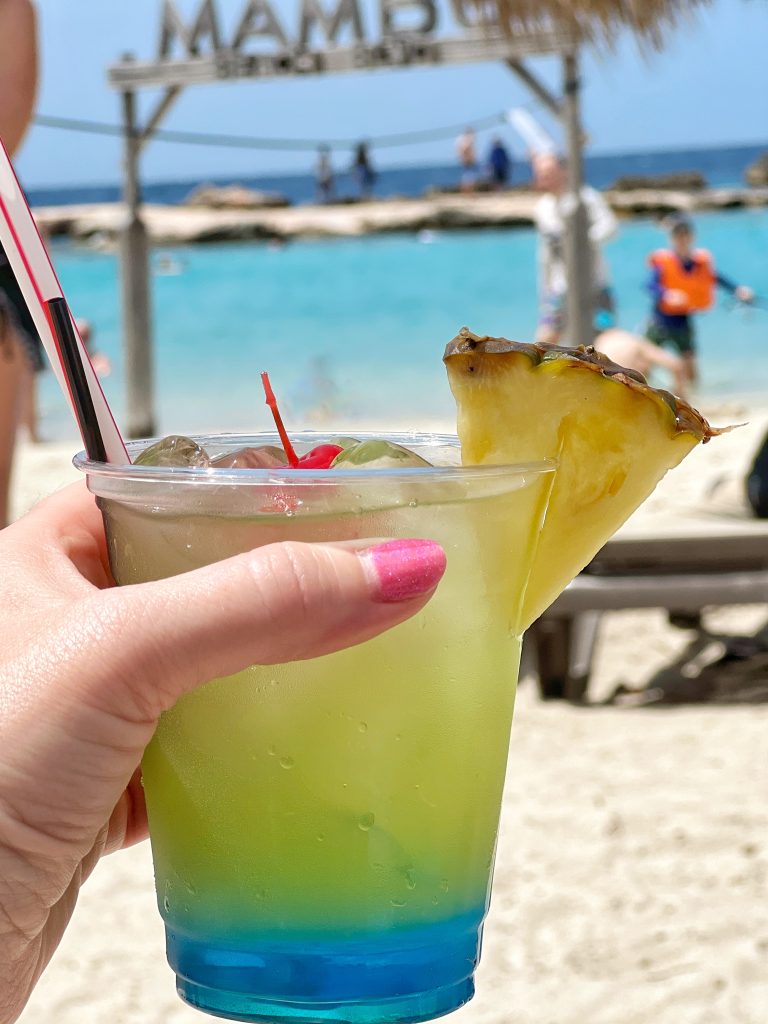 What to Eat on Keto While Traveling
As I said before, you shouldn't stop traveling just because you are on a special diet. Your food choices will be pretty basic while traveling and will probably be more dirty keto than clean, strict keto. I just got back from at 10 day vacation with 8 days on a cruise ship. I ate a lot of the same things, but I was never hungry.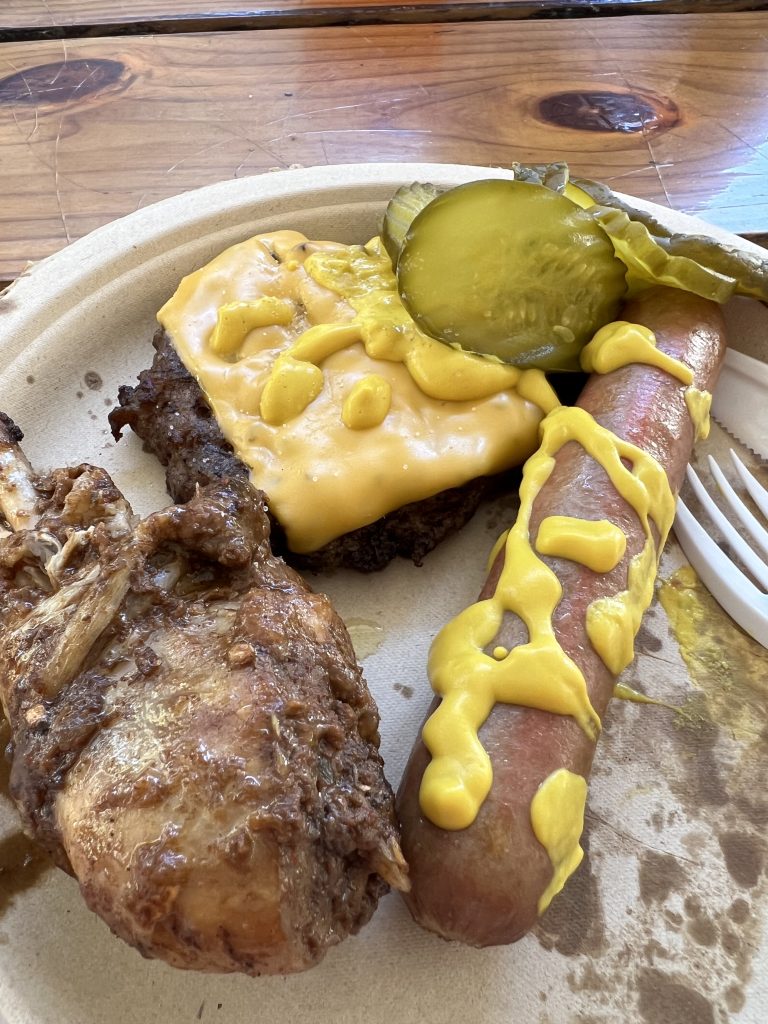 When eating at restaurants order plain meats such as burger patties with cheese, hot dogs, steak, plain chicken, scrape the toppings off a slice of pizza, and of course lots of salads with added meats are good too. Breakfast is simple with eggs and bacon or sausage.
Here's a quick video of the foods I packed for my 8 day Caribbean cruise:
<center><iframe width="560" height="315" src="https://www.youtube.com/embed/SnmZNU63zoI" title="YouTube video player" frameborder="0" allow="accelerometer; autoplay; clipboard-write; encrypted-media; gyroscope; picture-in-picture; web-share" allowfullscreen></iframe></center>
Here's a few of my top picks for bringing from home:
Slimfast Fat Bombs
Redmond's Real Salt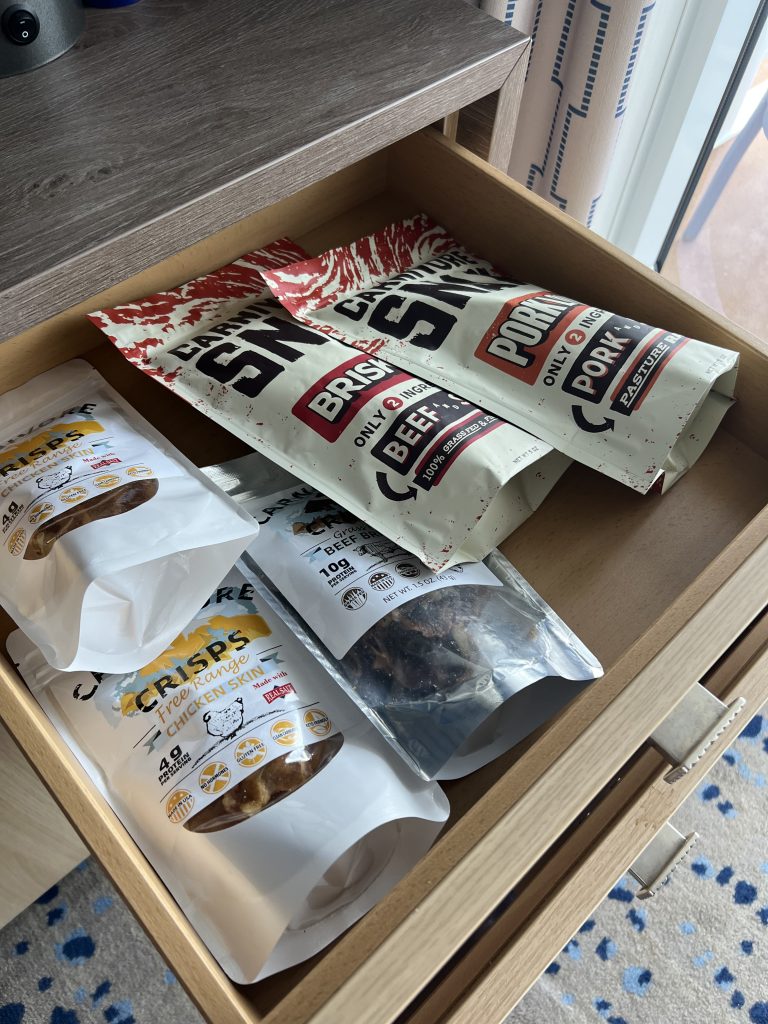 Keto Friendly Travel Food
Fat Bombs (Homemade or SlimFast brand is my favorite)
Quest Bars
Veggie Sticks & Ranch
Dark Chocolate (this is my favorite)
Cheese Sticks
Peanut Butter
Jerky Sticks & Beef Jerky
Hard Boiled Eggs
Pickles (look for the travel packs)
Nuts
Atkins Keto Treats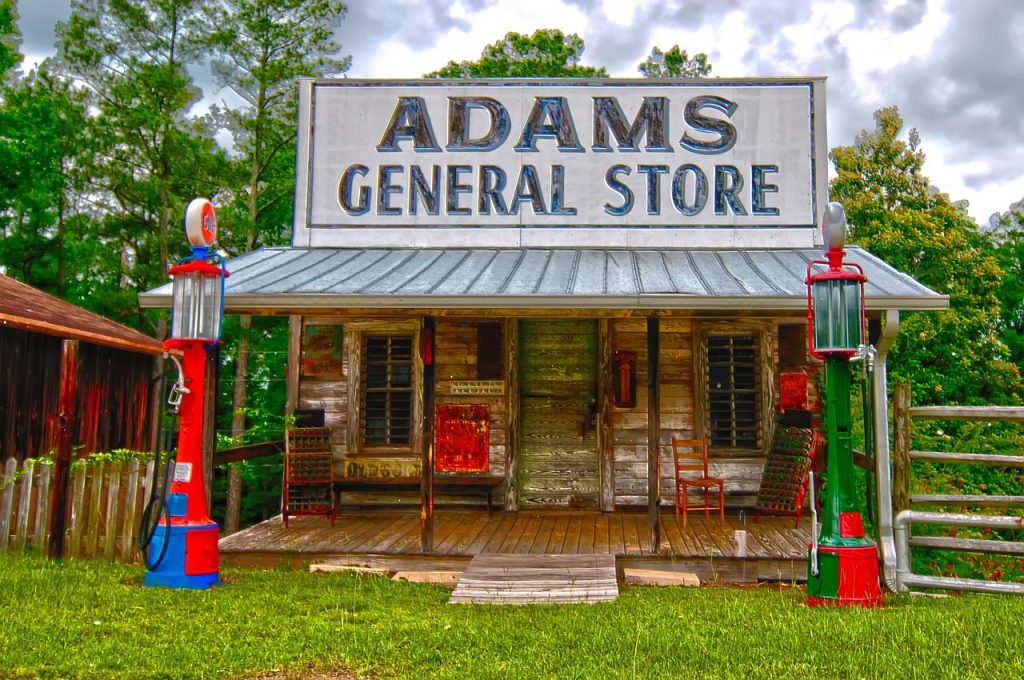 Convenience Store Keto Foods
If you are on a road trip, it's easy to find keto friendly foods even if you just stop at a gas station or convenience store. I've found all of these at the tiniest, generic gas station in the middle of nowhere. So if you are road tripping, take a look when you stop for gas and to use the bathroom. You might have to hunt a little, but you'd be surprised at what you can find.
Best Keto Travel Snacks:
Nuts (Macadamia, Pistachios, Brazil, Pecans, Almonds, Peanuts, Cashews)
Hard Boiled Eggs
Pork Rinds
Beef jerky (watch for added sugar)
String cheese
Pickles
Protein bars such as Quest (larger convenience chains usually carry some)
Chocolate such as Quest or Lily's (larger convenience chains usually carry some)
Veggies and Ranch
Fresh Fruit (occasionally you'll find cups of berries, but steer clear of other high sugar fruits)
My Keto & Weight Loss Journey
I've lost over 90 pounds in one & a half years on a Keto-friendly diet. Read about my weight loss journey here. I'd love to have you join my new Facebook group, Everything Keto with Wendy (no keto police allowed). And join my Keto/Low Carb newsletter too.