This post may contain affiliate links. Please read my disclosure.
Want to declutter? These are some of the best tips for the KonMari method of decluttering to get ya started and inspire you.
Be sure to sign up for my email list….seasonal recipes in your inbox every week!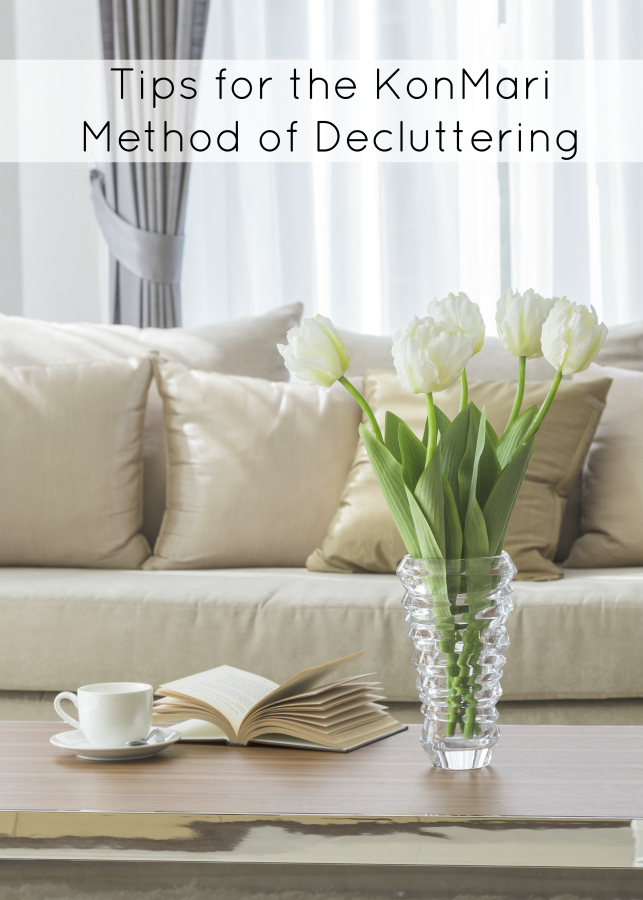 I read the Life Changing Magic of Tidying Up by Marie Kondo a couple years and it really spoke to me and I devoured everything I could on the subject. I joined message boards (there are tons of them on Facebook) and banned together with other people who want to declutter and live a more simple life.
My house is nowhere near being finished, but I have done a lot following the book and even through some other eCourses that take a more minimalistic approach. My goal is have less stuff, so I can spend more time enjoying my family and less time cleaning up clutter.
I love how having less stuff to manage has reduced the stress level in my home and I'm spending less and less time dealing with everything. So, for the sake of this….I'm sticking with KonMari inspired tips and tricks to help YOU get started in your own home.
First things first, I can't stress highly enough…you need to get a copy of the book. Buy, borrow, check out from the library, or download an eReader version and read it. It's a quick read, promise. I also want to say, there are some things in the book that may seem a little odd or strange, just remember that this book was originally written in Japanese and the culture in Japan is a lot different than the culture here in the US.
KonMari for Families
Free eBook for doing the KonMari method with Families
Clothing
Collections
Music Collection
Rooms
Kid's Room
Teen Room
Bathrooms
Be sure to follow me on Instagram and tag #amftrecipes when you share one of my recipes….so I can see all the wonderful recipes YOU make!
Connect with Around My Family Table!
Make sure to follow me on social media, so you never miss a post!
Facebook | Twitter | Pinterest | Instagram | Bloglovin' | Google+
Sign up to receive seasonal recipes once a week or
receive an email in your inbox for each new recipe: