This post may contain affiliate links. Please read my disclosure.
This cake was so moist and easy to make…what's not easy about starting with a boxed mix. The cake isn't too coconuty in flavor…it adds just a slightly different flavor that works nicely with the lemon. The instructions call for using an electric mixer; however, I just mixed by hand and it turned out just fine. Again, this recipe is from the Thai Kitchen website.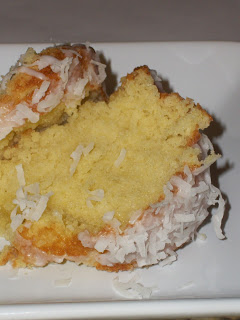 Lemon Coconut Cake with Lemon Glaze
1 package (18 1/4 ounces) lemon or yellow cake mix
1 can (14 ounces) Thai Kitchen Coconut Milk, well stirred
3 eggs
1 tablespoon lemon extract
Lemon Glaze (recipe follows)
1/4 cup flaked coconut, toasted
Preheat oven to 350°F. Beat cake mix, coconut milk, eggs and extract in large bowl with electric mixer on low speed just to moisten. Beat on medium speed 3 minutes.
Pour into greased and floured 10-cup Bundt pan.
Bake 35 minutes or until toothpick inserted in center comes out clean. Cool in pan 10 minutes. Invert cake onto wire rack. Cool completely. Drizzle with Lemon Glaze. Sprinkle with toasted coconut. Let stand until glaze is set.
Lemon Glaze: Mix 1 1/2 cups confectioners' sugar, 1 tablespoon water and 1 teaspoon lemon extract in medium bowl until smooth. If necessary, stir in 1 to 3 additional teaspoons water until glaze is of desired consistency.
Serves 16