This post may contain affiliate links. Please read my disclosure.
I never would have made this dish if it wasn't for Thai Kitchen sending me the Pad Thai Sauce. But ya know what….we have a new meal to our rotation. It was wonderful and so easy to put together. I think the hardest part was finding bean sprouts at the grocery store. Again, this recipe is from the Thai Kitchen website.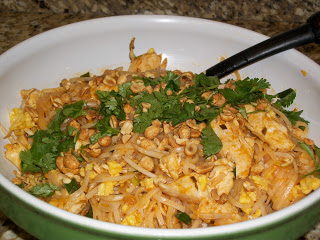 Easy Chicken Pad Thai
14 ounces (1 box) Thai Kitchen Stir-Fry Rice Noodles
4 tablespoons vegetable oil, divided
4 egg, lightly beaten
4 boneless skinless chicken breasts, cut into thin strips
1 small jar Thai Kitchen Original Pad Thai Sauce
8 green onions, thinly sliced
1 cup bean sprouts
1/2 cup coarsely chopped unsalted peanuts
Fresh cilantro sprigs and lime wedges
Bring 4 cups water to boil in medium saucepan. Add rice noodles; cook 3 to 5 minutes or until noodles are tender but firm. Rinse under cold water; drain well. Set aside.
Heat 1 tablespoon of the oil in large skillet or wok on medium-high heat. Add eggs; scramble until set. Remove from skillet. Add remaining oil to skillet. Add chicken; stir fry until cooked through. Add rice noodles, Pad Thai sauce and green onions; stir fry 3 to 4 minutes or noodles are tender.
Stir in bean sprouts and scrambled egg. Place noodle mixture on serving platter. Sprinkle with peanuts. Serve with cilantro sprigs and lime wedges.
Variation: Prepare as directed, substituting 4 ounces peeled and deveined shrimp or cut-up vegetables or cubed tofu for the chicken.
Serves 4.