I've kicked up our plain ol' cheeseburger to this colossal Mac & Cheese Burger.  A perfectly grilled burger topped with my favorite macaroni and cheese and of course loads of bacon…it's absolute perfection!
Be sure to sign up for my email list….seasonal recipes in your inbox every week!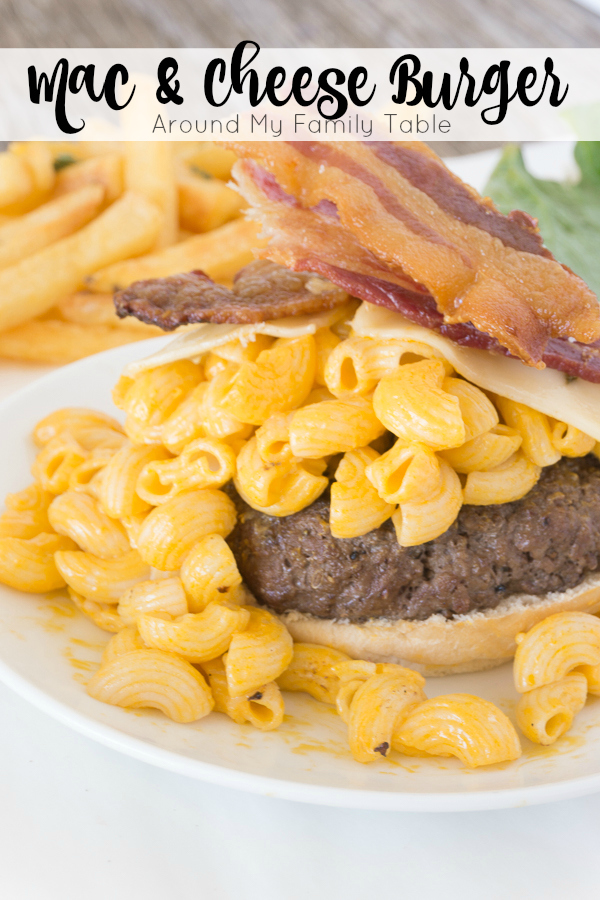 When my hubby took his first bite, his face said it all.  But then he said, "This is the best burger you've ever made!!!"  So there ya go…it's perfect and there really is no reason to improve upon perfect.
 This is definitely a knife and fork kind of burger…although I'd love to see y'all pick it up and eat it.  This really is the burger to end all burgers.  Can you think of anything better than a perfectly seasoned patty topped with my favorite mac and cheese recipe (or use your own fav), some pepper jack cheese, and tons and tons of bacon. Okay, it's really on 2 slices, but it's amazing!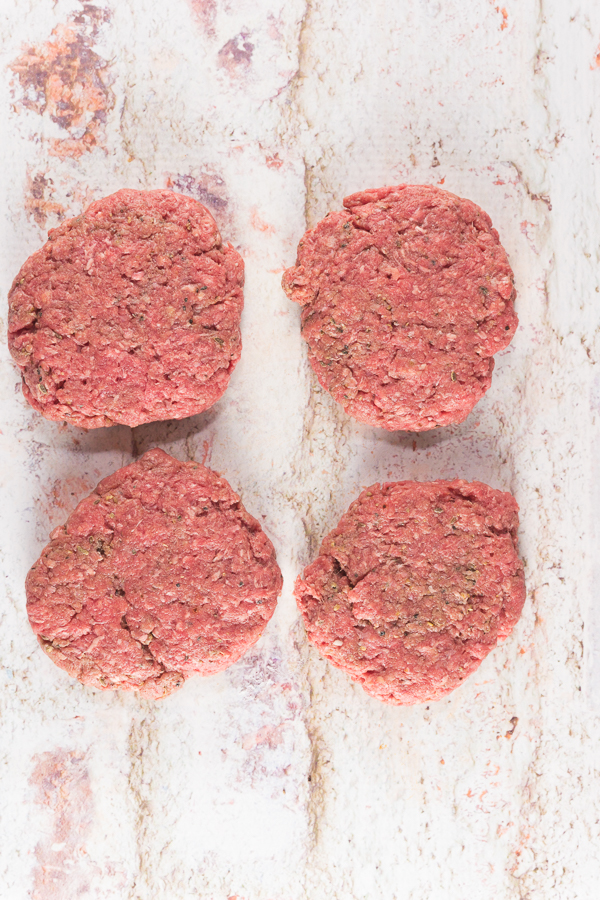 I can't take all the credit for this burger.  Hubby helped…a little! He kept suggesting things to add to it, but ultimately it was perfect with fewer ingredients and without a crazy burger sauce.
During the summer we fire up our grill just about every night because it's too hot to heat up the house with even the simplest recipe.  Luckily, you can technically make this entire recipe on the grill if you a side burner or a large enough grill.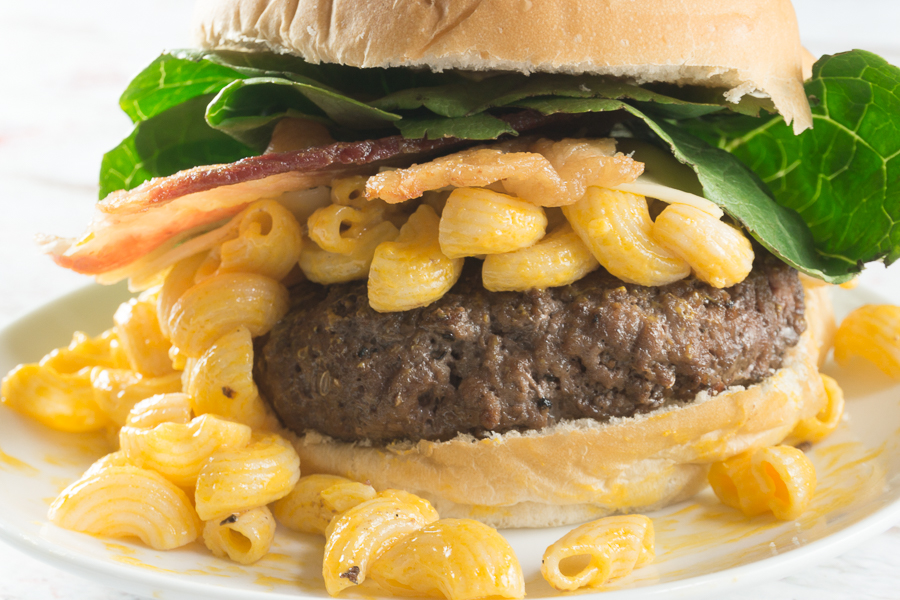 I really hope y'all will give this burger a try…it will rock your burger loving minds!!!!
Need help with the grill?  Check out my How to Grill Series.  And if you love mac & cheese…check out these delicious recipes.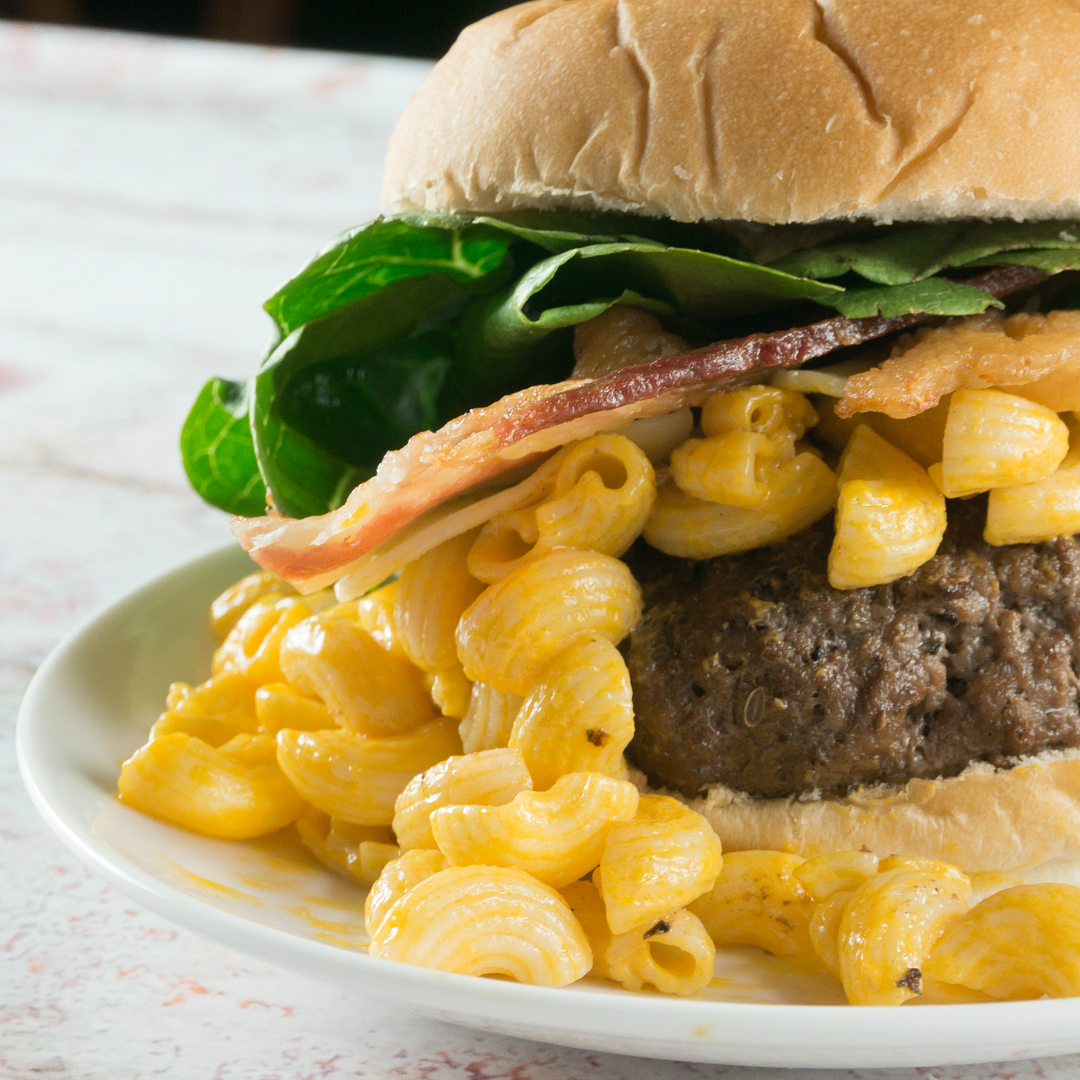 1 1/4 lbs ground beef
1/4 cup Worcestershire sauce
2 tsps steak seasoning
1 tbl butter
1 tbl flour
1/2 tsp garlic powder
1/4 tsp ground mustard powder
1/4 tsp onion powder
1 1/4 cup milk
3 cups shredded sharp cheddar cheese
3/4-1 tsp salt
8 oz large elbow noodles, cooked
8 slices cooked bacon
4 slices pepper jack cheese
4 lettuce leaves
4 hearty hamburger buns
Add ground beef, Worcestershire sauce, and steak seasoning to a large bowl. Gently work the sauce and seasoning into beef, but don't overwork it and keep it cold. Keeping the beef cold and underworked will produce a more tender burger. Evenly divide beef mixture into 4 portions and form them into patties.
Preheat grill to high. Cook burgers over direct heat for 3-5 minutes on each side or until desired doneness.
Meanwhile, in a large skillet melt butter and add flour over medium high heat. Stir for a minute to combine. Add onion, garlic, and mustard powders, stir. Lower heat and stir in milk all at once. Return heat to medium high and bring to a simmer and add salt. After milk thickens a little, stir in cheese one handful at a time. Stir until all cheese is incorporated and melted. Add cooked elbow noodles to the pot. Mix well to combine.
Remove from burgers from heat and top each burger with a large scoop of macaroni and cheese, a slice of pepper jack cheese, 2 slices of bacon, and a couple lettuce leaves. Serve on a hearty roll or bun.
7.8.1.2
568
https://www.aroundmyfamilytable.com/mac-cheese-burger/

Join the Club!
Get delicious recipes delivered straight to your inbox each week! Plus learn how to take back suppertime in your home.

And get started with my NEW Take Back Suppertime 5-Day Jump Start Guide.