This post may contain affiliate links. Please read my disclosure.
These mini cheesecakes were the perfect size. They were super easy and everyone loved them. I adapted them from a recipe from the Nabisco website. I actually got more than 12 out of this recipe (I think it made 16).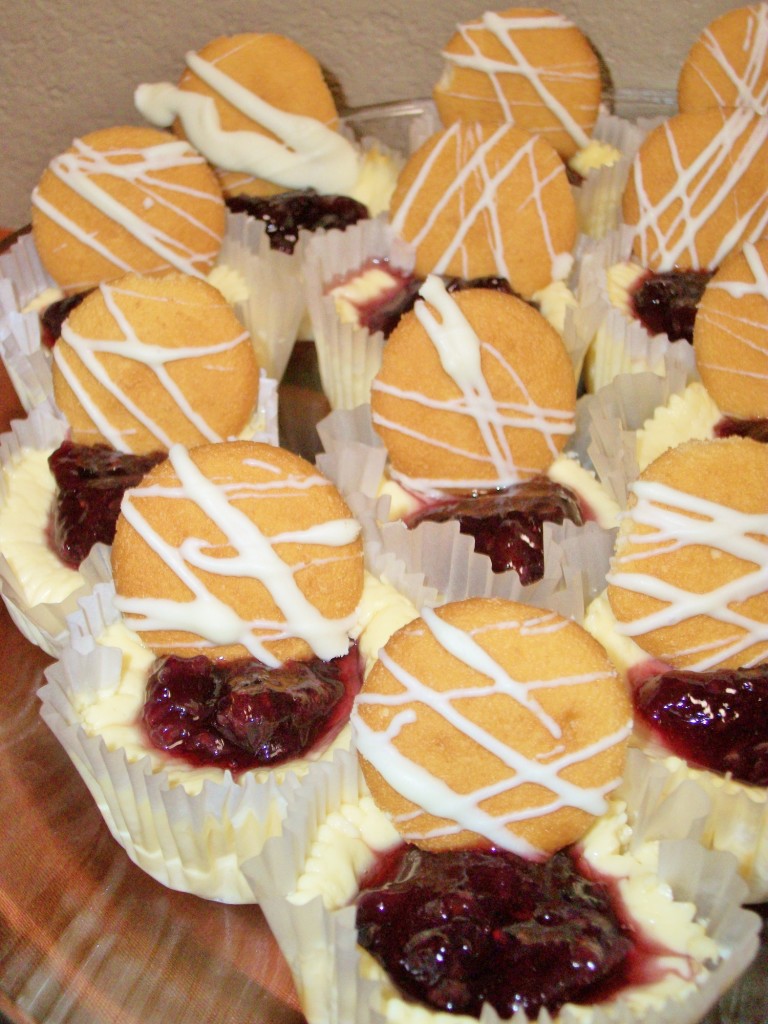 Mini Cheesecakes
24 NILLA Wafers, divided
2 pkg. (8 oz. each) cream cheese, softened
1/4 cup sugar
1/2 cup sour cream
1 tsp. vanilla
2 eggs
1/4 cup white chocolate chips, melted
1/4 cup strawberry preserves (I used homemade triple berry preserves)
Preheat oven to 325°F. Place 1 cookie in each of 12 paper-lined muffin cups. Combine cream cheese and sugar in large bowl with electric mixer on medium speed until well blended. Add sour cream and vanilla; mix well. Add eggs; beat on low speed just until blended. Spoon evenly into prepared muffin cups.
Bake for 20 to 25 min. or until centers are almost set. Cool. Refrigerate 4 hours or overnight. Meanwhile, drizzle melted chocolate evenly over remaining 12 cookies. Let stand at room temperature until chocolate is firm.
Top each cheesecake with 1 tsp. preserves and 1 decorated cookie just before serving. Store leftover cheesecakes in refrigerator.
Prep Time: 20 min
Total Time: 6 hr 5 min
Makes: 12 servings, 1 mini cheesecake each