There is nothing better for supper on a hot evening than a delicious salad.  This Muffaletta Salad has all the flavors you expect in the traditional sandwich, but in salad form!
Be sure to sign up for my email list….seasonal recipes in your inbox every week!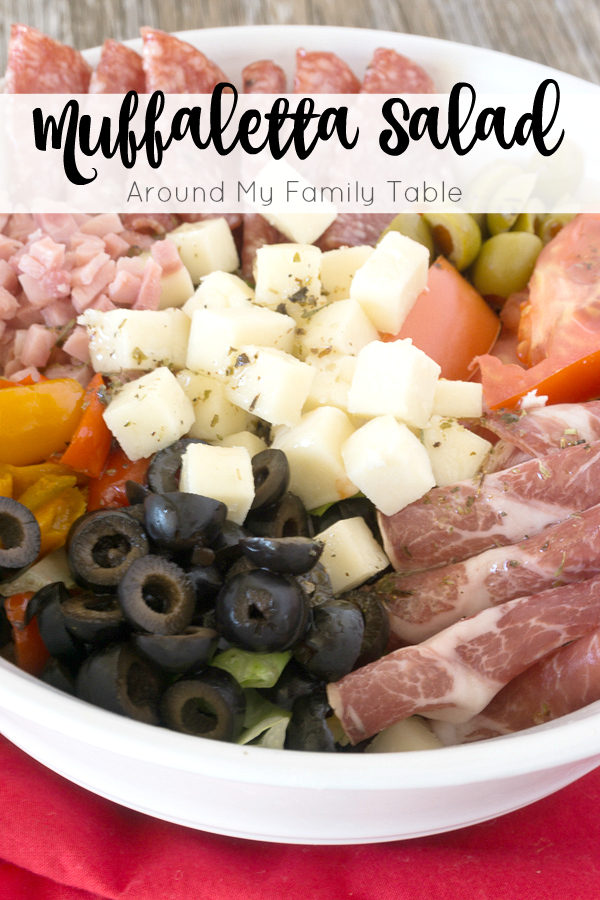 Y'all…ever since I had to give up wheat I've struggled with making a great sandwich.  The bread just isn't the same as wheat bread. It's just not. And I've had a huge….I mean HUGE…craving for a big ol' Muffaletta sandwich.
So this salad is for all my gluten free friends, but I promise everyone will love it.  I even used a goat cheese cheddar to make sure I could eat it, but feel free to use any cheddar that you love.
I've mentioned it before, but in the summer I don't actually cook in my kitchen.  The highs can be around 120F in Phoenix during the summer months so any little bit of heat in the kitchen just really pushes me over the edge.  I don't even use my slow cooker in the house during the summer.  I know y'all are laughing at me, but it really puts off some heat.  So summertime means grilling out and main dish salads for supper.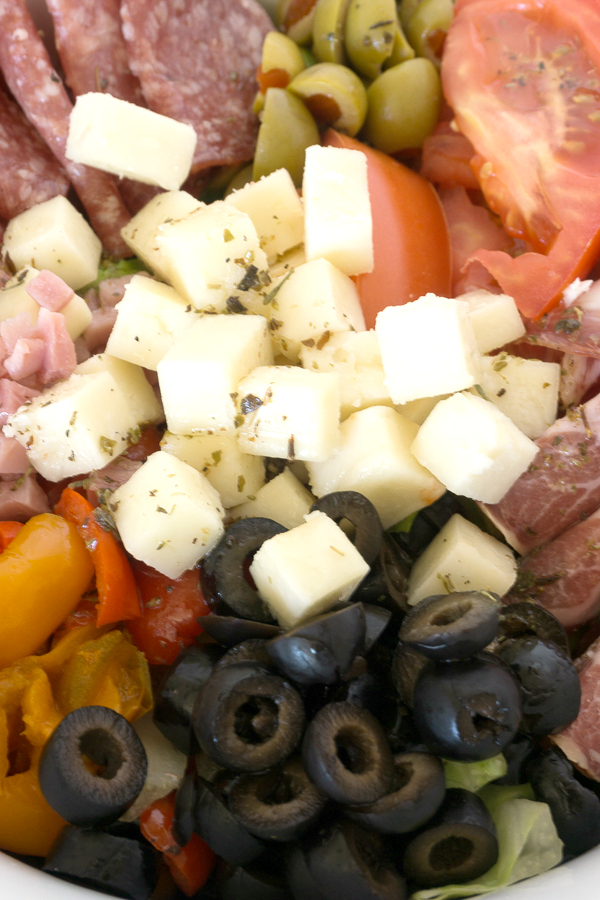 Since the meats are the star of the show, buy the best brand you can afford.  Trust me…it's soooo worth it.  Then the next night use the last of your meats and cheeses for a charcuterie board appetizer or even as a lunch.  I'm slightly obsessed with putting together charcuterie boards, so in reality this salad came up as a way to use up my leftovers. Either way you'll have two amazing meals!
Don't forget to whip up the homemade salad dressing to go with this salad, but in a pinch a bottled Italian dressing will work.  Although, I bet y'all already have everything you need in your pantry!
9-10 cups torn romaine lettuce
1/2 cup pimento stuffed green olives, halved
3/4 cup roasted red peppers, halved
2 roma tomatoes, quartered
8 oz diced cheese (cheddar, Muenster, or both)
5 oz Genoa salami
5 oz Capocolla
1/2 cup diced ham

Dressing

1/2 cup olive oil
1/4 red wine vinegar
1 1/2 tsps Italian herbs
1 tsp sugar
pinch salt
Place the torn lettuce into a large salad bowl and neatly arrange all the ingredients around the top of the lettuce.
In a pint sized mason jar, add the olive oil, vinegar, herbs, sugar, and salt. Screw on lid and shake well to combine. Drizzle half of the salad and reserve remaining dressing to be added to individual bowls as needed.
7.6.2
569
https://www.aroundmyfamilytable.com/muffaletta-salad/

Join the newsletter
Get Delicious & Seasonal Recipes in your INBOX every week.