This post may contain affiliate links. Please read my disclosure.
These adorable Mini No-Bake Peppermint Cheesecakes look just like starlight mints. They're perfect for a festive holiday event, but easy enough for anytime.
Be sure to sign up for my email list….seasonal recipes in your inbox every week!
Mini No-Bake Peppermint Cheesecakes
While the rest of the world is chasing the gingerbread man or rolling around in pumpkin spice, I'll be quietly over here in the corner shoveling in my cute little creamy, sweet, pepperminty cheesecake thank you.
Sure it's winter and cold so you have no problem using the oven. But it's the holidays. There's shopping, there's company, there's that darn elf who arrives in a new magical place EVERY SINGLE DAY.
Why spend hours baking and cooling and then refrigerating when you can take this glorious shortcut and still have a delicious and festive dessert?
And if you're not a peppermint fan, just leave out the candy for a delicious classic vanilla cheesecake flavor. But if you happen to love peppermint, then check out all of Wendy's delicious Peppermint Dessert Recipes. YUM!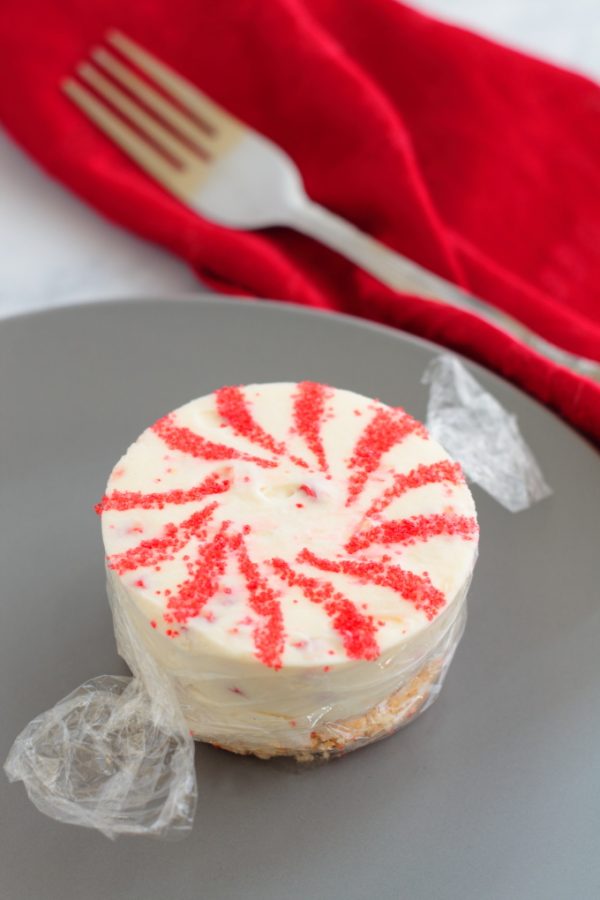 The most important thing to do to make this no-bake peppermint cheesecake the best it can be, is to make sure when you melt the chocolate it's completely melted and smooth. And when you beat the filling at the end, you run the mixer until it's not only completely smooth, but slightly fluffy. This gives the cheesecake the perfect rich, creamy and not too dense texture. Have you ever had cheesecake that's heavy like eating a block of cream cheese or fluffy like eating whipped cream or worse grainy? Even though this recipe is super simple, it neatly avoids all those no-bake cheesecake pitfalls.
And if your 8 year old tells you Thursday night that he needs a reindeer costume for the school assembly in the morning so you don't have time to stencil the starlight mint pattern on top? No one will ever know. But if you have time, click HERE, to download a quick template I used to create the starlight mint pattern.
Shelley is a personal chef, wife and mom who shares her Weekend Fancy + Weeknight Fast recipes at https://www.chefintheburbs.com. She is a master at getting food on the table while sneaking off to the garage for a glass of wine. Click here for her free ebook 5 Ingredient – 15 Minute Dinners.
No-Bake Cheesecake Tips
For a tasty variation, use Nabisco Chocolate Famous Wafers for the crust and substitute Andes Crème de Menthe candy pieces for the cheesecake instead of the Peppermint Crunch. Sprinkle with green sugar for optimum cuteness.
I use 6 cup silicone muffin 'tins' and heat them in the microwave for 1 minute to set the crust. Alternatively use metal pans and bake in a 350 degree oven for 10 minutes.
Instead of mini cheesecakes, you can make this into a single 9 inch cheesecake.
If you can't find the Andes baking chips, you can crush candy canes or peppermints.
Store in fridge for two days or freezer for two weeks.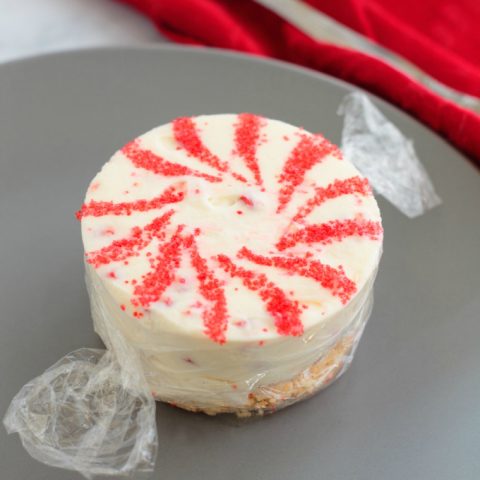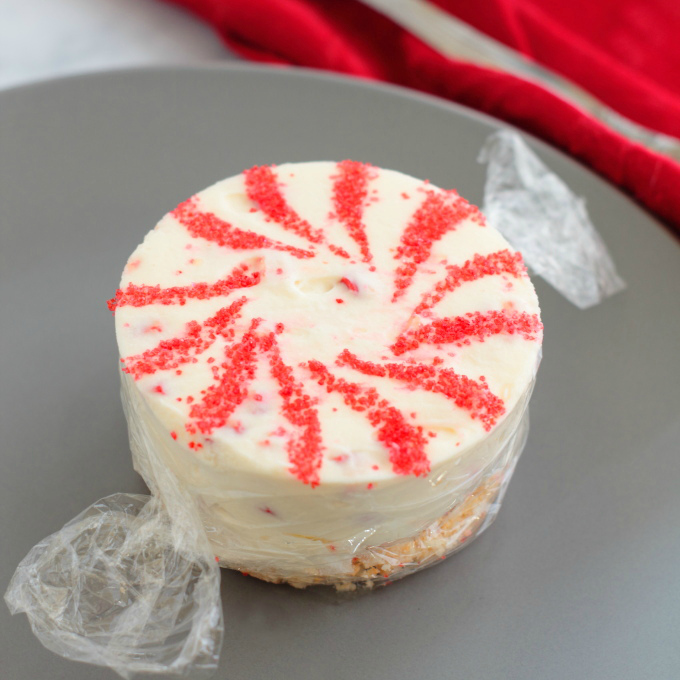 Mini No-Bake Peppermint Cheesecakes
Total Time:
3 hours
30 minutes
creamy, individual serving peppermint cheesecakes on a cookie crust. The best no bake holiday cheesecake recipe!
Ingredients
2 ½ cups cookie crumbs (shortbread, butter cookies, sugar cookies, animal crackers, graham crackers)
4 tablespoons butter
2/3 cup cream
12 ounces white chocolate, chopped
4 8-ounce packages cream cheese, softened
½ cup butter, softened
2/3 cup powdered sugar
2 teaspoons vanilla extract
1 10-ounce bag Andes Peppermint Crunch candy pieces
SUPPLIES
Red decorating sugar
Paper, pencil, scissors to make a stencil for starlight mint pattern
Plastic wrap
12 silicone muffin liners (1 cup size)
Instructions
1. Melt butter and stir into cookie crumbs. Press into muffin cups evenly.
2. If using silicone muffin 'tins', heat them in the microwave for 1 minute to set the crust.
3. If using metal pans, bake in a 350 degree oven for 10 minutes.
4. Heat cream and white chocolate in a microwave safe bowl for 1 minute on 50% power. Stir to incorporate melted chocolate. Repeat in 30 second increments if it's not completely melted. Be mindful not to overheat it or you'll ruin the chocolate. Stir until it's completely smooth.
5. While chocolate is melting, combine cream cheese and softened butter at medium speed with an electric mixer until mixed and creamy.
6. Add sugar, vanilla and white chocolate mixture and beat on medium high three minutes or until completely smooth.
7. Stir in candy. Pour into muffin cups and smooth tops. Refrigerate 3 hours until firm. You can also freeze them for about an hour.
8. Cut a circle the size of one of the muffin cups. Draw curved lines in a star pattern ending ½ inch from the center. Cut out the curved lines starting wider at the edge and coming together at a point near the center.
9. Pop the cheesecakes out of the silicone cups and place on a cookie sheet to catch the excess sugar. Place stencil on top and sprinkle sugar over.
10. Tear off a 2 inch strip of plastic wrap and wrap around each cheesecake, twisting ends and trimming if necessary.
Nutrition Information:
Amount Per Serving:
Calories:

933
Total Fat:

68g
Saturated Fat:

36g
Cholesterol:

137.8mg
Sodium:

559mg
Fiber:

2.9g
Sugar:

58.5g
Protein:

9.8g