This post may contain affiliate links. Please read my disclosure.
This recipe is in partnership with Rubbermaid.
Once you discover how easy no-bake pies are…it's hard not to come up with new creations. This NO BAKE TRIPLE BERRY PIE has a pretzel crust and is ready after a couple hours in the fridge.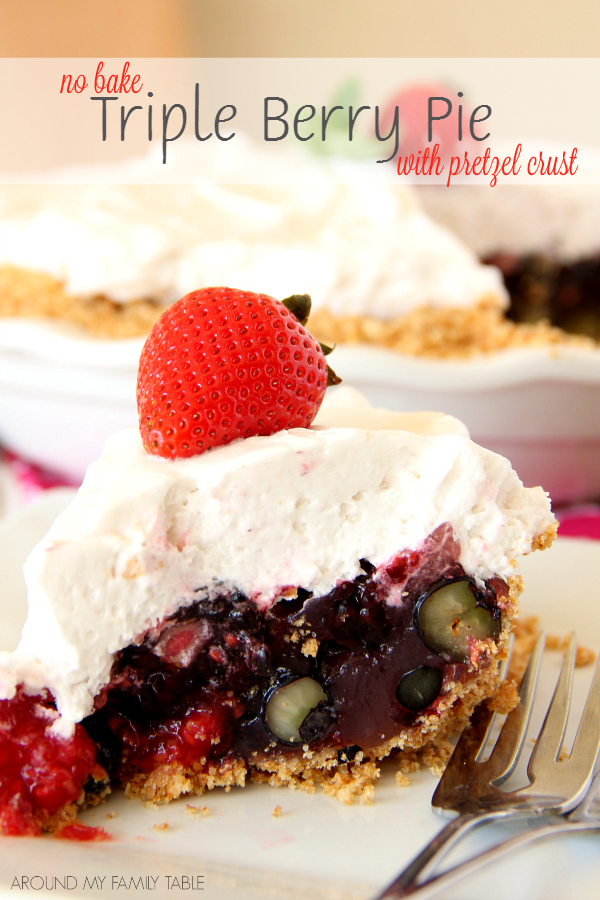 Y'all! I had to throw this pie out the first time I made it….because I kept eating it!!!! I loved the slightly salty pretzel crust with the fresh berries and sweet whipped cream. It was the perfect combination of flavors and textures that made it so hard to resist! I took it to a dinner party recently too and even though there were only 5 of us…the whole pie was devoured and I had none to bring home. Y'all….it's that good!!!!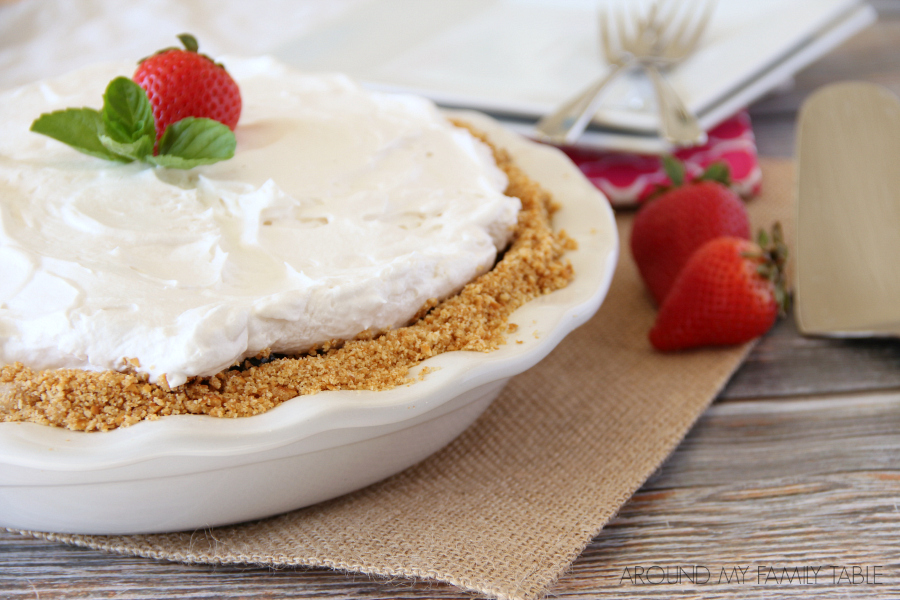 Since I'm new to using these Rubbermaid® Freshworks™ containers I knew the ultimate test for my family would be berries! I've been washing and storing berries in these containers for about 6 weeks now. And with each new package of berries I still wonder how they will do.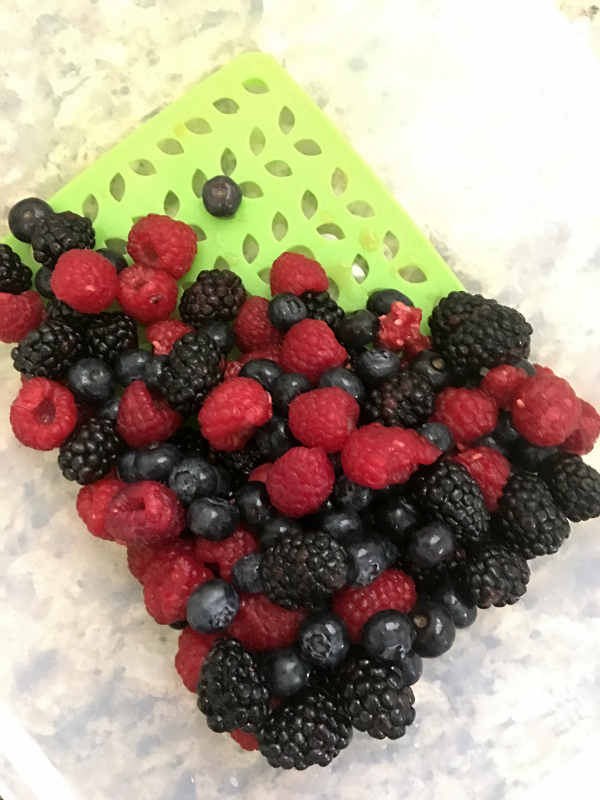 I am still beyond thrilled with how long my washed berries stay fresh. Seriously, they lasted almost week before they started showing signs of losing their freshness. A WEEK! For FRESH WASHED BERRIES in my fridge! A WEEK! The containers tout that they keep produce fresher up to 80% longer than storing produce in bags from the store….and I'd have to agree. Another bonus…they are dishwasher safe. You know me….it has to be dishwasher safe or I don't use it!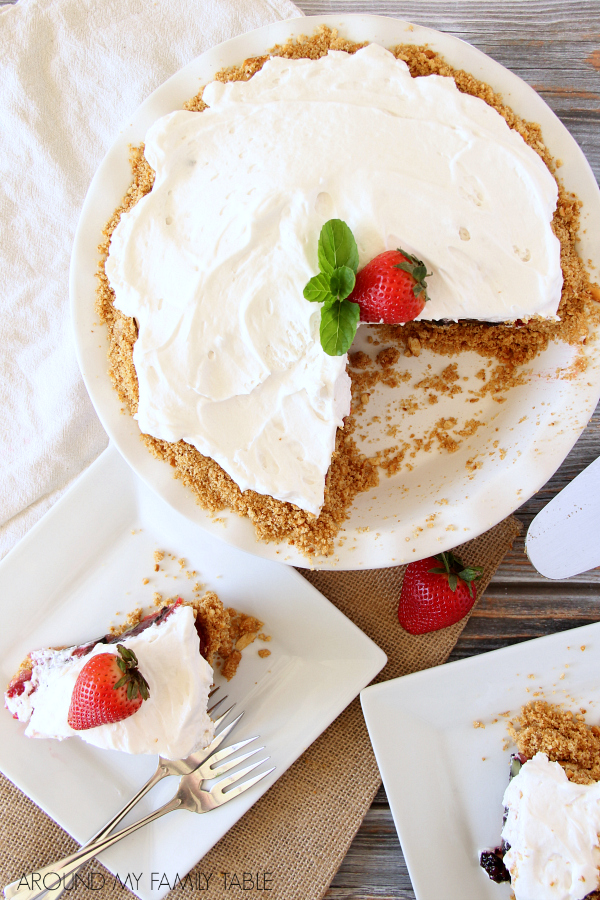 Did I mention my WASHED berries stayed fresh for a week. Not 24 hours like normal.
Feel free to change up the mixture of berries….I'm not a raspberry fan so I never use them, but you could certainly use them. Whatever berries look the best when you go to the store..grab them and make up this pie. You won't regret it.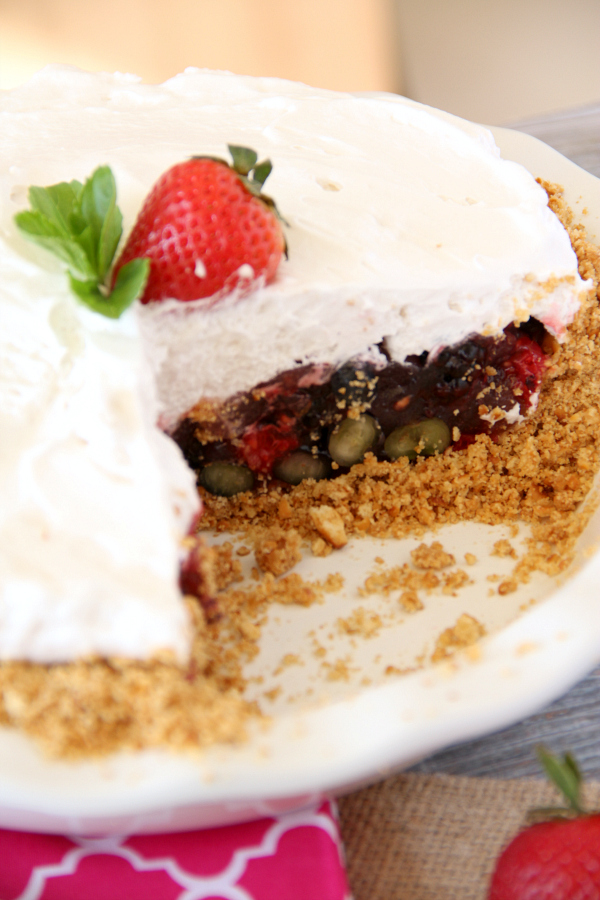 Oh…and if you have no allergies…then just use regular pretzels, regular butter, and regular whipped cream.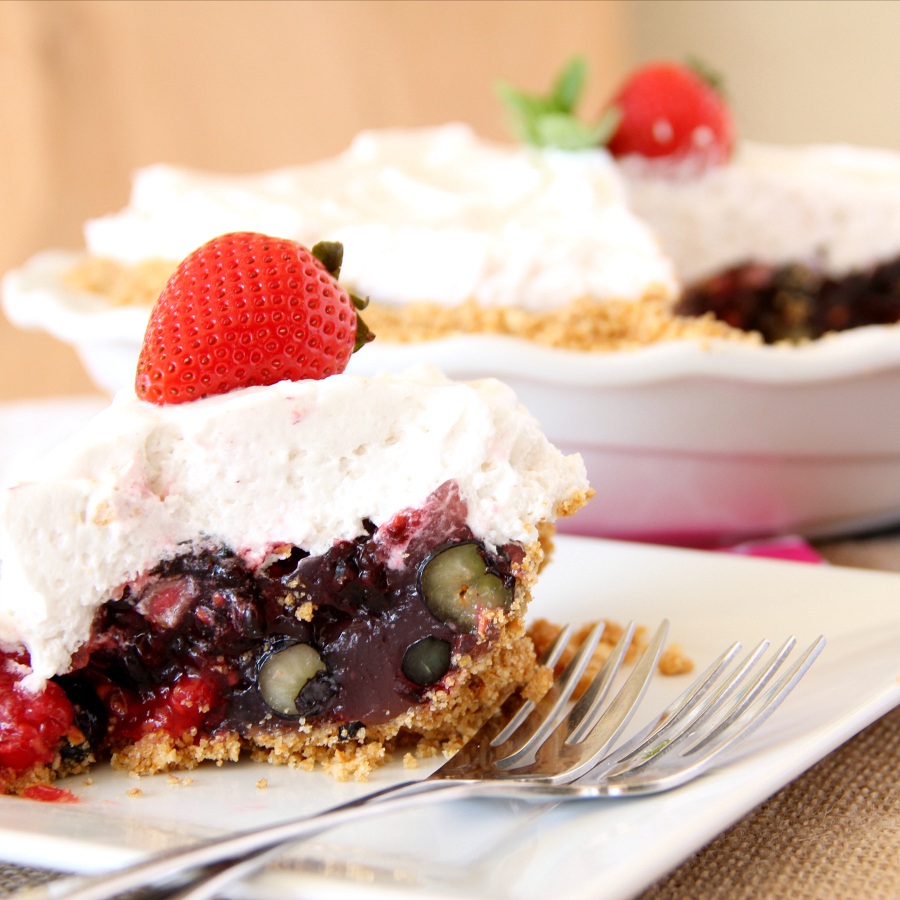 No Bake Triple Berry Pie with Pretzel Crust
NO BAKE TRIPLE BERRY PIE has a pretzel crust and is ready after a couple hours in the fridge. This no bake pie recipe makes the perfect summer dessert!
Ingredients
2 cups pretzel crumbs (I used a gluten free brand)
1/8 cup sugar
1 stick butter, melted (traditional or soy based)
1 cup water
1/2 cup sugar
2 tbls cornstarch
1/2 package (4-serving size) strawberry-flavored gelatin (~3 tbls), I used a vegan brand
2 cups sliced strawberries
1 cup blueberries
1 cup blackberries
Whipped cream topping, I used a vegan brand
Instructions
Mix the pretzel crumbs, melted butter, and 1/8 cup sugar together in a medium bowl until combined. The mixture will be coarse and sandy. Press the mixture into the bottom of 9 inch pie pan and slightly up the sides. Use the bottom of a flat cup to really press the crumbs into the pan. The crust should be really thick. Chill the crust for at least 2 hours before using.
Mix water, 1/2 cup sugar, and cornstarch in medium saucepan. Bring to a boil over medium heat, stirring constantly. Boil and stir 1 minute then remove from heat. Stir in gelatin until dissolved. Refrigerate about 15-20 minutes, stirring occasionally, until mixture thickens, but isn't set.
Fold berries gently into gelatin mixture. Pour into crust and refrigerate at least 2 hours or until set. Top with whipped cream and serve. Store leftovers covered in the refrigerator.

Disclaimer: I'm sharing #Freshworks in my life as part of a Rubbermaid Freshworks sponsored series for Socialstars™.