This post may contain affiliate links. Please read my disclosure.
I just had to share these with you. Add them to your turkey day line up and all the kids will love you. Or have the kids make them while you finish getting the big supper on the table. We've been making these for years and the kids love to help. It's a great way to use up some left over candy corn from Halloween too!
Super easy and cute too! I used a cupcake carrier to help stand them up.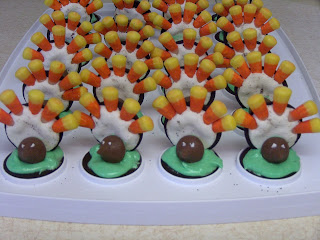 Oreo Turkeys
Oreo Cookies
1 can of white frosting, tinted green (save a tiny bit of white for the eyes)
candy corn
Hershey Kisses
Gently open up the Oreos. Spread green frosting on the side that does not have the white filling. Add candy corn pieces to the white filling. Stand up the side with the white filling on the green side. Use a Hershey kiss to help balance it. Use a toothpick to dot white eyes onto the Hershey kiss.