This post may contain affiliate links. Please read my disclosure.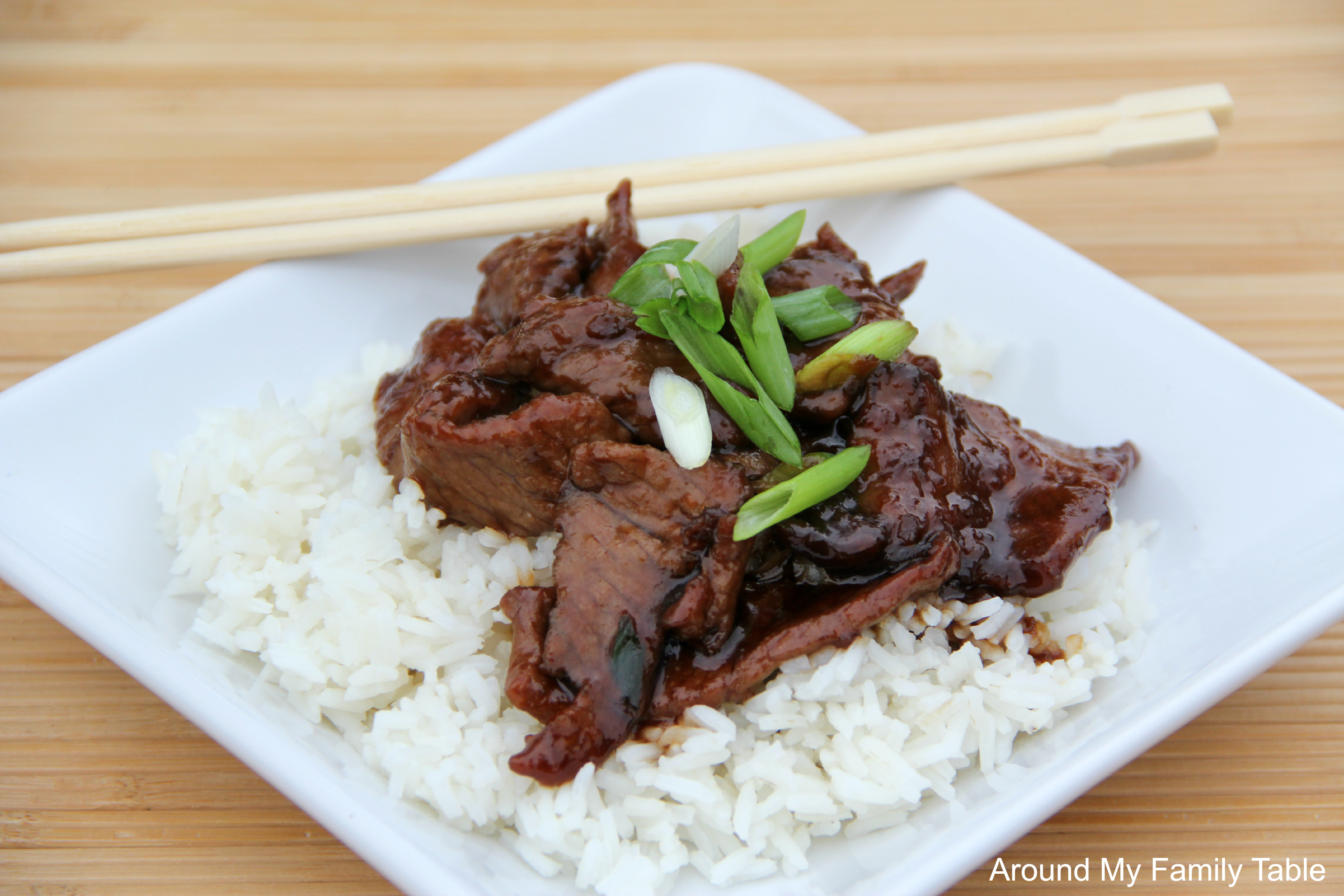 Okay really, this is my copy cat version of my favorite dish from PF Chang's/Pei Wei. It's not their recipe, but it's as close as I can get it. I think you will be pleasantly surprised at how truly easy it is to make it at home.
Have you tried it? It is so delicious and yummy! But I don't care for the mushrooms…I usually just push them aside and let hubbyman steal them. The kids don't care for them either, so I opted to leave them out of the recipe.
Like mushrooms? Just add sliced mushrooms to the sauce when you add the green onions. Problem solved!
One of my favorite parts of the meal is scooping up the last of the rice with all that sauce and a little chili sauce too. I like it spicy! Oh yeah! I could probably just eat that and skip the actual meat. LOL! My rice cooking habits have changed over the years. I started off using a food steamer, then to the stove, but now I use a rice cooker. I love my rice cooker from Aroma Housewares! Do you have one?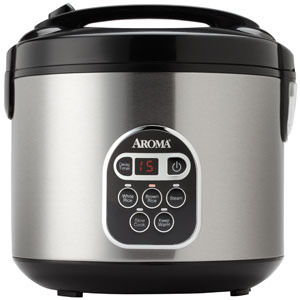 You need one! I have the big daddy of all rice cookers, it makes 20 cups of rice. Can you say PAR-TAY? Honestly, it simplifies meal time so much. I don't have to watch the stove and love using the timer to have it ready when the rest of the meal is ready. Our lives are hectic these days…tutoring, piano, scouts, you name it, that I will take all the help I can get. If it's a really crazy day, I use it to steam our veggies and cook the rice at the same time.
And did I mention, this bad boy can also be used as a slow cooker? Oh yeah…you do remember that I have an obsession with my slow cookers, right?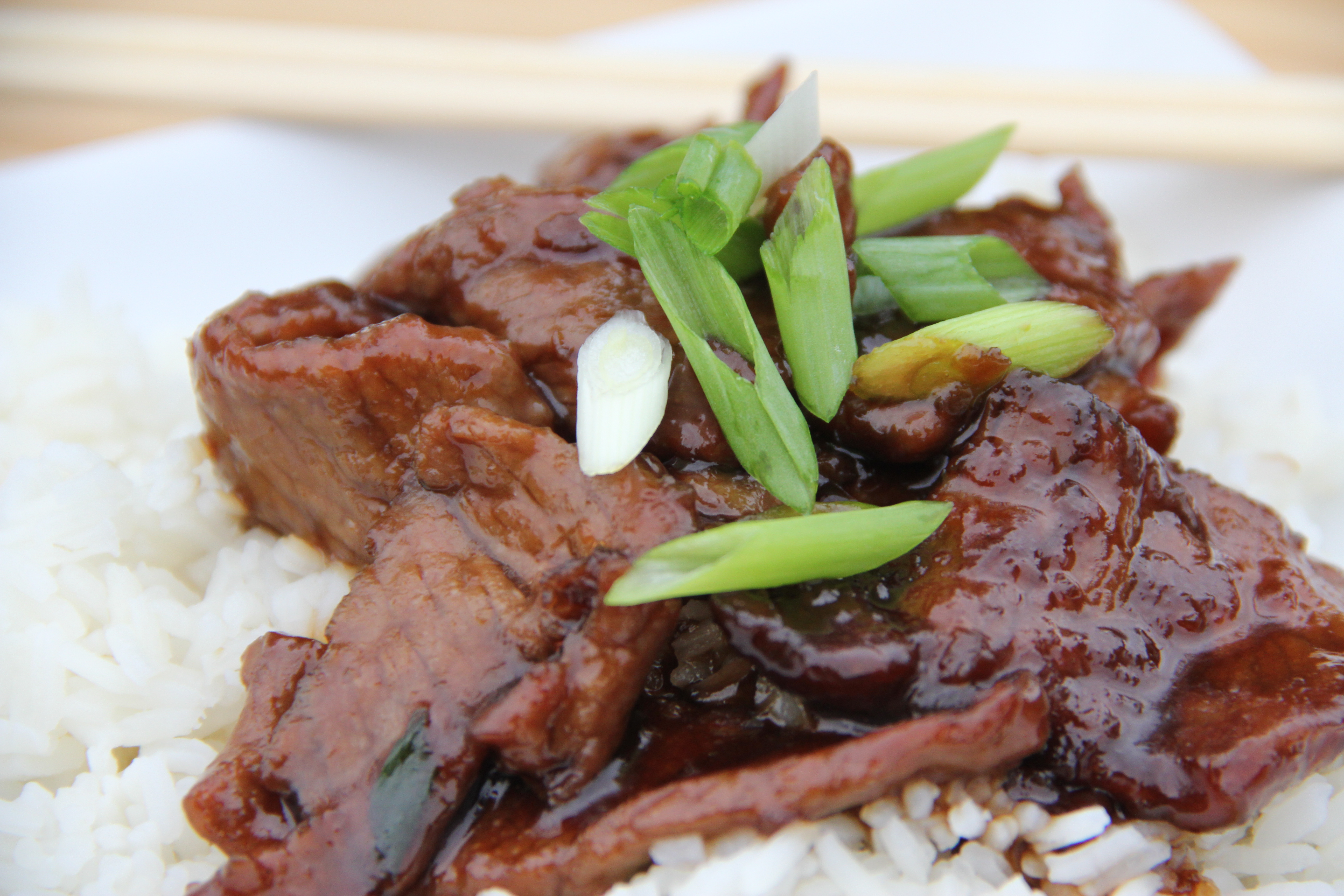 PF Chang's Mongolian Beef
This is a copycat recipe for PF Chang's Mongolian Beef. Tastes just like the restaurant version, but it's less expensive when you make it at home!
Ingredients
1 1/2 lbs flank steak
3/4 cup soy sauce, divided
3 tbls Hoisin sauce
1/4 cup corn starch
2 tsps vegetable oil
1/2 tsp minced ginger
1 tbls chopped garlic
1/2 cup water
3/4 cup brown sugar
1 bunch green onion, slice on the diagonal
vegetable oil, for frying (about 1 cup)
Instructions
Slice steak against the grain into 1/4" thin bite-size slices. (About the size of fajita meat, but thinner and a little wider). Combine 1/4 cup soy sauce, Hoisin sauce, and corn starch in a large zip top baggie. Add sliced steak and seal shut. Shake well to coat and allow it to sit at room temperature for about 30 minutes.
Meanwhile, make the sauce by heating 2 tsp of vegetable oil in a medium saucepan over med/low heat. Add ginger and garlic to pan and heat for about 30 seconds. Add remaining soy sauce and water. Dissolve brown sugar in the sauce. Raise heat to medium and boil the sauce for 2-3 minutes or until the sauce thickens. Remove it from the heat and set aside.
Heat one cup of oil in a wok or a large pan over med-high heat (no need to let it get to the smoking point though). Remove half the beef from baggie and add the oil. Saute for about two minutes or until the beef just begins to darken, stir to cook evenly. Remove from oil and place on a plate lined with paper towels to drain. No need a cook through because the beef will go into the sauce to finish cooking later. Repeat with remaining beef.
Remove oil from pan by carefully draining into a glass jar. (WARNING: OIL WILL BE EXTREMELY HOT). Return pan to the stove and put meat back into pan and simmer for about one minute. Add the sauce, cook for one minute while stirring, then add the green onions (reserve a few fresh onions for garnish).
Cook for one more minute, then remove the beef and onions with a slotted spoon to a serving plate. Serve over rice and garnish with a few fresh sliced green onions.
Nutrition Information:
Yield:

4
Serving Size:

6 oz
Amount Per Serving:
Calories:

591
Total Fat:

20g
Saturated Fat:

6g
Trans Fat:

0g
Unsaturated Fat:

12g
Cholesterol:

135mg
Sodium:

2928mg
Carbohydrates:

49g
Fiber:

1g
Sugar:

37g
Protein:

52g
Disclaimer: Aroma Housewares provided me with a rice cooker for my honest review; all opinions are my own.