This post may contain affiliate links. Please read my disclosure.
My award winning Pomegranate Lemonade Cupcakes recipe are the perfect spring cupcake!!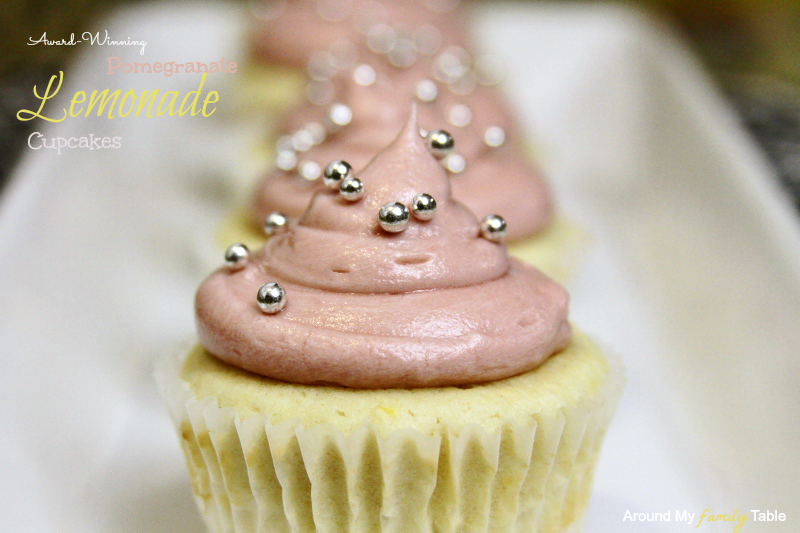 One of my favorite summertime drinks is a pomegranate lemonade that I make using the juice that I stored from my trees over the winter. I juice all the fruit and store the juice in the freezer in small baggies. I love pomegranates, but I hate picking out the seeds to eat and juicing can be a mess.
A couple weeks ago POM Wonderful contacted me and asked me to give their 100% Pomegranate Juice Concentrate a try. I immediately said yes! I will be making my pomegranate lemonade soon, but for now…I thought y'all would like this cupcake recipe I came up with. It is perfect for Valentine's Day!
The 100% Pomegranate Juice Concentrate is only available online, but let me tell you….YOU NEED THIS! If you like pomegranates then you will want to give it a try. I made a Shirley Temple for my daughter today and she was in heaven. Remember that pomegranate vinaigrette I was going to try to make….it's now on my short list of things to try. I can't tell you how excited I am about this juice. It was so easy to use and a little goes a long way. But if you just want some straight up pomegranate juice, there are directions on how to dilute the concentrate. AWESOME! If you head over to POM Wonderful's website, there is currently a $1 off coupon for a 16oz bottle of Pomegranate Juice at the grocery store.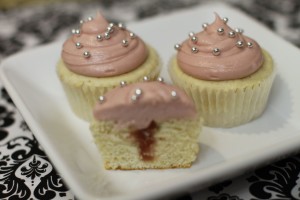 Pomegranate Lemonade Cupcakes
My award winning Pomegranate Lemonade Cupcakes recipe makes the perfect spring dessert!
Ingredients
CUPCAKES:
2 3/4 cups all purpose flour
1 1/2 cups sugar
1 tbsp baking powder
12 tbsp butter, softened
2 large egg whites
2 large eggs (white and yolk)
3/4 cup sour cream
1/2 cup lemon juice (fresh squeezed)
1 tsp pure vanilla extract
2 tsp lemon extract
1 tbsp lemon zest (from one lemon)
FILLING:
1/2 cup lemon curd
2 tsps pomegranate juice concentrate (POM Wonderful)
FROSTING:
1/4 cup shortening
1/4 cup butter, softened
2-3 tbsp water
1 tsp vanilla extract
3 tbsp pomegranate juice concentrate (POM Wonderful)
1/2 lb powdered sugar
Instructions
For the CUPCAKES: Preheat oven to 325F. Combine all the dry ingredients in a large mixing bowl, using a mixer to aerate. Add butter and mix into a soft paste. Add eggs and whites, one at a time. Beat in between additions to help build volume.
In a small bowl, combine sour cream, lemon juice, zest, and extracts. Add into the cake mixture 1/3 at time, beating gently between each addition. Batter will be thicker than a normal cake batter.
Prepare 24 cupcake tins with papers sprayed with nonstick cooking spray. Fill papers about 2/3 of the way full. Bake for 18-22 minutes. Check every 2-3 minutes after that for doneness. Cupcakes are done when toothpick comes out clean. Allow to cool completely before filling and frosting.
For the FILLING: In a small bowl combine lemon curd and pomegranate juice concentrate. Place in fridge for at least 30 minutes to allow it to set up a bit.
Use a straw to poke a hole in the center of each cupcake. Place filling in a piping bag or zip top baggie. Cut a little hole in one end and fill each cupcake.
For the FROSTING: Beat together butter, shortening, 1 tbl of water, vanilla, and pomegranate juice until smooth and creamy. Beat in the sugar gradually on a low setting. Scrape sides of bowl as needed. Mixture will be very thick. After all sugar is incorporated, add 1-2 more tbls of water and beat on a medium speed for 1-2 more minutes.
Adding more water will continue to thin the frosting. Add as much as you need until you reach your desired consistency. (Careful though because a little goes a long way.)
Keep bowl covered until ready to use. Leftovers should be stored in the refrigerator.
After cupcakes have been filled, place frosting in a piping bag fitted with tip 1A or place in a zip top baggie. Pipe onto cupcakes and sprinkle with silver dragees.
I entered this recipe into the POM Wonderful cupcake recipe contest in 2011 and won!
I WON the grand prize! WOOHOO!
Words cannot describe happy, honored, and humbled I am. So many people rallied around my cupcake that I won!
Thank you to everyone who helped and voted:
my wonderful husband who suffered by eating all my cupcakes
my husband's cousin who helped take the beautiful picture
family
friends
GCMers
AMFT fans
Thanks POM Wonderful….I am beyond thrilled! This was my first every recipe contest! WOOHOO!
Disclaimer: POM Wonderful sent me a package of products to try.