This post may contain affiliate links. Please read my disclosure.
I love baking and I love decorating cakes. After my daughter turned one, I started taking cake decorating classes and vowed to make all of my children's birthday cakes from that point on. Sometimes, the cakes are elaborate and sometimes they are really simple like this one. Either way, I am able to do something super special for my children that they will always remember.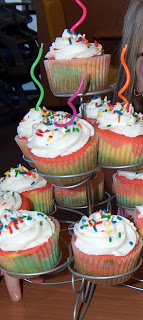 Rainbow Cupcakes
-favorite white cake recipe or mix
-gel food coloring in 4 colors (blue, green, yellow, & red)
-favorite store bought frosting or buttercream frosting recipe
-rainbow sprinkles
-white cupcake liners
-cooking spray
1. Prepare cake mix and preheat oven according to recipe instructions. Line cupcake tin with liners and spray with cooking spray.
2. Divide cake batter evenly into 4 bowls. Add 5-10 drops of one food coloring into each bowl. Tip: if you use 6 drops of red, use 6 drops of blue, etc. This will help ensure the intensity of color is the same for each layer.
3. Start layering in the colored batter into each liner. (I'm picky, so I did it in rainbow order.) Put a little dollop of blue in each liner, then move onto green, then yellow, then red. It won't be perfect, the colors will blend a bit. That's okay.
4. Bake per cake mix instructions.
5. Allow to cool to room temperature before frosting. If using buttercream, use the
Wilton 1M
tube to achieve the same look as pictured. Otherwise, frost with desired frosting and top with rainbow sprinkles.
Yield: 24 cupcakes