This post may contain affiliate links. Please read my disclosure.
I got the idea for these brownies while attending a local
LLL
meeting. A couple ladies were talking about them, so I decided to whip up a batch based on what they were describing.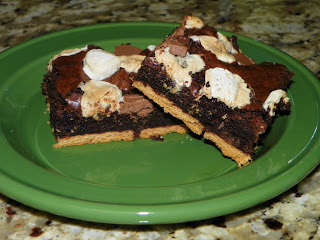 Oh my goodness, these babies are tasty! The brownies are chewy, but the bottom is a bit crunchy and the marshmallows get all nice and toasted on top with a last minute whiz under the broiler. I love s'mores and this totally gave me that fix.
S'more Brownies
favorite brownie recipe for a 9×13 pan
1 cup mini marshmallows*
2 regular sized chocolate bars, broken into chunks
1 pkg graham crackers
tin foil
1. Prepare brownie mix according to instructions and preheat oven accordingly.
2. Line a 9×13 pan with foil and spray with cooking spray. This step helps the brownies come out of the pan nicely.
3. Line bottom of pan with whole graham crackers. Only break as needed to make sure entire bottom of pan is covered. Gently pour on brownie mix.
4. Sprinkle on marshmallows and chocolate chunks evenly over batter.
5. Bake according to brownie instructions. When brownies are just about done, turn oven on to broil. Allow the marshmallows to toast under the broiler for a minute or two. Watch closely as you don't want them to burn.
6. Remove from oven and allow the brownies to cool. Cooling the brownies will actually make them easier to cut. Remove tin foil and brownies from pan. Peel back foil a little and cut brownies into servings.
Makes about 16 brownies.
* If you can't find mini marshmallows (or you're on a special diet like my daughter and need special marshmallows) just cut them into bite-sized pieces.