This post may contain affiliate links. Please read my disclosure.
Satisfy your sweet tooth with this easy to make Shark Bark Candy. Be sure you make enough so you can handle the feeding frenzy during SHARK WEEK!
Be sure to sign up for my email list….seasonal recipes in your inbox every week!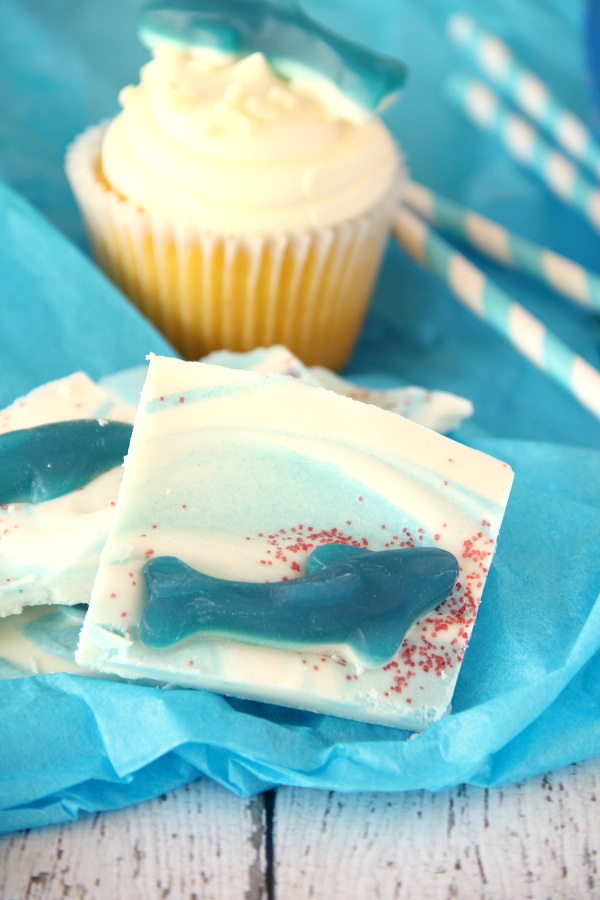 Perhaps the most recognized creature in the ocean with it's tell-tale dorsal fin and the most powerful jaws on the planet, it's no wonder sharks fill us with excitement and wonder. Discovery Channel is kicking off its annual week of shark programs, and we are celebrating with some delicious shark bark candy. Kids can certainly help with this shark bark candy, it's so easy to make. Everyone will love sinking their teeth into this treat!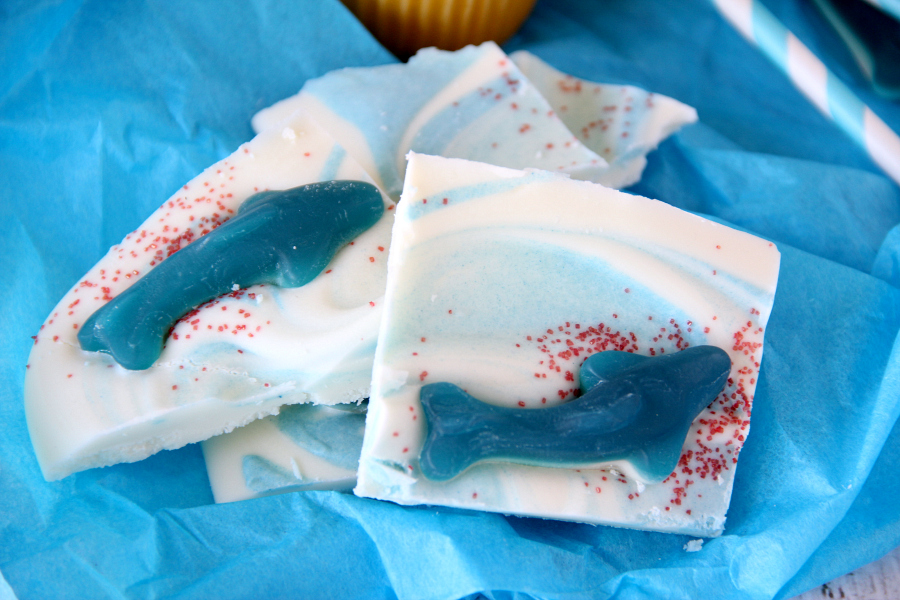 My family loves watching all the shark shows during shark week. We end up learning new facts about these amazing creatures who have been swimming around in some form since before the dinosaurs roamed the earth. Did you know sharks lose an average of a tooth a week and can grow up to 20,000 teeth in a lifetime? That's a lot of tooth-fairy visits. With all those teeth, it's easy to see why people are afraid of sharks, but we end up being the more dangerous predator because of hunting, fishing, and practices like shark finning. Sharks have faced a huge amount of misconceptions and there will be no shark week if sharks disappear. You can learn more about shark conservation here.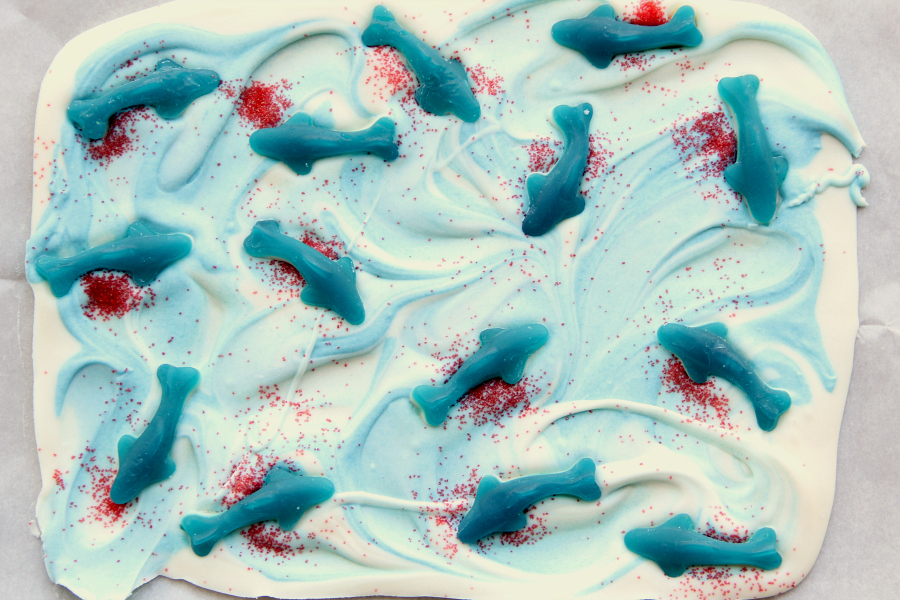 Be sure to follow me on Instagram and tag #amftrecipes when you share one of my recipes….so I can see all the wonderful recipes YOU make!
Connect with Around My Family Table!
Make sure to follow me on social media, so you never miss a post!
Facebook | Twitter | Pinterest | Instagram | Bloglovin' | Google+
Sign up to receive seasonal recipes once a week or
receive an email in your inbox for each new recipe: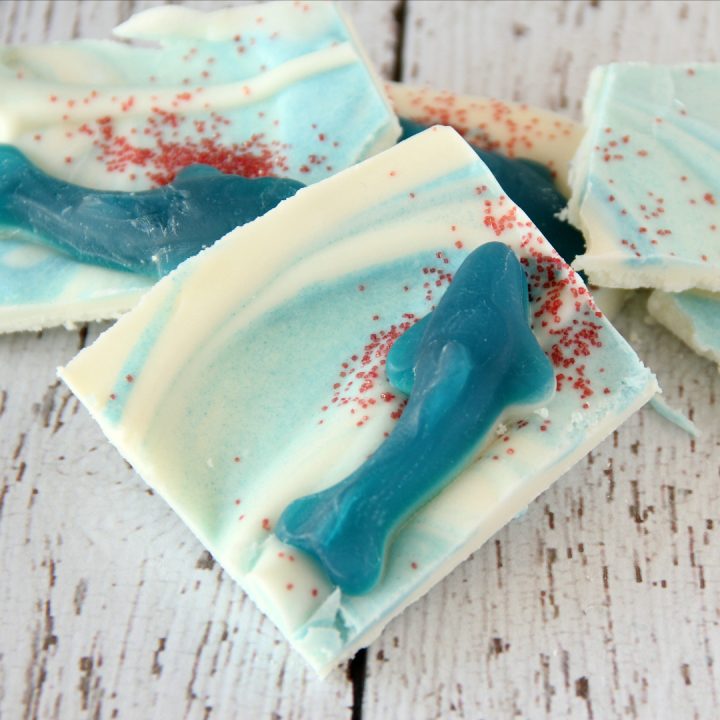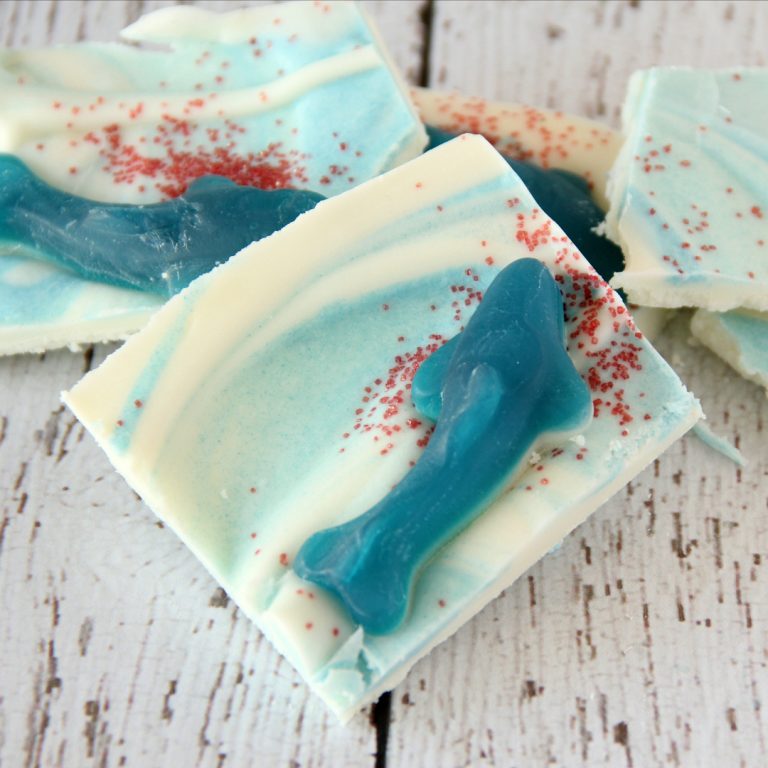 Shark Bark Candy
Satisfy your sweet tooth with this easy to make Shark Bark Candy. Be sure you make enough so you can handle the feeding frenzy during SHARK WEEK!
Ingredients
1 package white candy melts or almond bark
blue dye
red sugar
1 package gummy sharks
Instructions
Line a 9x13 rimmed baking sheet with parchment paper and set aside.
Place candy melts or almond bark in a medium microwave safe bowl and heat in 30 second bursts, stirring every 30 seconds until fully melted and smooth. Pour 1/3 of the melted candy into a glass bowl and add a drop or two of blue dye. Stir well to combine.
Pour white melted candy onto prepared parchment and spread in a thin, even layer. Drop the blue melted candy by the spoonfuls evenly throughout the white. Use a butter knife and swirl the blue around into the white.
Use red sugar to make little areas for the sharks to rest. Nestle the gummy sharks into the piles of red sugar throughout the pan of candy.
Work fast before the melted candy starts to set up. Once the sharks are in place, put pan in fridge or freezer for a couple hours to set up. Remove parchment from pan and break the bark into serving pieces.
Check out all these fun ideas!
Shark Bark Candy from Around My Family Table
Shark Attack Margarita from Bread Booze Bacon
Shark Bookmarks from Hey, Let's Make Stuff
Shark Crossword Puzzle from Celebrating Family
Shark Jello Cups from Home.Made.Interest
Shark Bait Popcorn from Life Anchored