This post may contain affiliate links. Please read my disclosure.
Hi There Friendly Friends! I'm Christine from Cook the Story here to tell you about my easy and tasty Slow Cooker Italian Vegetarian Bean Soup. This soup has the flavors of Italian sausage but without the sausage, making it a healthy but oh so satisfying weeknight meal.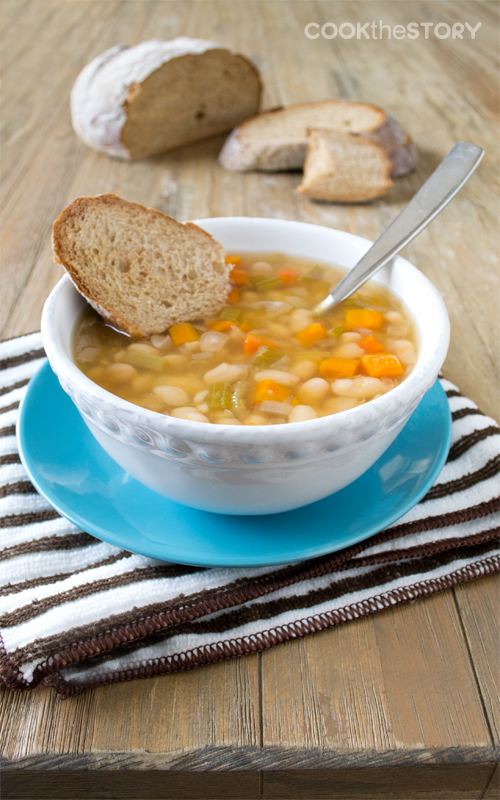 I've never been much of a slow cooker kind of gal. When I first tried some slow cooker recipes years ago, they weren't as good as what I made on my stovetop so I didn't bother.
That was in my pre-kid days when cooking was my favorite spare-time hobby. I'd fill the stove and oven with pots and pans and whirl around to dance tunes while my stomach grumbled along.
I still love cooking just as much. And I still love to cook in my spare time. If ever I have any spare time, that is. Like most moms these days, I'm jogging, jousting and jumping through hoops from the time I wake up until the time I go to bed (or at least until when I plonk onto the couch for a pre-bedtime snuggle with The Hubs).
So these days I'm becoming more and more of a slow cooker kind of gal.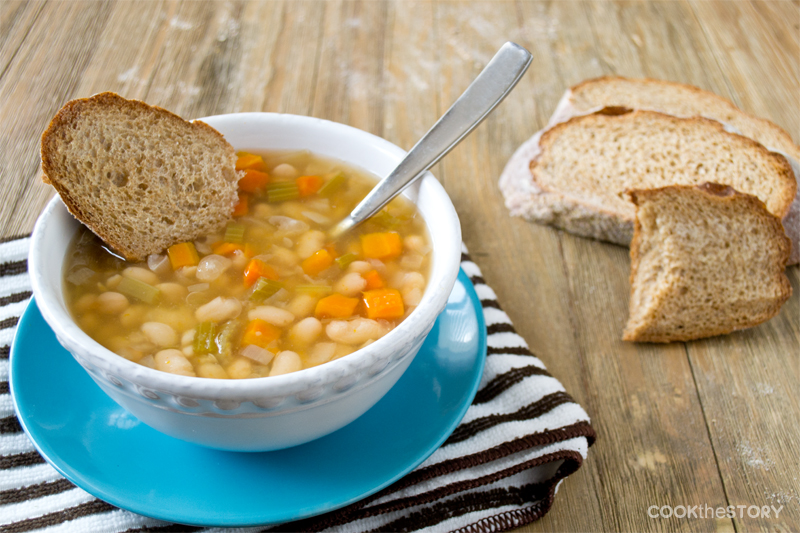 I make a slow cooker meal at least once a week. It's usually a soup or stew, because that's what I find works best.
I use my 3 quart slow cooker for these soups because it holds the right amount for my family: Enough for 2 adult dinners, 2 kid-sized dinners and 2 adult leftover lunches.
For this soup, you cook dry Great Northern Beans with the flavors found in Italian sausages, but without the sausage. This makes it a very hearty yet healthy bean soup.
Once the beans are cooked, you add more liquid, let it warm back up and eat the bean soup with a big piece of whole wheat bread.
(Note that you can actually do all kinds of things with the cooked beans. Don't add the liquid at the end and instead toss the beans with cooked pasta and mozzarella cheese. Bake until hot and gooey. Or fold them into cooked rice and top with a fried egg. The possibilities for these slow cooker beans are endless).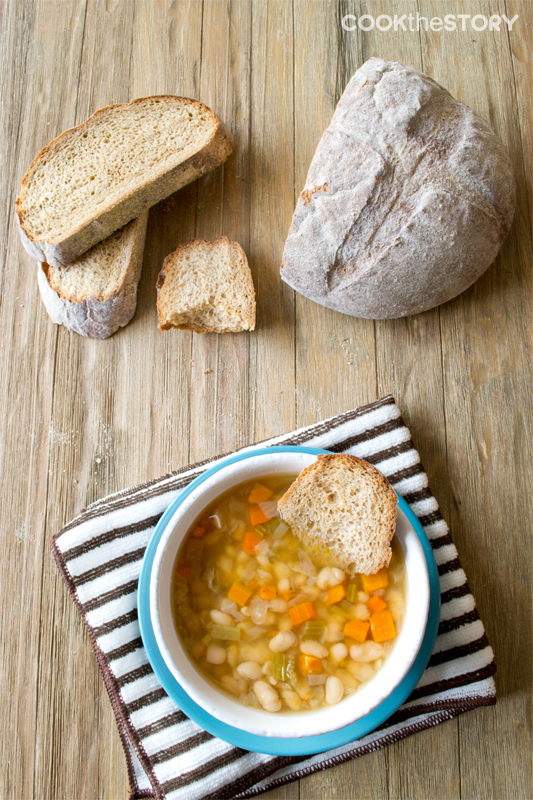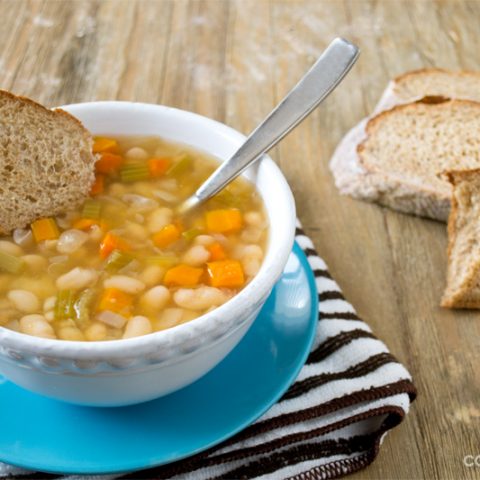 Slow Cooker Italian Vegetarian Bean Soup
Total Time:
5 hours
15 minutes
This vegetarian bean soup has all the flavors usually found in Italian sausage but without the actual sausage. It's a slow cooker soup for an easy weeknight dinner.
Ingredients
1 lb. dry Great Northern Beans
2 ribs celery, finely chopped
1 small onion, finely chopped
3 carrots, peeled and finely chopped
1 Tbsp. fennel seeds
2 tsp. dried oregano leaves
2 tsp. garlic powder
¼ tsp. red pepper flakes (optional)
Salt and pepper to taste
6 Tbsp. finely grated parmesan cheese (opt)
Instructions
Combine the beans, celery, onion, carrots, fennel seeds, oregano, garlic powder and red pepper flakes and 5 cups of cold water in a 3 quart slow cooker. Cook on high for 5 hours, until beans are tender.
If desired, drain to remove the bean cooking liquid which sometimes causes gas. Whether you drain the beans or not you'll need to add more liquid. Add enough water to achieve desired soup thickness (it will be between 2-4 cups). Stir in salt and pepper to taste. Ladle into bowls. Top each serving with 1 tablespoon of the parmesan cheese.
Nutrition Information:
Yield:

6
Serving Size:

1
Amount Per Serving:
Calories:

300
Total Fat:

3g
Saturated Fat:

1g
Trans Fat:

0g
Unsaturated Fat:

1g
Cholesterol:

4mg
Sodium:

177mg
Carbohydrates:

53g
Fiber:

17g
Sugar:

3g
Protein:

19g