This post may contain affiliate links. Please read my disclosure.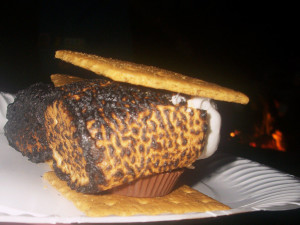 Okay, so please forgive the quality of this picture…it was late at night, at a Girl Scout campfire event. Which was a blast, by the way. Any way, my co-Leader had this wonderful idea…I totally wish I could take credit for it.
And, I am ashamed to admit it, but I LOVE my marshmallows totally blackened for s'mores. How do you like yours?
So, I am going out on a limb here to assume that y'all know how to make a basic s'more….so here's the twist. Are you ready for it….replace the chocolate bar with a peanut butter cup (do you see it under my gigantic, burnt marshmallow?)! It was AMAZING! And I wish I had thought of it!
I bet I know what you are having this weekend!
Oh..and don't forget to enter the giveaway to win a $100 visa debit card…it ends on Sunday!