This post may contain affiliate links. Please read my disclosure.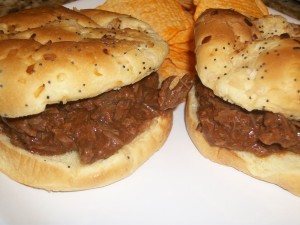 Seriously folks, this is by far the easiest leftover dish in the world. The flavor is entirely different from the pot roast that you had the night before. Also, I actually do make all of these leftovers every time we have a pot roast…and I do them in this order. For us, it's easier to get creative with the leftovers from the meal that I will share tomorrow than with this one.
Assuming you made a pot roast and prepared the leftovers how I described in my 3 Packet Pot Roast, this takes only about 5 minutes from fridge to table.
BBQ Beef on a Bun
2- 2 1/2 cups shredded beef ( I plan about 1/2 cup per sandwich)
1/2 bottle of BBQ sauce
1/4-1/2 cup reserved beef liquid (or water)
4 buns (onion buns are the best)
In a large skillet add shredded beef and reserved liquid. Heat over med-high heat. Add BBQ sauce, just enough to coat everything nicely (this is totally a preference thing…use more or less to your liking). Once everything is heated, put BBQ on the buns.