This post may contain affiliate links. Please read my disclosure.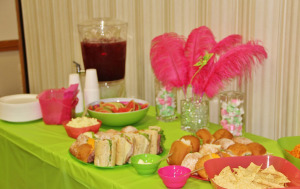 Please bear with me. Yesterday, I messed up my shoulder trying to catch my son who was falling to the tile floor from his chair. In his two year old way, he was standing in the chair and as I told him to sit on his tooshie, he picked up his foot and pushed off the table. I reach to grab for him, the chair, anything, but I couldn't catch him. He hit the floor with his head and bit his tongue. And some how in the process I pulled something in my shoulder…so it hurts really bad as I sit here typing.
Back to the punch, my 7 year old daughter named the punch (even though it was not pink, it had to fit the theme of the Pink and Green party). A basic punch is so easy to make and you are only limited by your imagination and your flavor preferences.
Sparkling Pink Punch
Cran-Pomegranate Juice
Sprite
Combine equal parts of juice and sprite just prior to party in a punch bowl. To keep it from getting watered down, make ice cubes out of the juice a couple days before and add to the punch.