This post may contain affiliate links. Please read my disclosure.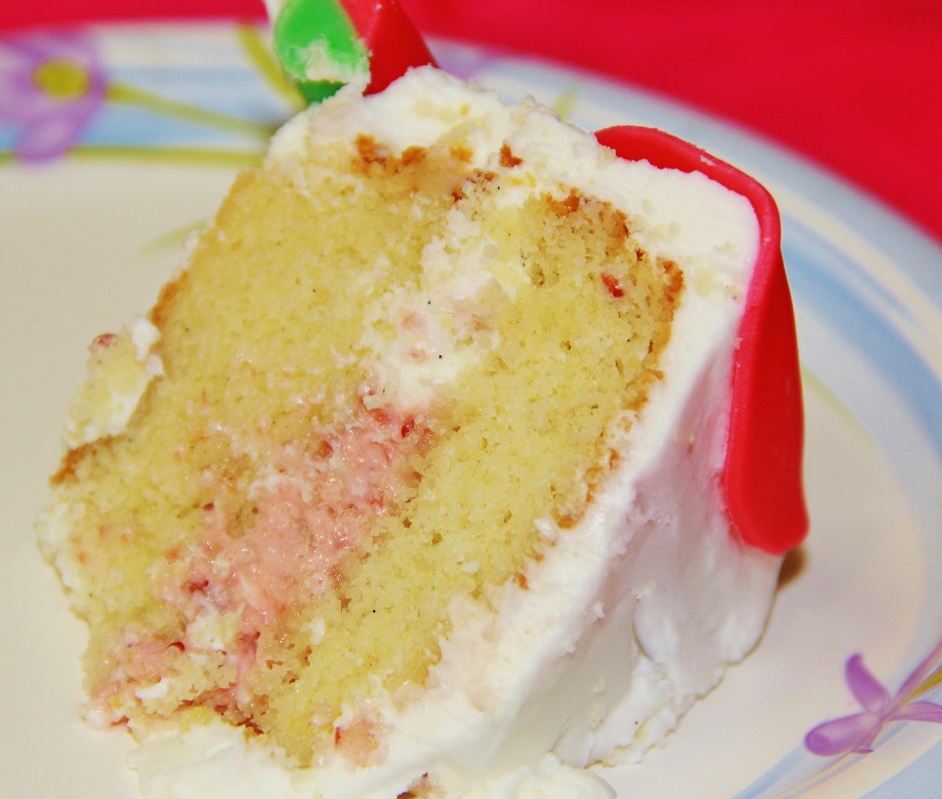 My daughter isn't too picky in terms of cake. Cake is cake for her….she will eat any cake you put in front of her. So I knew for her birthday cake I could get creative and she wouldn't mind.
Everyone really enjoyed the cake, it had a subtle vanilla flavor and was super moist. It was really good the first day, but sitting in the fridge for a day or two made it a little drier and denser. It was still really good, especially since scratch cakes are usually dense to begin with because of the lack of chemicals making it super light and airy. If I could have left it out of the fridge there wouldn't have been a change; however, with the strawberry cream filling it needed to stay cold. And of course it was like 113 degrees outside so the fridge kept the frosting from falling off.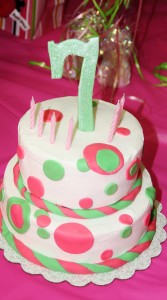 Vanilla Bean Cake with Strawberry Cream Filling
2 sticks butter, softened
3 ½ cups sugar
1 ½ vanilla beans
4 egg whites plus 2 whole eggs
2 tbsl baking powder
2 cups half and half
4 cups flour
Preheat oven to 350 degrees. Cream butter and sugar together. Split vanilla beans down the center and scrape out all the seeds. Add to mixture. Add eggs/whites one at a time, mixing well between each addition. Combine dry ingredients in a small bowl and mix well. Add dry ingredients to butter mixture alternating with the half and half. Mix well between each addition, but do not over mix.
Prepare cake pans with flour and shortening and fill about 1/2 full. Bake for 35-45 minutes (start checking around 30 minutes). Cake is done when toothpick inserted into the middle comes out clean. Cool on wire rack. Remove cake from pan and frost when completely cool.
Note: as written, this recipe makes enough for a 10 inch round, 2-8 inch rounds, and a couple cupcakes. If you wish to make a regular size cake (2-8 inch round pans), then you will need to halve the recipe.
Strawberry Cream Filling
2 parts Strawberry Jam
1 part buttercream frosting
Mix the two together and spread between the layers of cake.
**Use the best jam (not jelly) you can find. It really does make a difference.**
Vanilla Buttercream
1 cup butter, softened
1 Cup Shortening
4 tbls warm water (4 to 6)
2 tsps clear vanilla extract
1 2-lb bag confectioners sugar
Beat together butter, shortening, 2 tbsp. of the warm water, and vanilla until smooth and creamy. Beat in the sugar gradually on a low setting. Scrape sides of bowl as needed. Mixture will be very thick. After all sugar is incorporated, add 2-4 more tbsp. of warm water and beat at medium/medium-high speed for 1-2 more minutes.
Adding more warm water will continue to thin the frosting consistency and bring down the sweetness even more. Add as much as you like to get the appropriate flavor and consistency. Be careful because a little goes a long way.
This can also be made several days in advance and stored in an airtight container in the fridge. Bring to room temp, then mix well before using. Leftovers should be refrigerated.