This post may contain affiliate links. Please read my disclosure.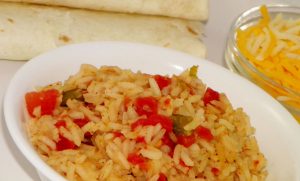 With this economy, elaborate meals with fancy ingredients aren't always in my budget. I am also super busy with the kids and sometimes can't always make it to the supermarket every week. So I like to have a few budget meals and/or pantry meals ready for busy days, times when money is tight, or just because it's nice to have an easy quick stand by meal.
So, the rest of this week, I am highlighting a few of my family's favorite budget meals. What kind of budget meals does your family like? Do you have any pantry meals that you keep on hand?
I love using my DIY Taco Seasoning in this easy side dish. It's the perfect addition to burrito night!
Taco Rice
1 cup long grain white rice
2 cups water
2 tsps of a taco seasoning packet (or 2 tsps homemade taco seasoning)
1 can Rotel (tomatoes and green chiles)
1 small onion, finely chopped
tortillas, shredded cheese, sour cream, black beans
Combine rice, water, taco seasoning, Rotel, and onion in a medium saucepan. Bring to a boil. Cover and lower heat to med-low. Continue to cook for about 15-20 minutes, until water is absorbed and rice is tender.
Stir in a can of drained black beans, if desired. Serve with tortillas, cheese, and sour cream.