This post may contain affiliate links. Please read my disclosure.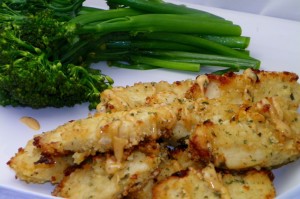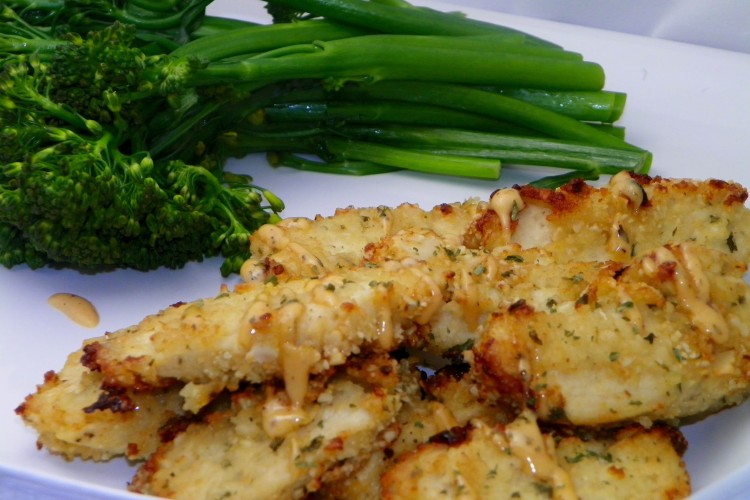 This tasty little supper is my second entry into Saucy Mama's Fab with Five recipe contest. This was by far the favorite in our house. The kids couldn't stop eating it…we ate more chicken this night than we usually eat in two nights.
The almond meal really turns the chicken into something really good and different. Of course you could use the standard bread crumbs, but you'd totally be missing out on a great supper that is super easy and kid friendly.
Almond Crusted Chicken Tenders
4 boneless skinless chicken breasts
½ cup Saucy Mama Santa Fe Creamy Chipotle Dressing
2 cups almond meal*
2/3 cup freshly grated Parmesan cheese
1 tsp dried parsley (1 tbl fresh)
¼ cup vegetable oil
Cut chicken breasts into long strips for chicken tenders. Place in a gallon-sized ziptop baggie and add dressing. Squish baggie to ensure all the chicken is covered. Allow to marinate in the fridge for several hours.
Preheat oven to 400F. Place oil on a large rimmed baking sheet and place in the oven while it preheats. Combine almond meal, cheese, and parsley in a shallow dish. With thongs, remove one piece of chicken from baggie at a time and roll around in the almond mixture. Place on a platter until all the chicken is coated.
Carefully remove hot pan from oven, place chicken strips on the pan and return to the oven. Cook for about 15 minutes and then carefully flip the chicken. Cook about 10 more minutes. (Note: a little bit of the coating will come off during the flipping process.)
Use additional dressing as a dip or drizzle over the top of the cooked chicken.
*Can't find almond meal! No problem, make your own by grinding up skinned, blanched almonds in a blender or food processor. You could also substitute dried bread crumbs if you want.