This post may contain affiliate links. Please read my disclosure.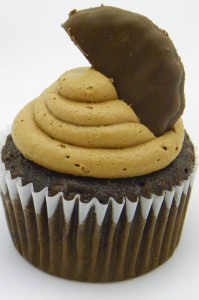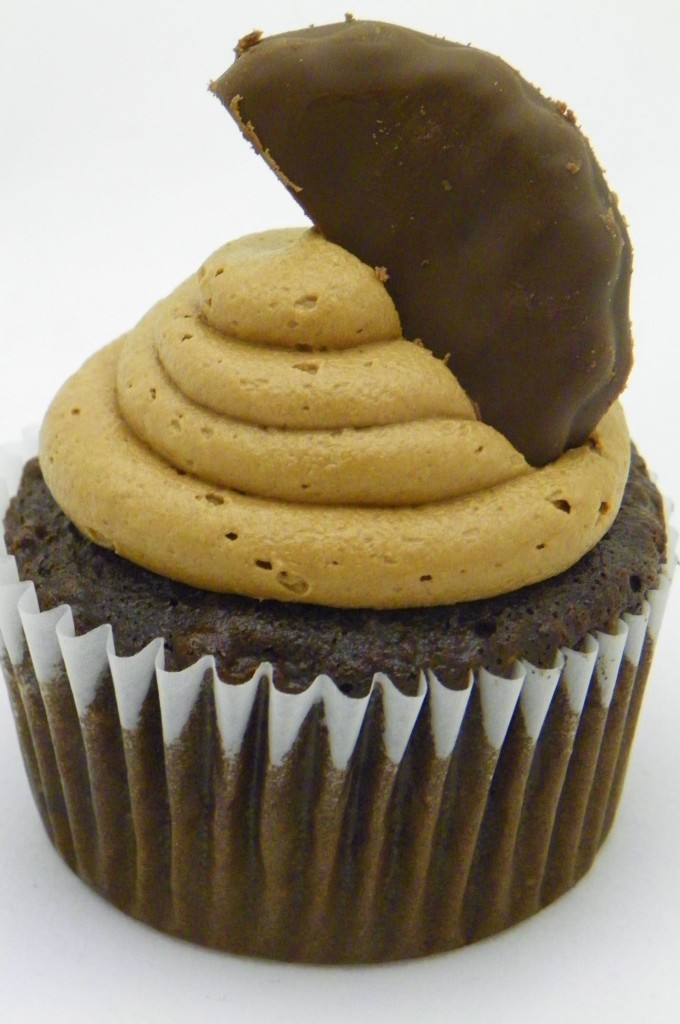 I was inspired by cousin talking about some yummy Thin Mint Cupcakes that she was making. I didn't have a recipe but these turned out wonderful anyway. I shared some with my Phoenix Rice Krispies Challenge Team and sent some with hubbyman to work….everyone seemed to like them. Warning: These are very chocolatey and rich. You will need a glass of milk to wash one down.
Okay, so I realize you might not have a box of Thin Mints left in the freezer, so feel free to use Keebler Grasshopper Fudge Mint Cookies. They taste the same and the recipe works just as well with either cookie.
Thin Mint Cupcakes
1 chocolate cake recipe (or box chocolate cake mix), prepared according to directions without baking
1 box Thin Mints
1 recipe Chocolate Mint Frosting (recipe follows)
Prepare cake recipe according to instructions, do not bake yet. Preheat oven to 325. Line 24 cupcake tins with paper liners and lightly spray with nonstick cooking spray. Coarsely chop about 20 Thin Mint cookies (about the size of a pea). Add cookies to the cake batter and mix well. Evenly scoop batter into prepared cupcake tins. Bake for about 20 minutes or until toothpick comes out clean. Allow to cool several hours before frosting.
Frost cookies with chocolate mint frosting (recipe follows) when cupcakes are cool. Cut 12 cookies in half gently using a serrated knife. Use cookies to garnish cupcakes.
Chocolate Mint Frosting
1 cup shortening
1 cup butter, room temp
2 lbs powered sugar
1 tsp vanilla extract
1/2 tsp mint extract (or peppermint extract)
1/2 cup dutch-processed cocoa powder
1/4-1/2 cup water
Combine shortening, butter, and extracts in a large mixing bowl using a medium speed on a stand mixer. Beat in cocoa powder. Slowly add in powered sugar. Beat slowly and add a tablespoon of water as needed to allow frosting to mix well. Add in water one tablespoon at a time until the frosting is a good consistency for spreading on cupcakes.