This post may contain affiliate links. Please read my disclosure.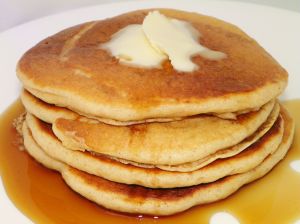 I have to apologize for the picture. I snapped it super fast cuz I couldn't wait to eat these…I've been making them for years and I had been craving them and realized I had not shared this yummy pancake with y'all. The pancakes are hearty and will definitely fill you up, but they have a nice cinnamon flavor. And despite being made with 100% whole wheat, they turn out pretty light and fluffy (okay, not as much as a traditional pancake, but you'll be surprised).
I got the original recipe from a free cooking class I attended, but I changed it up just a bit to fit my families taste. And if you have a really, really good blender (like a Vita-Mix
or Blendtec
) then try using whole wheat berries. *Caution, please don't try this with wheat berries using a lower end blender…it might work the first time, but you seriously run the risk of burning out your motor.*
Whole Wheat Blender Pancakes
2 cups whole wheat flour (can substitute 1 cup whole grains for 2 cups flour), divided
2 cups milk, divided
2 eggs
1/3 cup canola oil
1 tsp salt
2 tsp cinnamon
1 tbl honey
1 tbl baking powder
Blend 1 cup flour (or all whole grains) and 1 cup milk for 2 minutes on high speed. Add in remaining milk and flour and blend for 2 more minutes.
Add eggs, oil, salt, cinnamon, and honey. Blend well. Batter, at this step, can store in refrigerator over night.
Just before cooking, add baking powder. Blend gently on low speed until mixed. Pour onto hot griddle and cook on med-high heat for 3-5 minutes per side.