This post may contain affiliate links. Please read my disclosure.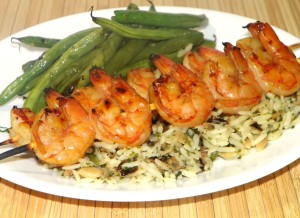 Saucy Mama is hosting a "Fab with Five" recipe contest and I am super excited about entering my recipes. I plan on entering 2 or 3 recipes and this one is my first one.
I've had so much fun playing around with their sauces, marinades, and dressings over the past few weeks. Want to try some too? Come back tomorrow cuz I'm hosting a Saucy Mama condiment kit giveaway.
Sweet Asian Grilled Shrimp
1 lb 26/30 raw shrimp
1/2 cup Saucy Mama Pacific Rim Ginger dressing
2 tbls honey
1 clove garlic, minced
6 skewers
Prepare shrimp by peeling, deveining, and removing tails. In a large bowl or ziptop baggie combine shrimp, dressing, honey, and garlic. Mix well to combine and allow to marinate for 30 minutes. If using wooden or bamboo skewers, soak them in water for 30 minutes (while the shrimp marinates).
Heat grill to medium-high. While grill is heating, thread 5 shrimps onto each skewer. Hold a folded paper towel with thongs, dip it in vegetable oil. Rub on the grill to create a "non-stick" like surface. Place shrimp skewers on grill directly over the flames. Cook 3-5 minutes per side.