This post may contain affiliate links. Please read my disclosure.
You heard me! You should never ever EVER use any soaps to clean your carpets and rugs. There is actually a pretty logical reason to skip the sudsy stuff.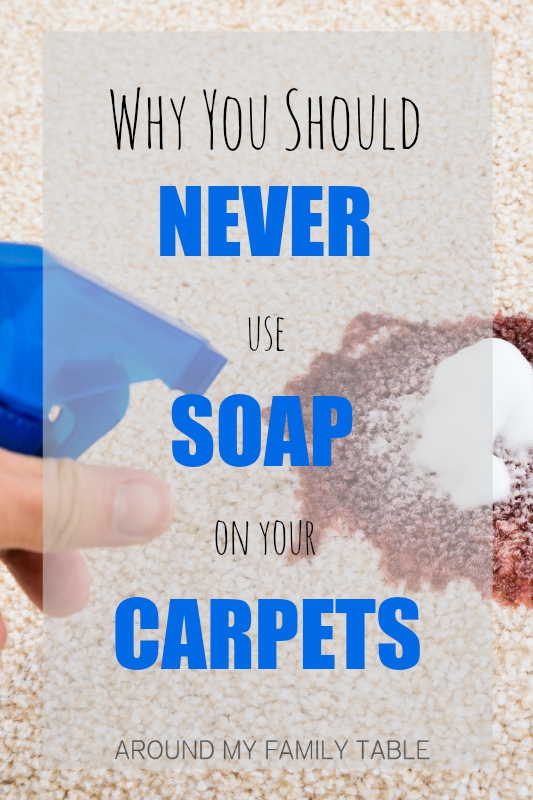 We've all been told to scrub stains with those carpet cleaners from a bottle (you know the ones) and they work great. Then you decide it's time for an all over carpet cleaning, so you use your own machine or rent one (or if you're splurging, you hire a company to do it). You add soap to the hot water in the machine, turn it on and go. Scrubing all the carpets with the machine and then you do an extra rinse of just water for good measure. And the carpets look (and smell) great! Mission accomplished!
And then a couple months later, you notice a new spot (but you don't remember spilling anything) and the carpets just aren't looking as nice as they did when you cleaned them. So you repeat the process. And repeat. And repeat……
Here's what's going on. The soap did a great job at attracking the dirt in your carpet when you cleaned it, but there is pretty much no way to get all the soap back out of the carpet (yes, even with extra rinsing with plain water). So when there is even the tiniest bit of soap in your carpet, it continues to attract dirt (just like it is supposed to do) and therefore your carpet gets dirtier faster.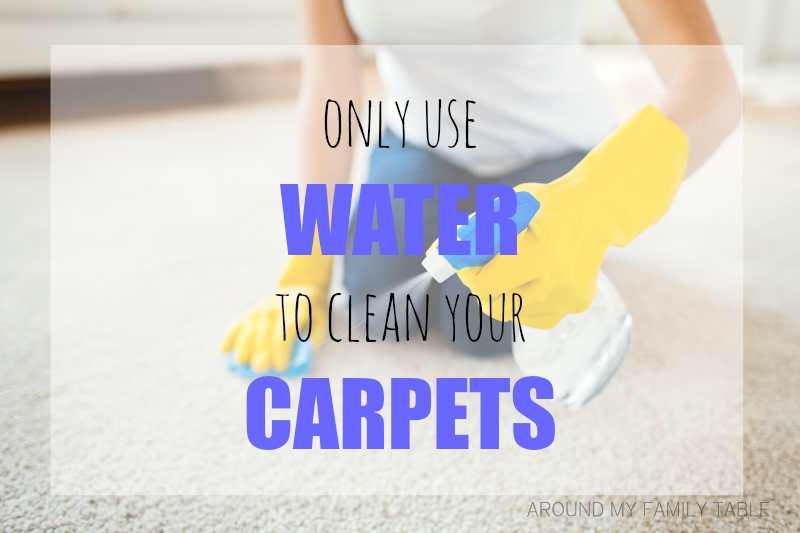 From now on….vow to only use water on your carpet for cleanings.
However, even better than water is using the company ZeroRez clean your carpets. They use a specially treated water that has a higher pH than normal. The water is around pH 11, which is similar to the pH level of bleach resulting in cleaner carpets without the use of any soap or harsh chemicals. So they are able to get your carpets cleaner than ever before….it even removed old soap residue, so my carpets look amazing and will stay looking amazing for longer than they ever have before.
ZeroRez has locations all across the country to help you with your cleaning needs. They came out to clean the rug in my living room a couple weeks and I was shocked at how much cleaner it was when they left. Another awesome bonus is that the carpet was almost dry when they left so we didn't have to worry.
Not sure you want to have them come out to your house, you can buy just their specially treated water to use in your own machine. Love that! Seriously though, it's really not too bad to have them out to your home….right now you can have 3 carpeted rooms cleaned for $119. You really can't beat that price…it's a good way to give them a try and not worry about it costing an arm and a leg.
Disclaimer: This post is in partnership with ZeroRez