Follow Me on Pinterest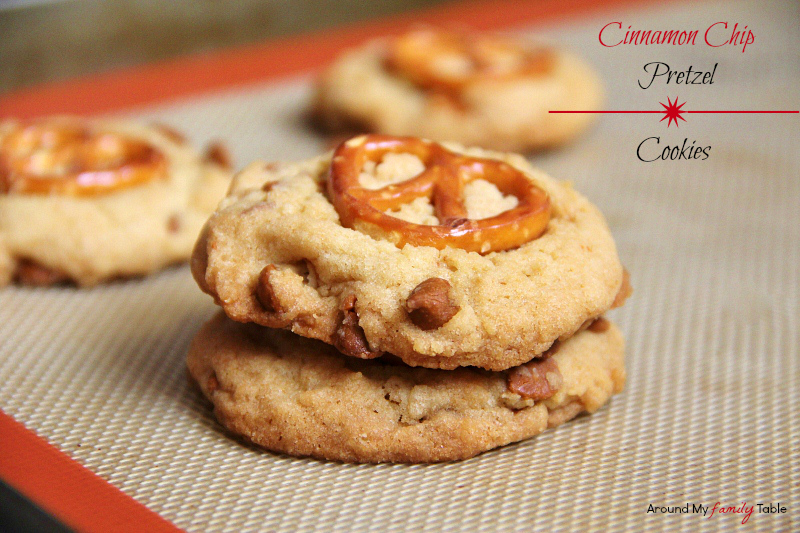 These cookies are so good and a cinch to make.  I whipped them up in a hurry trying to use up some leftover cinnamon chips from the holiday baking season.  The cinnamon chips and pretzels are the perfect combination of sweet & salty.  They are a fun twist on traditional chocolate chip cookies and I promise they are worth every single calorie!
I think I have a serious addiction to cookies…it really doesn't matter what kind of cookie it is.  I will eat it.  Yep, guilty as charged!  Chocolate Chip, Oatmeal, Sugar, Snickerdoodles, you name it….I love it!
What is your favorite cookie?
Cinnamon Chip Pretzel Cookies
Ingredients
½ cup + 2 tbls butter, softened
½ cup sugar
½ cup brown sugar
1 egg
1 tsp pure vanilla extract
¾ cup flour
¾ cup almond meal
½ tsp baking soda
½ tsp salt
1 cup cinnamon chips
24-36 whole twisty pretzels
Instructions
Preheat oven to 350F. In a mixer, combine butter and sugars until light and creamed well. Add remaining ingredients, expect cinnamon chips and pretzels. Mix until well combined. Dough will be thick. Add cinnamon chips and incorporate by hand.
Prepare a baking sheet with non-stick cooking spray or parchment paper. Drop by 1½ tablespoonfuls (or use a #40 cookie scoop) onto prepared pan leaving 2 inch spaces between cookies. Press a whole pretzel onto the top of each cookie.
Bake for 12-15 minutes or until cookies are just starting to set.Remove from pan to cooling rack to cool.
©Around My Family Table