Follow Me on Pinterest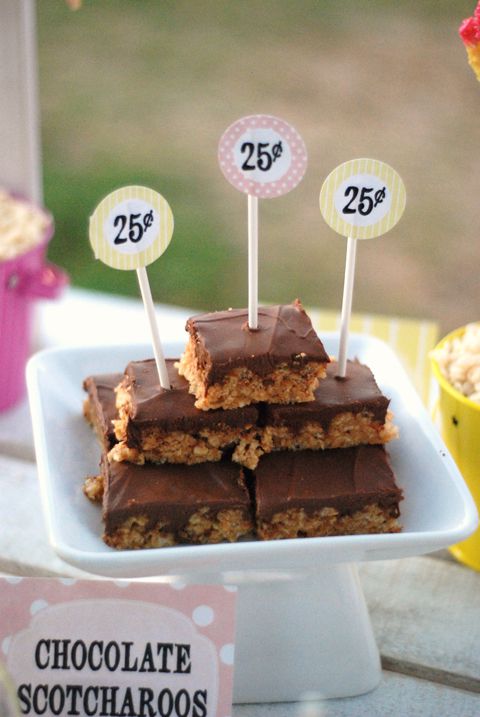 I had never heard of scotcharoos until I met my husband.  His grandmother made them every year at Christmas and gave them out to everyone in the family.  I quickly let her know how much I loved them, so I was included in the next year's allotment.  Yes allotment…everyone got their own plate cuz this family does not play fair with the scotcharoos.  They will steal, sneak, lie, or just about anything to get more than the next person.
Soon after hubbyman and I were married, she gave me her recipe.  It is very similar to the original recipe from Rice Krispies, but she said that I can share her recipe with everyone.  We even had it on our Rice Krispies Lemonade stand.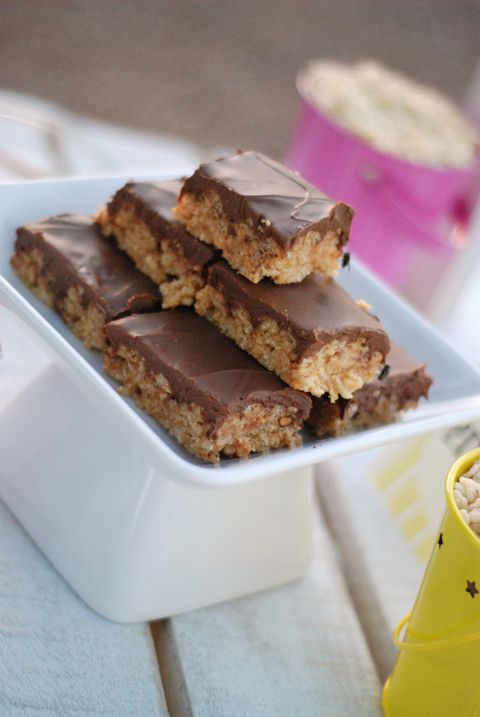 Grandma's Chocolate Scotcharoos
1 cup sugar
1 cup corn syrup
1 cup chunky peanut butter
1 tbl real maple syrup
6-7 cups Rice Krispies
2 cups (1 bag) semi-sweet chocolate chips
2 cups (1 bag) butterscotch chips
Combine sugar and syrups in a medium saucepan over medium heat.  Stir frequently until it begins to bubble.  Remove from heat, stir in peanut butter, and mix well.  Add Rice Krispies.  Stir.
Press into a buttered 10×14 jelly roll pan (or line with parchment paper if you want to remove the whole sheet of scotcharoos for easier cutting).
Melt chocolate and butterscotch chips together in a microwave safe bowl, 30 seconds at a time.  Stir and heat in 30 second increments until melted.  (Or melt over a double boiler.)  Spread evenly over Rice Krispies mixture.  Allow to cool and set before cutting.  Yield: ~48 bars.
Other Recipes You Might Enjoy....