This post may contain affiliate links. Please read my disclosure.
This post is in partnership with Bounty.
The most efficient way to clean a house quickly is to prevent those messes in the first place. These 10 Cleaning Hacks will teach you the quickest way to clean house and keep it clean. I'm always looking for the fastest way to clean house and over the years, I've come up with these short cuts to get the job done in no time at all.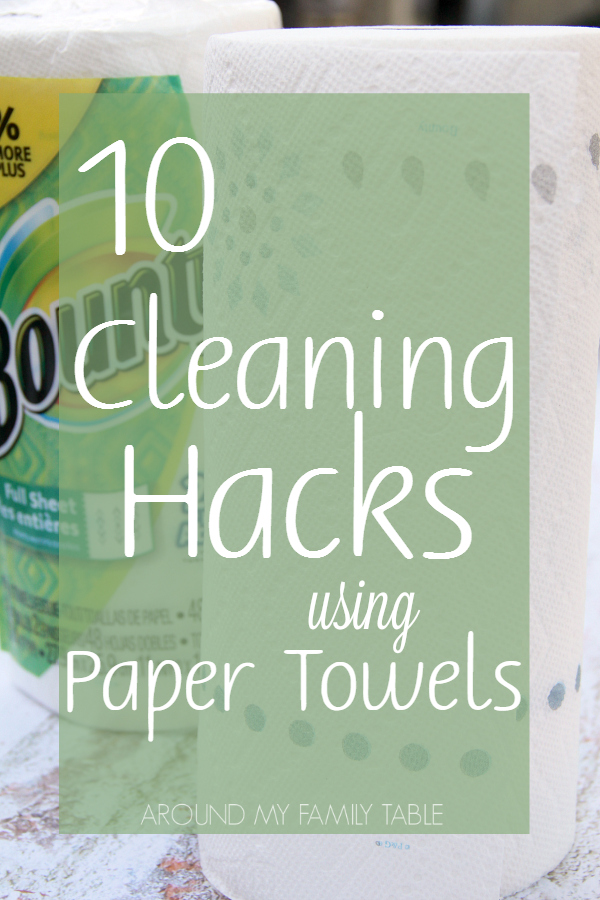 I use all these quick cleaning tips for preventing and cleaning up spills and messes in my home every week. As you may know, I've partnered with Bounty, the Quicker Picker Upper, the last few years and clean up is much easier when the paper towel you use is 2X more absorbent vs. the leading ordinary brand. I've used different brands of paper towels over the years, but I can honestly say that Bounty is my preferred brand, regardless of my partnership with them.
Skip expensive replacement pads for those disposable single use dry mops and secure a paper towel to quickly dust and dry mop your floors.
Don't spend a ton of time cleaning up your waffle iron after breakfast. Grab a moist paper towel and place it on the still warm waffle iron. Close the lid and let the steam clean the waffle iron. After a couple minutes, open the waffle lid and brush out any remaining crumbs with the paper towel.
Keep drips from bottles by wrapping a towel around the bottle and securing with a rubber band.
Use paper towels to make your own cleaner wipes.
Run a paper towel through a freshly oiled sewing machine to pick up the excess lubricant so it won't stain fabric.
Set a paper towel over a wax stain and run an iron over it on a low temp. The paper towel will absorb the wax, but it will also protect the iron.
Microwave use: Place a paper towel in the microwave to catch crumbs, spills and messes to make for easy clean up. I have even wrapped hot dogs in buns in paper towels to heat them in the microwave and steam the buns.
Keep a paper towel roll on an old hanger and store by the grill for quick clean ups in your outdoor kitchen or camping area.
Put a paper towel under the milk and orange juice containers to keep your refrigerator tidy, too.
Use damp paper towels to clean up the buildup of adhesives, grease, and gunk that tends to collect over time on can openers, mixers, blenders, and more.
Looking for a Kitchen Cleaning Checklist? <— Click there, for a free downloadable printable list just for you.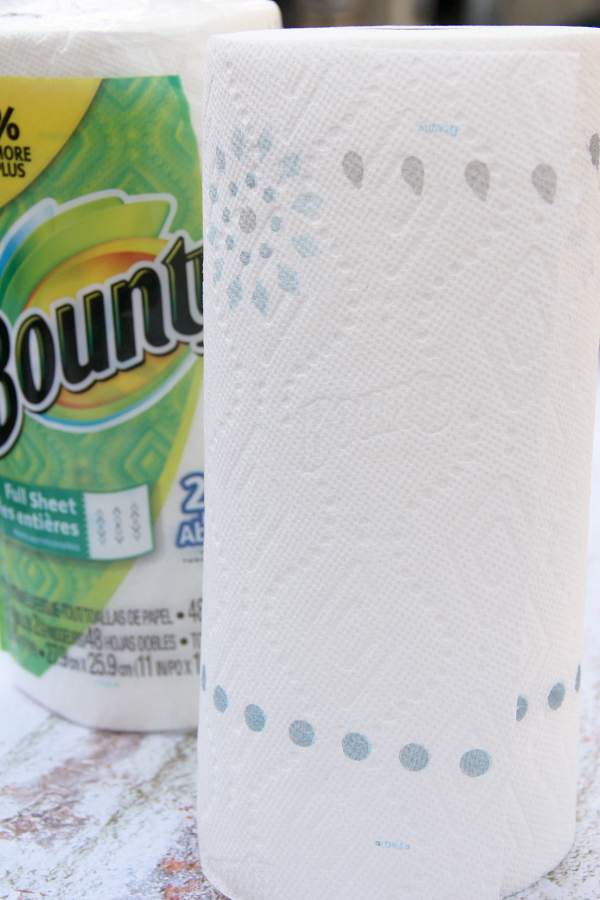 I'm excited to announce that Bounty is a sponsor of the Rio 2016 Olympic Games and they have partnered with one of the quickest woman in the world, Four-­‐Time Olympic Gold Medal Sprinter Allyson Felix.
Disclaimer: This post is in partnership with Bounty. I was compensated; however, all images and opinions are my own.