This post may contain affiliate links. Please read my disclosure.
If you are looking for a little inspiration for some Spooky Halloween Recipes, you've come to the right place. These 25 Spooky Halloween Recipes will be the perfect addition to any October party.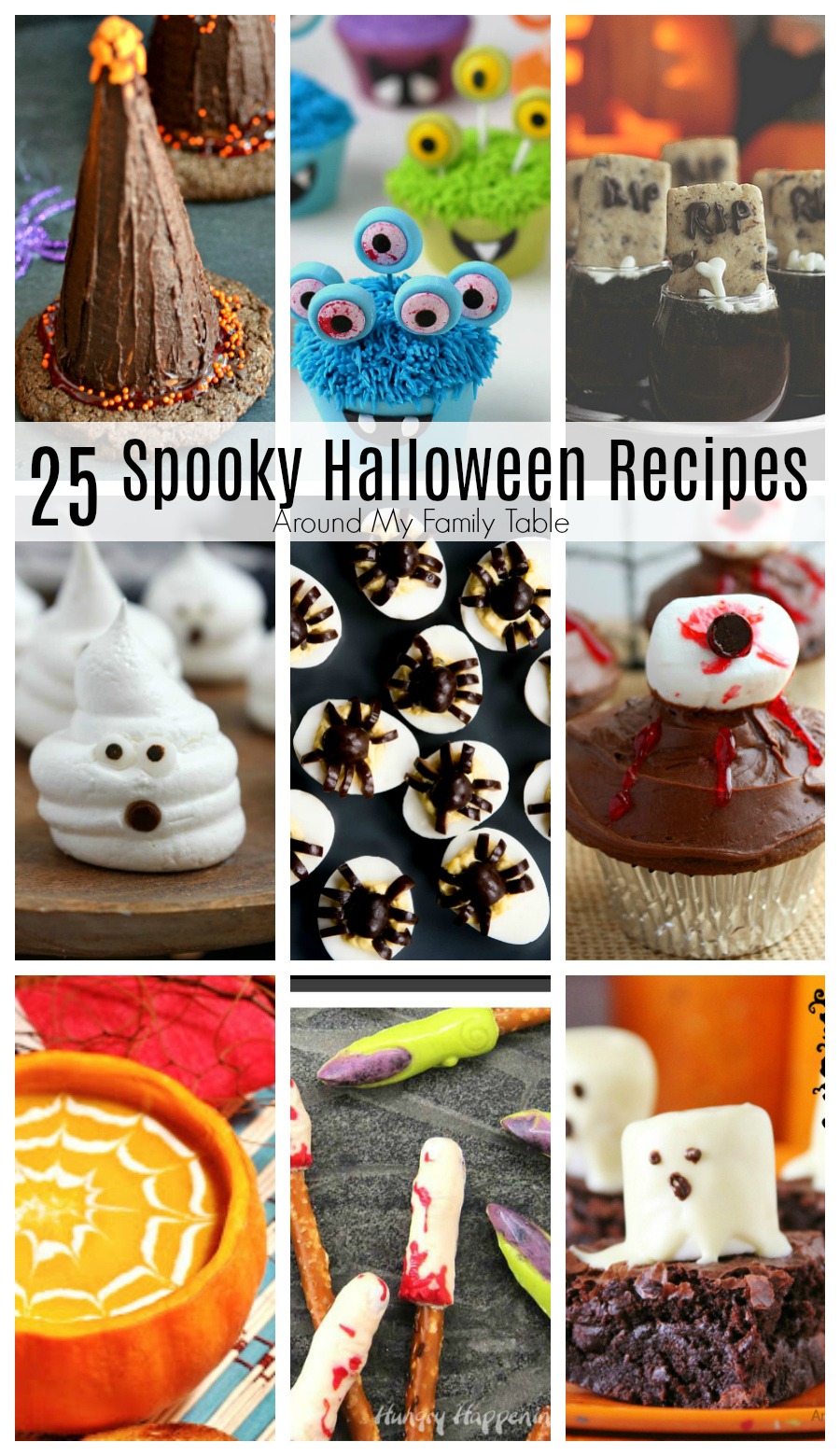 Easy Halloween Recipes
Halloween is one of my absolute favorite holidays. Not just because of the fun costumes and creepy decorations, but because the weather is finally not in the 100s anymore, my birthday is the week before, and I just love all the flavors and good foods that come with fall!
Because I love all the spooky (and not-so-spooky) goodies so much, I decided to kick off the official start of fall in my house with these 25 Spooky Halloween recipes. They are the perfect thing to get me in the fall mood!
You'll find ghosts, mummies, spiders, and witches in this creative list. If you're in the mood for some warm comfort food on a cool evening, you should try the Eye Popping Tomato Soup. To satisfy your sweet tooth, I'd suggest starting with the Boo-licious Brownie Treats or the Chocolate Witches' Hats. If you just want a quick and easy snack, mix up a batch of Monster Munch while you sip on some Witches' Brew. Whether you need a creepy or cute Halloween recipe, you'll find it in this roundup of my favorite spooky recipes.
Spooky Halloween Recipes
1. Boo-Licious Brownie Treats
2. Monster Munch
3. Halloween Deviled Eggs
4. Creepy Pretzel Fingers
5. Eye Popping Tomato Soup
6. Roasted Pumpkin Seeds
7.Easy Halloween Spider Cookies
8. Blood Spatter Cookies
9. Chocolate Witches' Hats
10. Witches' Brew
11. Dark Chocolate Pot de Creme
12.Pumpkin Spiderweb Cheesecake
13. Bloody Cyclops Cupcakes
14. Cupcake Monsters
15. Black Magic Cocktails
16. Candied Pear Ghosts
17. Super Creepy Red Velvet Cupcakes
18. Apple Pecan Mummy Dumplings
19. 3-D Ghost Cookies
20. Halloween Pumpkin Soup
21. Sprinkle Spider Cookies
22. Easy Baked Cinnamon Apple Chips
23. Apple Cider Doughnuts with Apple Cider Cheesecake Filling
24. Perfect Candy Apples
25. Meringue Ghosts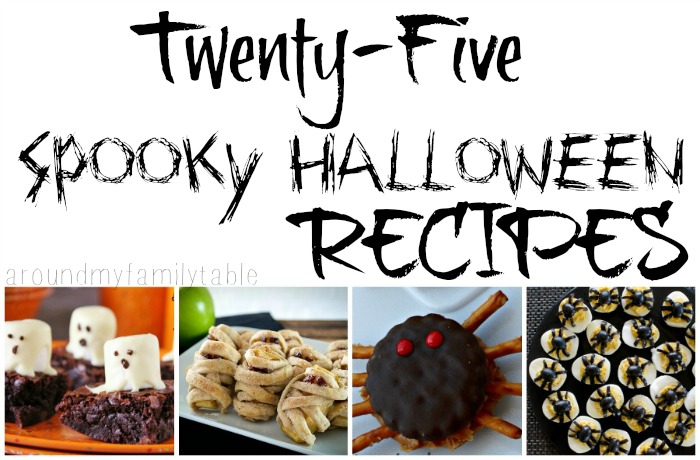 Looking for more great Halloween treats? I've got you covered…CLICK HERE for more recipes!
Well, there you have it. 25 Spooky Halloween recipes that are perfect for all your Halloween parties! Which one will you take to your next party?