This post may contain affiliate links. Please read my disclosure.
I'm always on the hunt for great holiday entertaining recipes. These 35+ Holiday Entertaining Recipes are perfect for any party that you are planning on hosting or attending this year!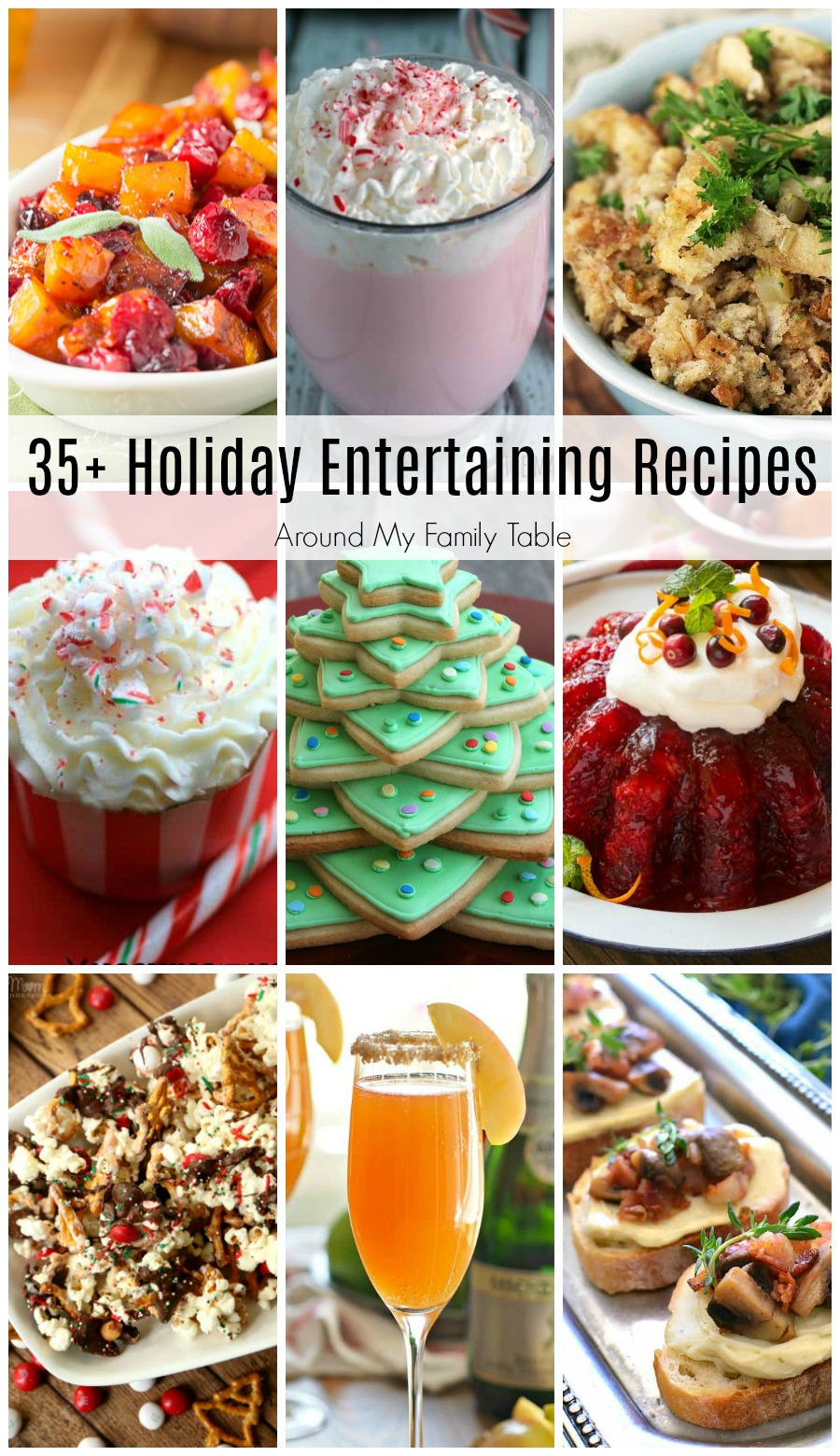 Family Entertaining Recipes
Hubbyman and I host a holiday party every December. Before we had kids, it was always a formal sit down supper with just a few other couples invited. But over the years, our group of friends have all settled down with kids, so our annual party is more of a family party with easy entertaining recipes that are perfect for everyone.
Easy Entertaining Recipes
Although I have a few go-tos that I tend to make year after year, I love serving up new recipes during the holidays too. It can be difficult to sift through the tons and tons of Christmas recipes out there to find the best options that fit your holiday party needs, so this year, I've done the work for you. I've collected this list of my favorite holiday recipes–the ones that all of your guests will be begging you to share. From classics like my chocolate peppermint cookies to a mimosa to die for, I've picked out the very best of the best for you to serve.
I've included holiday drinks, sides, and desserts, alongside some ideas for main dishes for your Christmas party needs. I've even included a potpourri recipe make sure your home smells festive during your party too. With all of these choices here, you are sure to find something that you and your guests can enjoy this season while you celebrate the holidays.
Do you host a holiday party?
Holiday Entertaining Recipes
Mushroom, Bacon & Swiss Crostini
Crock Pot Turkey Breast with Cranberry Sauce
Cranberry Pineapple Gelatin Mold
10 Slow Cooker Thanksgiving Sides
Roasted Butternut Squash with Cranberries
Chocolate Mint Sandwich Cookies
"You've Been Snowed On" Free Print
Tomato Soup Shooters with Mini Grilled Cheese
Santa's Sweet & Salty Christmas Snack Mix
Spiced Pecan Triple Chocolate Bark
Slow Cooker Candy Cane White Hot Chocolate
Cranberry Sauce Mini Cheesecakes
Chocolate Peanut Butter Squares