This post may contain affiliate links. Please read my disclosure.
Sometimes magic happens when you least expect it. These Loaded Slow Cooker Potatoes are one of the instances.

I've always used my slow cooker, in fact I have 5 of them. Yes, I use them all. Sometimes, I have 3 of them going at a time…and that's not only for parties. I think I might have a problem. An intervention might be in order. Of course, you might change your mind after sampling these bites of goodness.
Do you have a slow cooker? How many…..be honest! My sister has one, but she rarely uses it! I roll my eyes and shake my head in shame….I don't know how she gets through life without using it.
These Loaded Slow Cooker Potatoes were the perfect side dish to a big juicy steak that hubbyman grilled to perfection. Even the kids devoured these potatoes. I thought I made enough for leftovers the next day, but there were none left. Guess I'll be making them again tomorrow!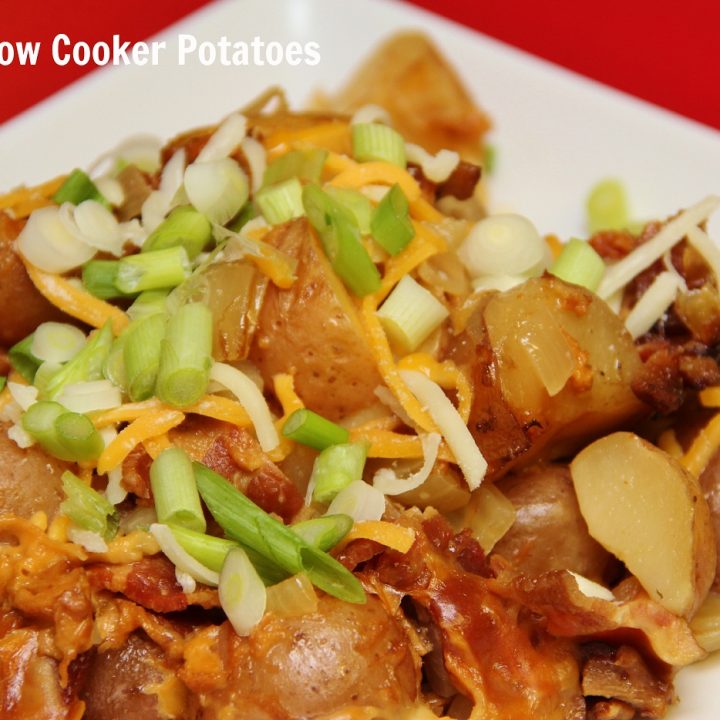 Loaded Slow Cooker Potatoes
Total Time:
8 hours
10 minutes
Sometimes magic happens when you least expect it. These Loaded Slow Cooker Potatoes are one of those instances.
Ingredients
10-12 red potatoes, halved
6 slices bacon, cooked and crumbled
8 oz shredded cheddar cheese (plus more for garnish), optional
1 tsp kosher salt
1/2 tsp garlic powder
1 large onion, minced
1/2 stick butter, cubed (soy based or tradition)
scallions
tin foil or slow cooker liner
Instructions
Line a large slow cooker with tin foil or slow cooker liner. This keeps the potatoes and cheese from burning and makes for easy clean up. Layer half of the potatoes, salt, bacon, onion, cheese, and butter in the slow cooker. Add a second layer. Cover and cook on low for about 8 hours.
When ready to eat, scoop out of slow cooker onto a serving plate and top with a little additional cheese and scallions. Check seasoning and adjust salt to taste.
Note: I usually make this without the cheese and it's delicious.
Check out these other 11 delicious potato side dishes.
Recipe and Photos updated 11/12/15. Originally posted 6/1/12.
Join the Club!
Get delicious recipes delivered straight to your inbox each week! Plus learn how to take back suppertime in your home.

And get started with my NEW Take Back Suppertime 5-Day Jump Start Guide.