This post may contain affiliate links. Please read my disclosure.
I love having company and playing hostess. It's one of the few things that bring me joy. I will never be a Martha Stewart or throw the fanciest of parties, but I enjoy the planning and the organization that goes into have company whether it's for just a couple hours, couple of days, or a couple of weeks. Over the years, I have learned a few things about making my guests feel more welcome in my home. So, I've got 8 tips for stocking your kitchen for guests!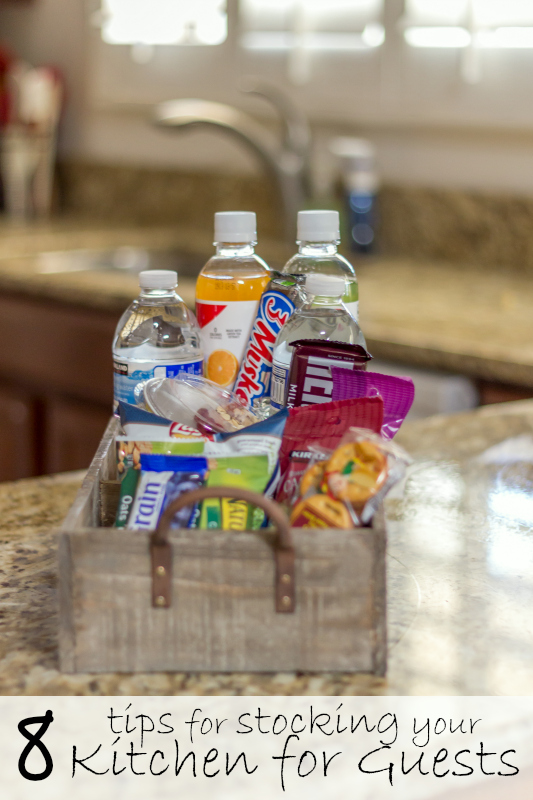 8 Tips for Stocking Your Kitchen for Guests
1. Buy bottled water and put it out where guests can find it easily. It's just easier! You don't have to worry about guests trying to find a glass, ice, wondering if they should drink the faucet water or the water from the fridge. If it's out where they can grab a bottle or two then it's just easier on everyone. Plus guests can easily grab a bottle before bed and take it to their room.
2. Put together a basket of snack and breakfast items. If you are having overnight guests then this is a must! Even if you plan to get up and make a huge breakfast, your guests might just get up first and they will want something to eat. Of course, be up front and let them know you are planning the big breakfast bash, but just in case they are starving there are options to tide them over before breakfast is ready. The basket is perfect so they can take it to their room and have some snacks when they need them without bothering anyone. How many times have you been told you can just have whatever you want from the pantry, but felt a little weird going through someone's shelves…your guests feel the same way, so make them feel more at home with a basket of goodies. (Of course, let them know they are still welcome to whatever they'd like too.)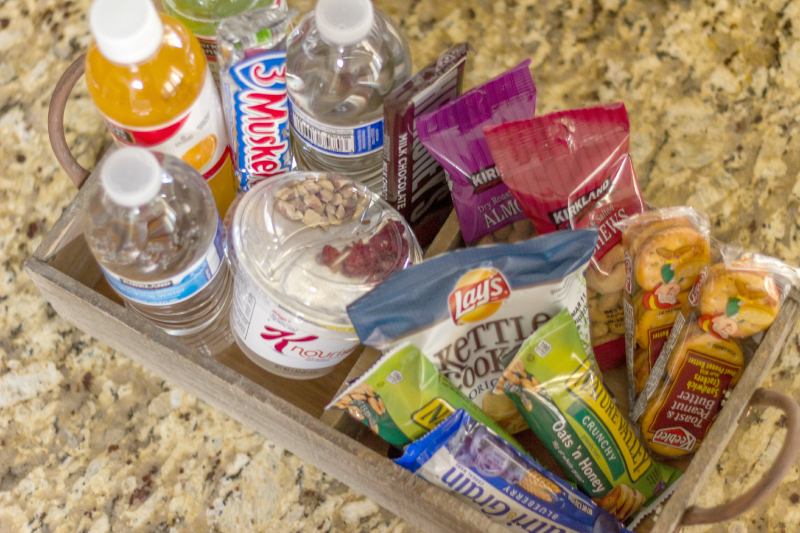 3. Buy a 6-pack or a case (depending on how long they are staying) of their favorite beverage. You know what your family and friends like to drink..get some for them to make them feel at home. One of my best friends is a hot tea drinker, but I'm a coffee drinker. I keep a stash of various teas (I pick them up my hotel stays or when they are on sale) and a box of her favorite sweetener in my pantry. She comes over occasionally and I love that I can offer her something that she loves.
4. Clean out your fridge and put together platter of quick cold items. Yes, you need to clean out your fridge! Then buy a variety of cheeses and meats and put them on a platter in the fridge for easy snacking.
5. Stock up on apples, bananas, and oranges. They are super portable and most everyone likes at least one or two of the basics.
6. Ask about food allergies. Even if you think you know, double check if there are any foods to be avoided. You don't need to turn your kitchen into a gluten free, vegan, only eat rice on Tuesday kitchen….but you need to be aware that if your guests can't have lemons that you don't plan shrimp scampi with a big pitcher of lemonade.
7. Print out the menu. Due to the number of allergies and health concerns these days, it's wise to print out your menu for everyone to look at if they need to. Make it super fancy or just put it on the fridge…either way it's there if someone needs to know.
8. Send guests home with a care package. When it's time to say goodbye, send guests home with some leftovers as a little thank you. If you noticed that they really loved that apple pie you made, package up the rest of it with a hand written note for them to take home.
Do you have any other tips? I'd love to hear about them, so leave a comment below….