This post may contain affiliate links. Please read my disclosure.
Have ever been voted best mom of the year by your kids? I was the day these Valentine cookies were waiting for my kids when they got home from a long day at school. It's love like that that keeps me going on a day-to-day basis. There was a ton of cheering, shouting, hugs, smiles, and kisses when I gave each kid a plate of cookies. The best part is…they are so easy and you can be voted best mom of the year too if you make your kids these Valentine's Chocolate Chip Cookies this year! Surprise them or better yet..have them help!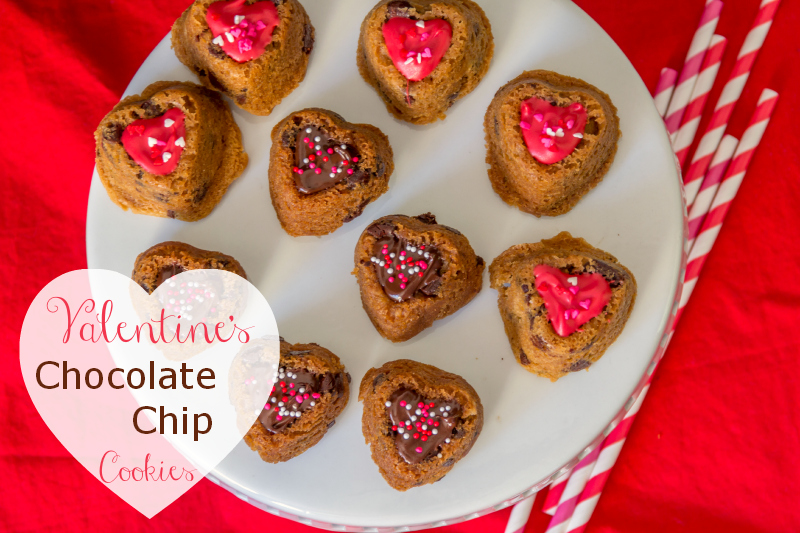 What's better than one fabulous heart-shaped Valentine treat? 12 heart-shaped Valentine treats from my friends in the 12 months, 12 bloggers, 12 ingredients group! We each created an amazing treat for you this month. I hope you will stop by their sites and check out their amazing treats. You will find links to all these wonderful creations below my recipe.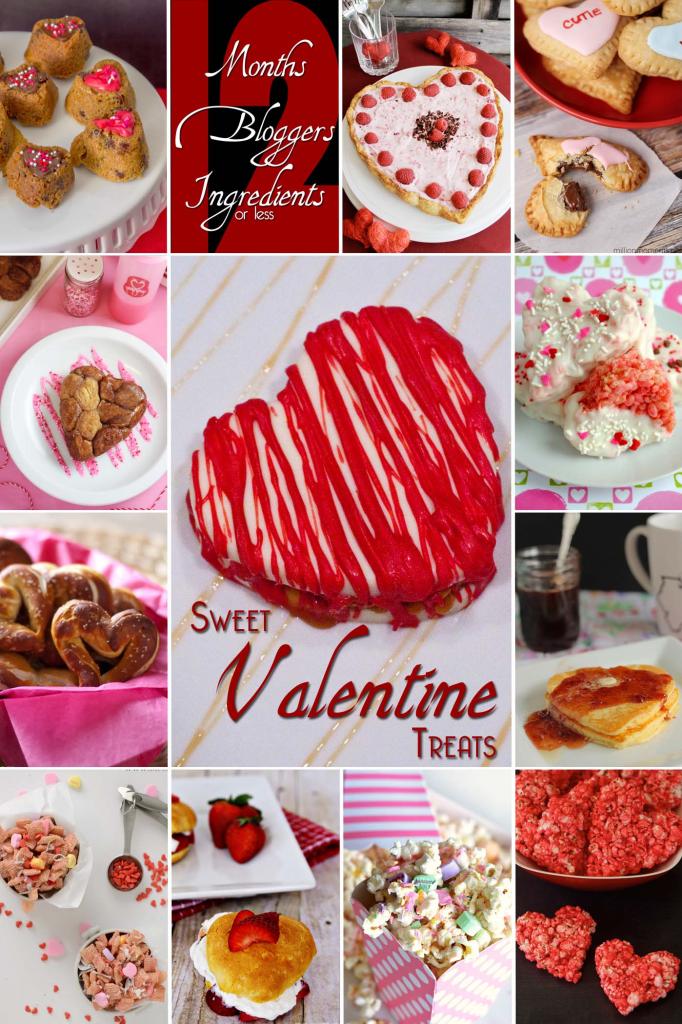 To create these adorable, bite-sized treats you need some chocolate chip cookie dough. I've used pre-made dough, I've made chocolate chip cookie dough from scratch, I've even used a gluten free/dairy free dough too….it all works. So depending on how much time you have to make these Valentine's Chocolate Chip Cookies..use the best cookie dough method for you.
In order to fill the cookies, you will need a pan that bakes an indent into to the cookies. I used a pan, like this one, to bake the cookies to have a little indent cavity….which makes for easy filling. I used semi-sweet chocolates and also red candy melts to keep them festive! Of course an assortment of Valentine's sprinkles is a must too.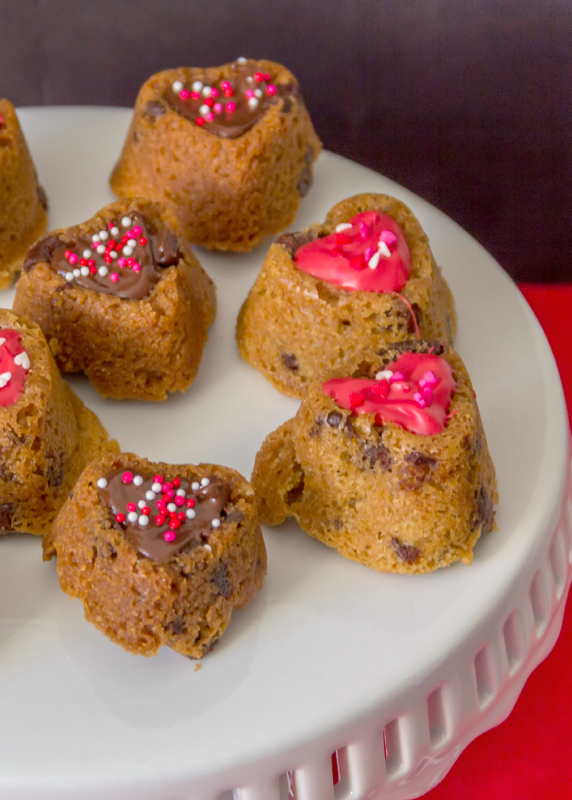 So…are you going to be voted best mom in the world this Valentine's Day? I hope so!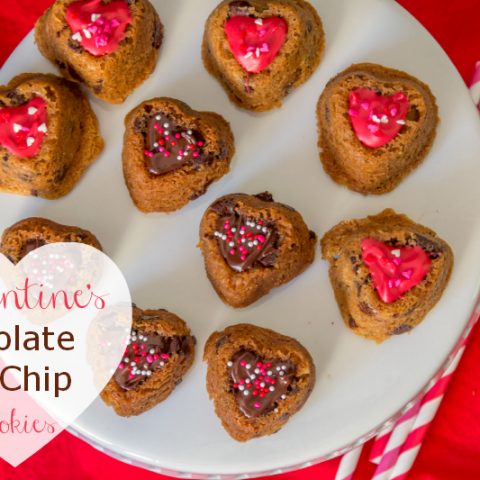 Valentine's Chocolate Chip Cookies
These Valentine's chocolate chip cookies are the perfect sweet treat for a classroom party or just to sweeten the day of your special Valentine. Use homemade cookie dough, or make it easy and use refrigerated cookie dough.
Ingredients
1 bag semi-sweet chocolate chips
1 bag red candy melts
holiday sprinkles
cookie mold for baking
Instructions
Make chocolate chip cookie dough according to recipe (or use refrigerated cookie dough).
Fill cavities of the cookie mold about 2/3rds full and bake according to instructions or until lightly golden brown.
Allow cookies to cool for 10 minutes and then take them out of mold and let them continue to cool for about 20 minutes on a cooling rack. (Use a butter knife or skewer to help cookies out of mold, but use caution to not break them apart.)
Meanwhile, melt chips (and candy melts in a separate bowl) in the microwave for 30 seconds. Stir and then return to microwave in 15-30 second bursts, stirring in between each time until melted and smooth.
Let it cool for a minute or so and then pour chocolate into a zip top baggie and red melts into another baggie. Cut a small snip in one corner of the bag of chocolate and fill half of the cookies with chocolate. Repeat for remaining cookies with the red melts. Top with a variety of holiday sprinkles.
Enjoy!
Y'all are gonna just drool all over these super amazing heart-shaped treats!
Easy Chocolate Caramel Pretzel Hearts from Choosing Love
Sweetheart Popcorn from A Night Owl
Queen of Hearts Chex Mix from Bless This Mess
Valentine's Jello Popcorn Balls from Mom Endeavors
Valentine's Chocolate Chip Cookies from Around My Family Table
Heart Shaped Pretzels from Betsy Life
Lemon Ricotta Pancakes with Strawberry Maple Syrup from Eat Your Heart Out
Heart Shaped Strawberry Shortcake from See Vanessa Craft
Mini Heart-Shaped Monkey Bread from Home Cooking Memories
Raspberry Cream Tart from A Little Claireification
Rice Crispy Hearts from The Rebel Chick
Nutella Filled Conversation Hearts from Million Moments