This post may contain affiliate links. Please read my disclosure.
Splurge a little with this thick and creamy dairy free Almond Joy Coffee Creamer. It's made completely from scratch and just a few basic ingredients like almonds, cocoa powder, sugar, and extracts.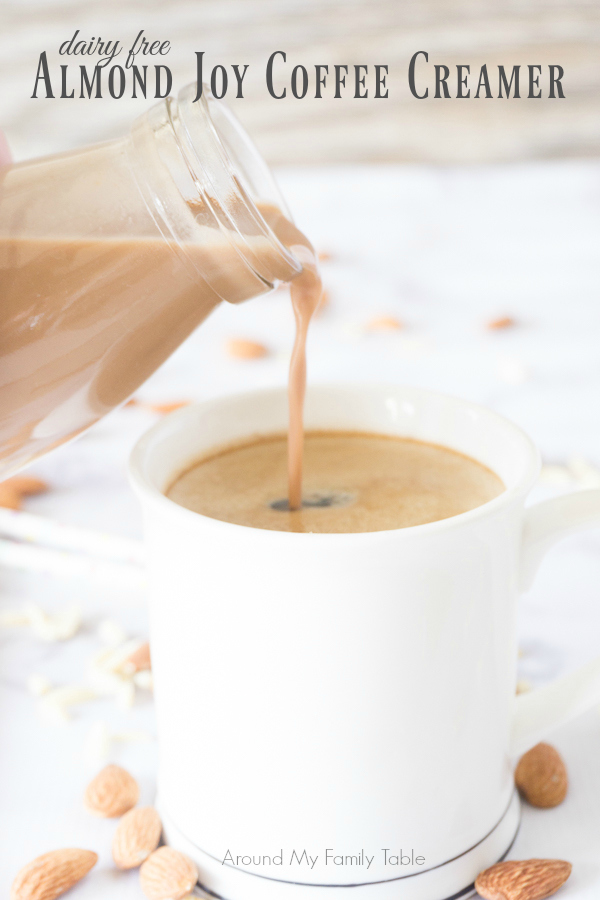 Dairy Free Almond Joy Coffee Creamer
I only drink nut milk due to my life-threatening dairy allergy…mostly almond milk. I've made my own at home but it takes days, it's messy, and a lot of work. There is nothing better than making your own nut milk at home. It has no additives or sugar or emulsifiers. It's just nuts and water. It's a simple as that. I knew once I figured out how to make my own nut milk that next on my to-make list was my own coffee creamers. I've been dairy free for 5 years and I have yet to have a dairy free that I love.
After making my own nut milk, I knew there had to be a better and easier way. And there is….The NutraMilk. I have been able to create delicious and healthy nut butters, nut milks, and coffee creamers in a matter of minutes. The NutraMilk is not just for nut butters and nut milks! I've been getting creative and have made smoothies and a few dips.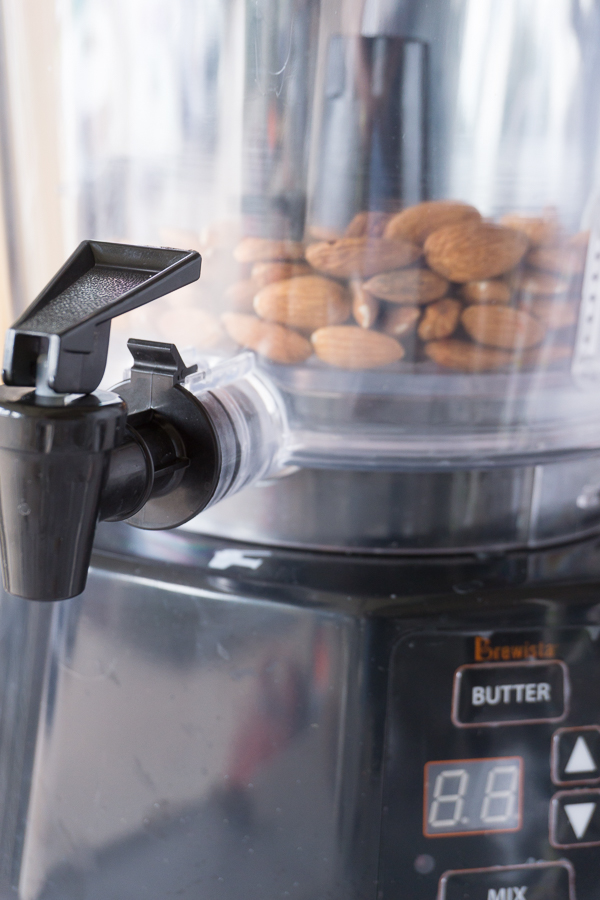 Dairy Free Coffee Creamer
Since I've been able to make my own milks and coffees in under 30 minutes, I've made 4 different creamers, chocolate almond butter, 2 quarts of almond milk…all in the last week. Using The NutraMilk has totally changed my life in the kitchen. But this dairy free Almond Joy Coffee Creamer has rocked my world! I might give up going to the coffee shop in exchange for a cup of coffee with this creamer!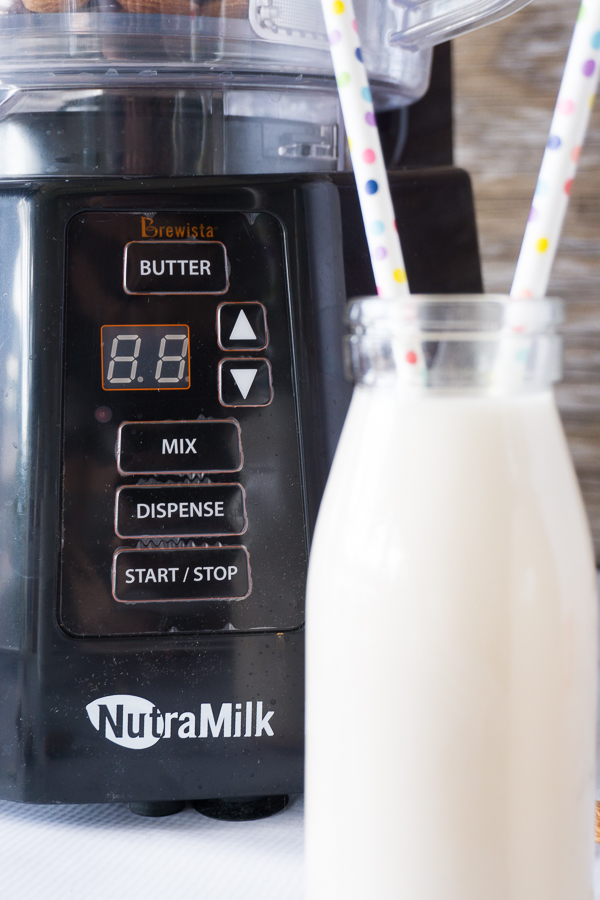 How to use The NutraMilk
Creating homemade nut milk no longer has to take days! I've been using The NutraMilk for a month or so now and whip up fresh milks, creamers, and butters in less than 30 minutes (most take 7-12 minutes). There is no other product like The NutraMilk on the market! It's versatility makes it a one-of-a-kind appliance that every kitchen needs. It is so easy to use too, making it easy to create fresh alternative milks and butters in your kitchen.
Add ingredients to The NutraMilk, set timer & press "butter" button.
Add water if making milk or creamer & press "mix" button.
Press 'Dispense' and enjoy fresh nut milk or butter!
Watch how simple it is to make.
Why Make Your Own Nut Milk
Create alternative milks and butters free of additives and emulsifiers

It is perfect for those with dietary needs or restrictions.

It is cost-effective

You can use virtually any kind of nut, seed, grain and legume.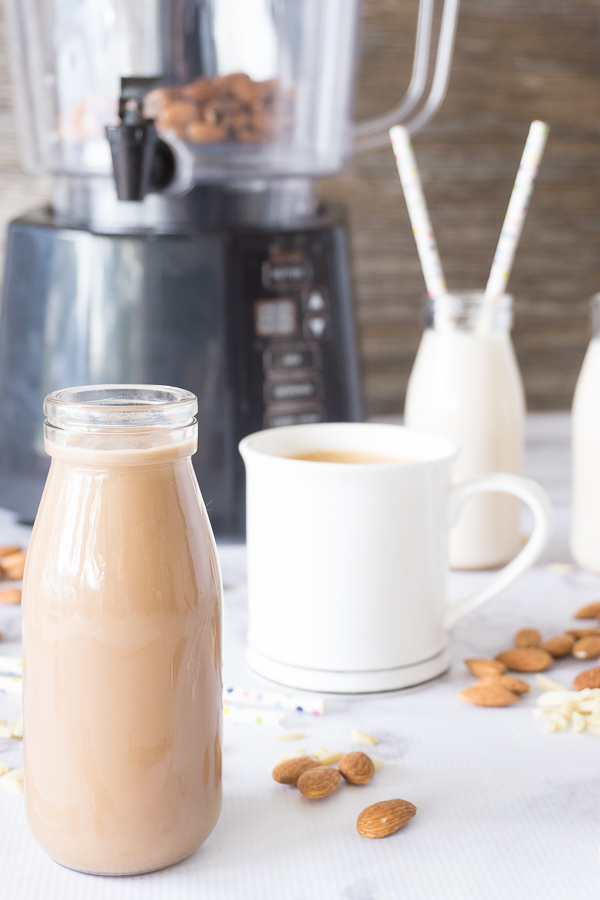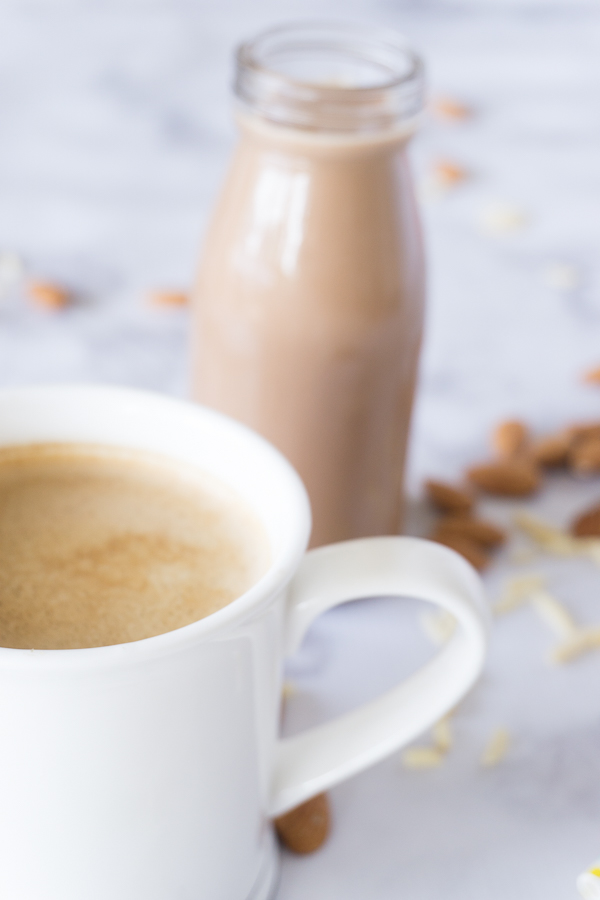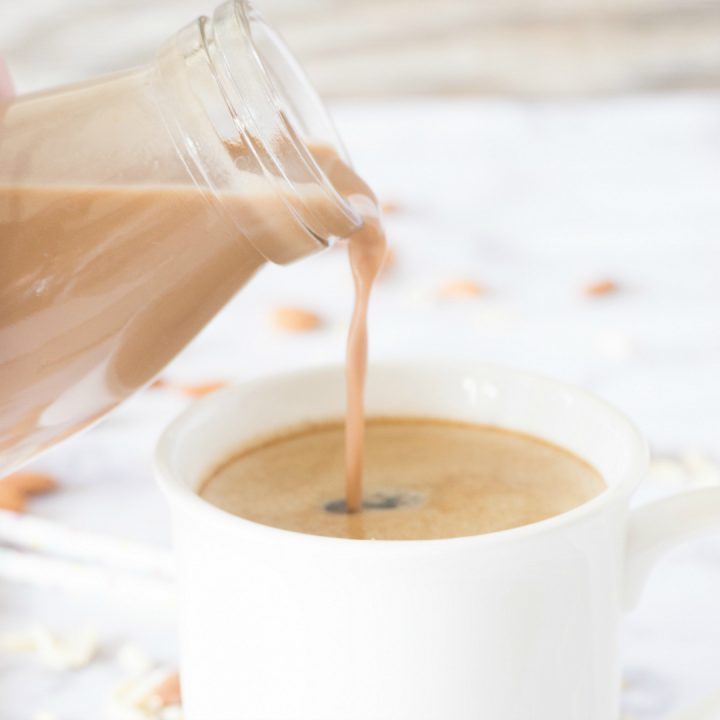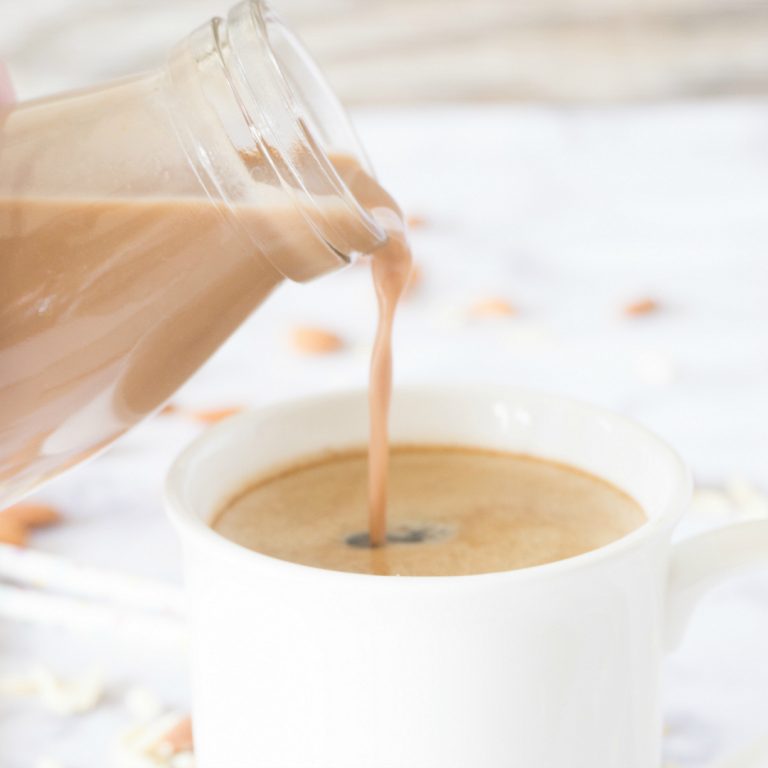 Almond Joy Coffee Creamer
Additional Time:
15 minutes
 homemade dairy free coffee creamer that tastes like an Almond Joy candy bar!
Ingredients
1 cup blanched slivered almonds
1 tbls cocoa powder
1/2 cup sugar
1 1/2 c water
1 1/2 tsps almond extract
1 1/2 tsps coconut extract
1/2 tbls coconut oil
Instructions
Add almonds to The NutraMilk, press "Butter" and process nuts for 5 minutes. Add in sugar and cocoa powder and process with "Butter" function for 2 more minutes.
After sugar and cocoa have processed, add water, extracts, and coconut oil. Press "Mix" and let process for the cycle. Then press "Dispense" and open valve to let creamer pour out into a mason jar. Store in the refrigerator for up to one week.
Notes
To make Chocolate Almond Butter, stop after the cocoa and sugar have been incorporated. If you desire a creamier texture, use the "Butter" setting for a few additional minutes.
Nutrition Information:
Amount Per Serving:
Calories:

1344
Total Fat:

85g
Saturated Fat:

13g
Cholesterol:

0mg
Sodium:

45mg
Fiber:

17g
Sugar:

108g
Protein:

32g

Disclosure: This post is in partnership with NutraMilk, but all my opinions are my own.