This post may contain affiliate links. Please read my disclosure.
Hello Around My Family Table readers! My name is Stephanie and I blog over at Eat. Drink. Love.! I was really excited to get an email from Wendy asking if I wanted to participate in her month of popcorn posts!
Popcorn has always been a favorite snack of mine. I especially love trying to find new ways to season it. Given that this is October, I decided to go for a fall-themed popcorn recipe. I have always loved making cinnamon sugar popcorn so why not kick it up a notch and add in some apple chips?! This popcorn is super addictive. I love the combo of the apple chips with the sweet popcorn.
I hope you all enjoy the recipe!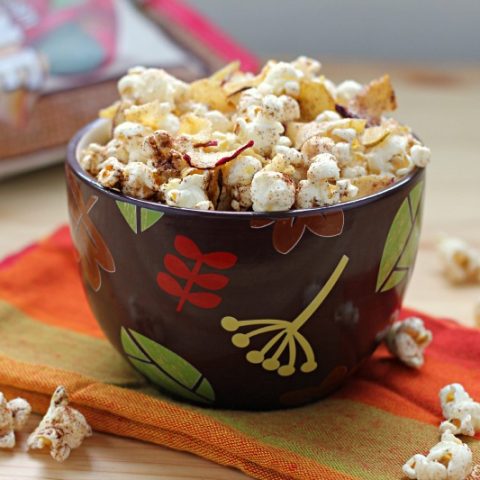 Apple Cinnamon Popcorn
Ingredients
8 cups popped popcorn, plain (1/4 cup unpopped kernels)
2 ½ tbs. unsalted butter
¼ cup granulated sugar (or to taste)
1 1/2 tsp. ground cinnamon (or to taste)
¼ tsp. salt (or to taste)
1 2.5 ounce bag plain apple chips
Instructions
Place the popped popcorn into a large bowl. Pour in the apple chips.
Melt the butter in the microwave in a smaller bowl. Stir in the sugar, cinnamon and salt. Pour the butter over the popcorn and apple chips and toss until well-coated.
Note: The best thing about making your own popcorn is that you can control what goes on it! Feel free to add more or less of the butter, cinnamon, or sugar to meet your personal taste!
Join the Club!
Get delicious recipes delivered straight to your inbox each week! Plus learn how to take back suppertime in your home.

And get started with my NEW Take Back Suppertime 5-Day Jump Start Guide.