This post may contain affiliate links. Please read my disclosure.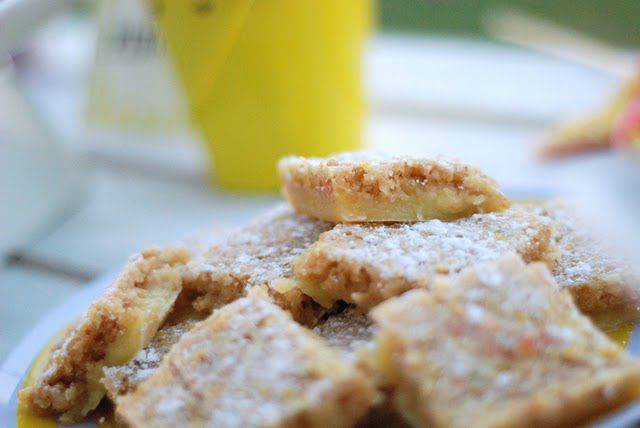 These lemon bars are so crazy delicious, GLUTEN FREE and super easy! I have several friends with Gluten sensitives and I really wanted to create a yummy recipe they would love! Our Lemonade Stand/Bake Sale for the Rice Krispies competition really inspired me (made me crave lemon bars) so I figured I'd give it a try! And holy deliciousness did it ever work!
Gluten Free Rice Krispies Lemon Bars
CRUST:
6 cups gluten free puffed rice cereal
4 cups Mini Marshmallows
4 tbsp Butter
Place Rice Krispies in zip-lock bag and crush to a medium fine grain. Melt butter over low heat and add marshmallows, mix till smooth. Remove from heat and add Rice Krispies. When completely mixed press evenly into buttered pan. Let cool.
LEMON FILLING:
4 Extra-Large Eggs
1 1/2 cups Sugar
3/4 cup Fresh Lemon Juice (About 4 Lemons)
1/3 cup *Gluten Free All-Purpose Flour
1 Lemon, Zested
Confectioners Sugar
Heat oven to 300 degrees. Wisk eggs and sugar until smooth, then add lemon juice, flour and zest. Pour filling mixture over Rice Krispies crust and bake in middle of oven for 30min. Let cool, sprinkle with confectioners sugar, cut up and enjoy! –by Jax from Aly & Ash
Cool Trick: While baking, the lemon filling mixture will sink to the bottom floating the Rice Crispy crust to the top! So I supposed technically they are "Upside Down" Gluten Free Rice Krispies Lemon Bars!
Join me on my quest as I discover the most delicious rice krispies treat recipe on the planet!