This post may contain affiliate links. Please read my disclosure.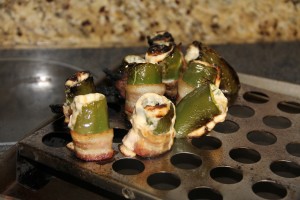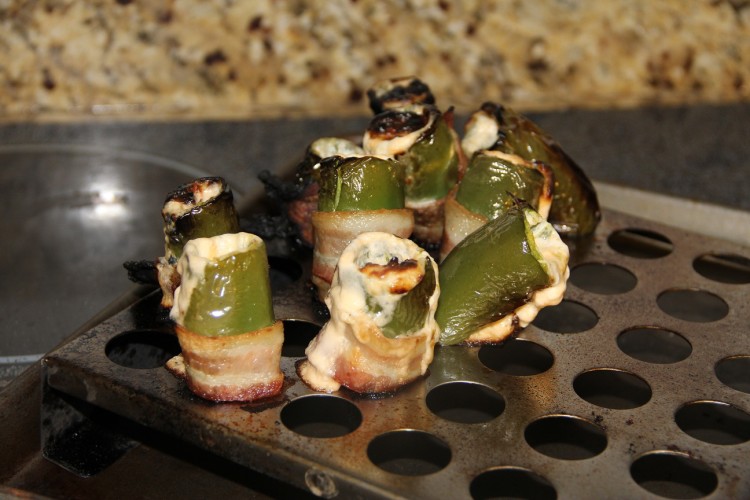 We were recently visiting with my cousin and he mentioned how they make bacon wrapped jalapenos while camping. He had a tasty little picture on his phone and it looked AMAZING. Hubbyman quickly reminded me that we had a jalapeno popper tray that we got on clearance and hadn't use yet. I know what he was thinking!
This is my version of what my cousin described and they were soooo good. I can't believe how simple they were. I actually used a smoked salt that hubbyman experimented with making the last time we used our smoker. I'll share that some other time. Feel free to use kosher salt or even seasoning salt.
Check out my cool bacon tip below!
Bacon Wrapped Jalapeno Poppers
10 jalapeno peppers
5 slices of bacon, cut in half
4 oz cream cheese, softened
1/2 cup shredded cheddar cheese
1/2 tsp kosher salt
Wash peppers and cut the tops off. Use a pairing knife to cut out the seeds and membranes from the inside without cutting the pepper (wear gloves if you need to). Combine cheeses and salt in a small mixing bowl.
Gently wrap bacon* around the jalapenos and place jalapenos in a jalapeno popper stand. Put the cheese mixture in a pastry bag (or zip baggie with one corner cut off). Fill the jalapenos with cheese mixture.
Preheat grill to medium heat. Place popper rack on the grill over direct heat. Cook for approximately 5-10 minutes. Rotate rack once during cooking so that they cook evenly.
*Note: If you have trouble getting the bacon done and crispy, put bacon on a plate lined with a paper towel and one on top in the microwave for 1-2 minutes. This precooks the bacon just a little bit. This works for bacon wrapped shrimp on a skewer and for bacon wrapped tenderloins (aka filet mignon) too!