This post may contain affiliate links. Please read my disclosure.
These Rice Krispies Caramel Apple treats with real apples, spices, and caramel bits are one of my favorite Halloween treats. These treats are delicious on their own, but dip them in caramel and add your favorite candy or sprinkles and you are taken to a whole new level!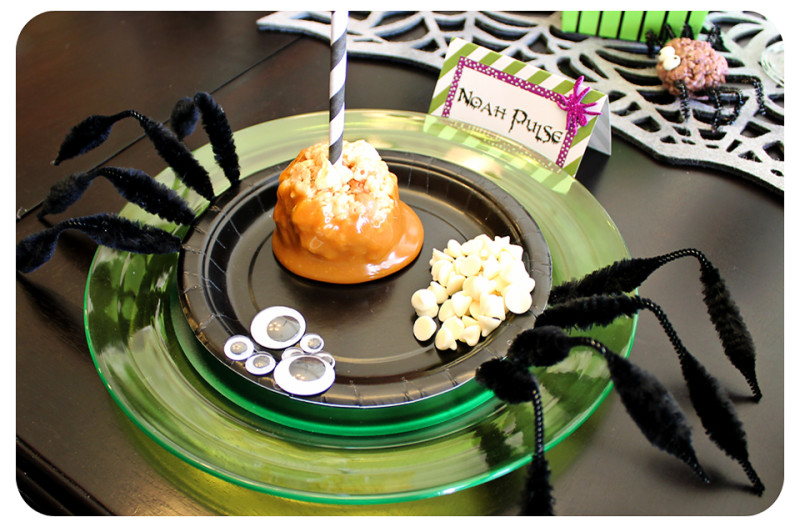 Before you begin cooking, rough chop 1 ½ cups of dehydrated apples into small chunks. Dehydrated apples are located next to the raisins at the grocery store. Make sure the dehydrated apples and caramels chunks are approximately the same size.
Rice Krispies Caramel Apple Treats
Yield: approximately 12 servings
Ingredients:
4 Tbsp butter or margarine
1 10 ounce bag of marshmallows
1 ½ cups dehydrated apples
2 individual serving size packets of Apple Cider drink mix
1 1/2 cup caramel bits or caramel squares cut into small chunks
6 cups Kellogg's Rice Krispies®
Popsicle, lollipop, or other sticks
Caramels for dipping the apples
Assorted cookies, candies, and sprinkles for decorating
Directions – Preparing the Treats
Heat 4 Tbsp butter or margarine in a sauce pan over low heat.
Add the marshmallows and stir until completely melted.
Stir in 2 packets of Apple Cider drink mix.
Remove from heat and stir in 6 cups of Kelloggs Rice Krispies®.
While the mixture is still hot, add the dehydrated apples and caramel chunks.
Once the mixture is cool enough to handle, tightly pack balls of Caramel Apple Treats around your stick. Make sure your hands are clean and greased well to avoid sticking.
Rest your treats, stick side up on a sheet of wax paper or greased cookie sheet
Refrigerate the treats until it is party time.
Directions – Dipping and Decorating
Heat up a bag of caramels on the stove-top according to the package instructions.
Depending on age and kitchen experience, you can let your child dip the caramel apple treats in the caramel or you can give some assistance.
Before the caramel sets up, have your child roll their caramel apple treat in various candies, sprinkles, or crushed up cookies. You can go crazy and incorporate your families favorite treats into this recipe.
Eat and enjoy
Part two of the challenge is creating a spooky Halloween scene. We decided that instead of a formal dessert table we would incorporate the caramel apple fixings right into the table where the kids will be making their treats. We have got the different apple toppings in cute candy jars with Halloween faces on each jar. The apples that are ready to be dipped look beautiful sitting on a tiered tray in the middle of the table.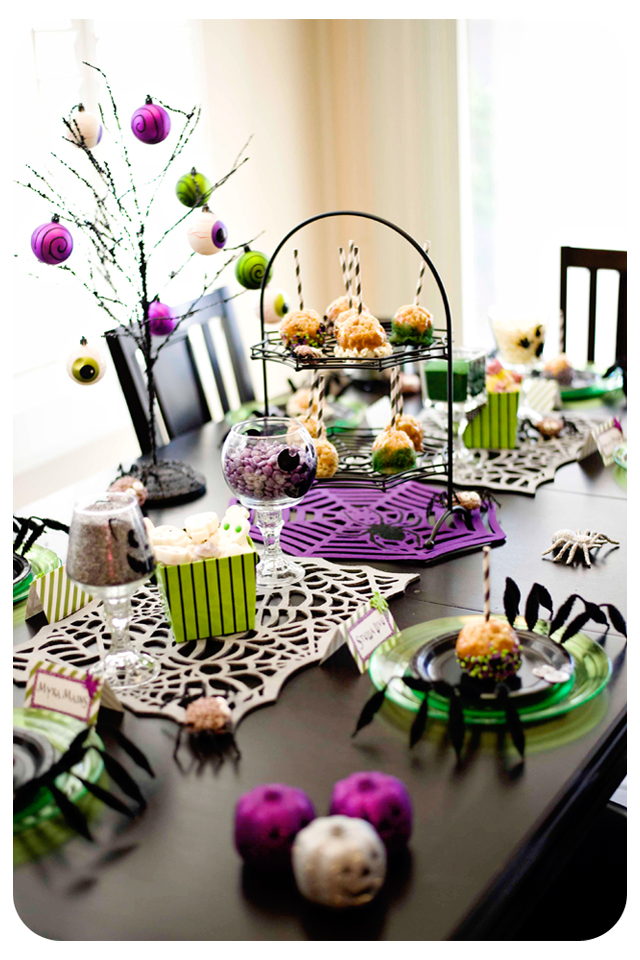 It was just too hard to decide on one Halloween themed Rice Krispies recipe so I made a few extras to incorporate into the table setting. I rounded out our party with some Rice Krispies candy corn treats and cute little Rice Krispies treat grape spiders. Rice Krispies Crunchy Skeleton Bones are pictured above as well.
I hope you celebrate this fall season with us and make your own Caramel Apple Rice Krispies treats. Whether you make them with your kids for an after school snack or have your own Halloween party, I can guarantee and kids and adults alike will love these Caramel Apple Rice Krispies treats!
Join me on my quest as I discover the most delicious rice krispies treat recipe on the planet!
Disclaimer: this post was in partnership with Kelloggs and The Motherhood.