This post may contain affiliate links. Please read my disclosure.
I was out of chips, I didn't want to go to the store, and we were having Mexican for supper. I knew I had a bunch of corn tortillas in the fridge and so I decided to try making my own chips. Only problem….I didn't want to fry them.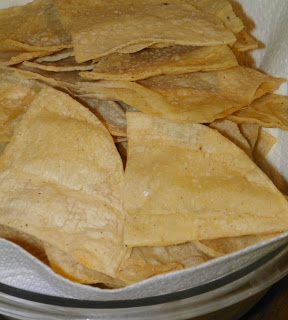 Baked Corn Chips
corn tortillas
cooking spray (aka Pam)
kosher salt
Preheat oven to 350 degrees.
Place a stack of 3 or 4 tortillas on a cutting board and cut into wedges or strips using a pizza cutter or knife. Lay out in a single layer on a baking sheet. Spray with cooking spray, flip them over, and spray 2nd side.
Bake for about 10-15 minutes until crispy. Sprinkle with salt as you remove chips from the oven.
**A nice twist would be adding a splash of fresh lime juice before baking.**